Updated scouting reports on
Cole Aldrich
,
Paul George
,
Charles Garcia
and
Kenneth Faried
.
Cole Aldrich, 6-11, Junior, Center, Kansas
11.3 points, 9.7 rebounds, .9 assists, 1.4 turnovers, 3.5 blocks, 55% FG, 68% FT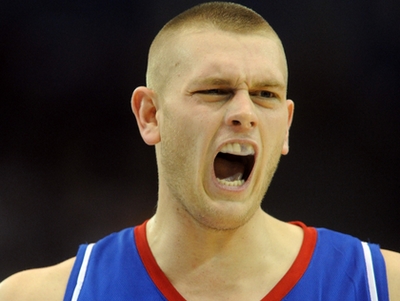 Jonathan Givony
A likely top-10 pick last year,
Cole Aldrich
elected to return for his junior season at Kansas, a move that surprised some considering the obvious risks involved. With the demand for long-armed, mobile 7-foot centers with strong rebounding and defensive skills always being extremely high, though, Aldrich's margin for error was obviously much greater than that of a prospect like
Willie Warren
or
Craig Brackins
, who have seen their decisions back-fire in a major way.
From a statistical standpoint, it's somewhat troubling to see the lack of progress Aldrich has made this past season. His numbers are down across the board, even when adjusting for the fact that he's playing 3 minutes less per game. Aldrich is scoring significantly less (16.3 per-40 pace adjusted compared to 19.9 last season), grabbing fewer rebounds, is substantially less efficient (converting 55% of his 2-pointers compared with 60% last season) and has seen his free throw percentage take a dramatic hit (from 79% to 68%).
The only area he's improved in significantly is in his shot-blocking, as he's rejecting 5.2 blocks per-40p this season, compared with 3.6 last season. NBA teams always want to see young big men improving year by year, and the fact that he doesn't appear to have done that is something that will have to research more deeply and draw their own conclusions about.
The prevailing opinion amongst NBA scouts has always been that Aldrich is a likely role-player at the next level—a player who projects as a significant presence in the paint defensively and on the glass, but can't be expected to score much more than what his guards are able to create for him around the basket.
His age and the production he achieved as a sophomore left at least a glimmer of hope that he can develop into a bit more than that, though, which is what you would hope from a potential top-5 pick. His lack of improvement as a junior may have closed the door on that optimism somewhat in the minds of many decision makers, as it's hard not to come to the conclusion that he's taken a step backwards this year.
Offensively, Aldrich's limitations remain fairly glaring, something that has only been highlighted by the new weapons (mainly
Xavier Henry
,
Marcus Morris
) that have emerged for Kansas this season, and are often far more aggressive than him.
Aldrich is the type of player who is best suited for having shots created for him, something that has happened with far less regularity this season according to the data we have at our disposal. He struggles to do much of anything if unable to establish position deep inside the paint, looking fairly mechanical with his movements at times and downright uncomfortable in others. He has a basic spin-move, a raw drop-step and a simple jump-hook in his arsenal, but lacks fluidity in his offensive game, is limited with his left hand and tends to just throw the ball up on the rim at times, hoping for the best.
Aldrich sets terrific screens and is a tremendous finisher around the paint in pick and roll situations and off simple drive and dish plays with his excellent length and solid leaping ability, but he doesn't seem to be getting quite as many good looks around the rim as he did last season. He's instead often being forced to create shots on his own in one on situations, which is clearly not his strength, as he doesn't know how to use his body quite as well as you might hope at this stage, and he possesses just average touch and footwork.
Aldrich has yet to hit the 20-point mark in a single game this year at this point, and has been largely mediocre at times in Big 12 conference play. He doesn't dominate even extremely weak opposition at the college level, which leaves many questions marks about how much of a factor he'll be on the offensive end in the NBA. Watching his film, it seems like he lost a bit of confidence at some point in the season, as it doesn't really seem like he always wants the ball.
The place where Aldrich may have taken the biggest step back is with his shooting. Last year he attempted 57 jump-shots, making nearly 50% of his attempts from mid-range, while this year he's attempted just 21, hitting about 35% of his attempts.
Aldrich has always sported very unorthodox shooting mechanics, as the violent slingshot motion he shows, cocking ball way behind his back, was never going to be the optimal to get his shot off. While this didn't affect his effectiveness as a jump-shooter last year, it's really been a factor this year. His shooting woes have translated to the free throw line as well, where he's shooting 11% worse (from 79% to 68%) than he did last season. While no one will be drafting Aldrich for his jump-shooting ability, the fact that he could make defenses work a bit more by forcing them to respect his mid-range jumper was an added bonus that he can no longer claim as a part of his repertoire.
As a defender and rebounder is where Aldrich continues to shine as a highly effective and NBA-ready big man prospect, one who could likely already be seeing minutes in most teams' frontcourt. He ranks as
the 5th best rebounding prospect
in college basketball on a per-minute basis, at over 14 per-40 pace adjusted, similar to last year. His size and length allows him to go well out of his area at times for offensive rebounds, and he does a fine job boxing out on the defensive glass as well, something that should translate very effectively to the NBA.
Defensively, Aldrich has terrific lower body strength which renders him extremely difficult to back down in the post. This makes him a very useful player to counter against the type of old-school back to the basket centers (Shaq, Yao,
Marc Gasol
, etc) that are still found in today's NBA, something that many teams just don't have. He uses his outstanding wingspan very effectively to contest shots in the paint, being very fundamentally sound in the way he gets his long arms right in his defender's face to deny good looks at the basket.
Aldrich is a much better pick and roll defender than you might expect relative to most centers in his mold, as he does a tremendous job of stepping out, hedging screens and then recovering effectively, showing nice timing, solid effort and good fundamentals in the process. NBA coaches will love this part of his game, as it's the thing that most big men tend to struggle with the most, especially early on in their careers. His lack of lateral quickness will get exposed from time to time in one on one situations, especially when forced to switch on the perimeter, but that shouldn't be too much of an issue against most NBA centers.
Perhaps Aldrich's biggest asset defensively revolves around his shot-blocking ability, where he yet again ranks in the top 5 amongst draft prospects, thanks to his terrific length and timing. He's the type of shot-blocker who stays out of foul trouble, rarely goal-tends and usually keeps balls in-bounds on top of that, often showing the wherewithal to tip it to a teammate and ignite the fast break, which is a big plus.
While some may balk at using an extremely high pick on a player who projects as a very effective defender and rebounder and limited scorer, big men with Aldrich's physical tools are very difficult to come by. Even though his upside may not be off the charts, he doesn't have very much downside either, as you pretty much know what you're getting here, which is an excellent all-around role-player, and an
Academic All-American
on top of that. A good NCAA tournament showing will help Aldrich enter the draft process with some strong momentum behind him, but teams should be comfortable at this point with the type of prospect he is.
Paul George 6-7, Sophomore, Small Forward, Fresno State
16.6 points, 7.1 rebounds, 3.1assists, 2.2 steals, 3.1 turnovers, 43 FG%, 36 3P%, 91 FT%