Jonathan Givony:
Hi O.J. Where did you watch the NBA Draft Lottery?
O.J. Mayo:
In my hotel room.
Jonathan Givony:
What did you think about it?
O.J. Mayo:
It was interesting to see which teams got to pick first.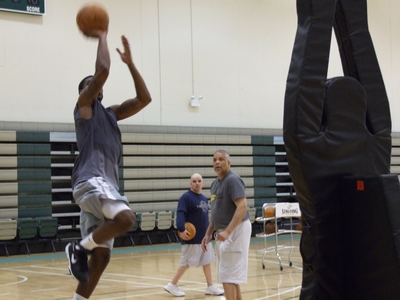 Jonathan Givony:
Any thoughts on the teams that got picks one through five and how that is going to affect you?
O.J. Mayo:
No sir. I've just been working out; but it is an interesting top five.
Jonathan Givony:
Who do you think is going to go number one: Beasley or Rose?
O.J. Mayo:
I don't know, there are a lot of players. There are more than two players who could go number one I think.
Jonathan Givony:
Is it more important for you to get drafted as high as possible or are you more concerned with getting drafted into the best possible situation?
O.J. Mayo:
As high as possible.
Jonathan Givony:
In the NBA do you see yourself as a point guard, a combo guard or a two-guard?
O.J. Mayo:
I could be a point guard. Really though, I see myself as a guard, a guard who wants to win. But I think I would be better at the point guard position.
Jonathan Givony:
Do you think with the direction that the NBA is heading in, in terms of the up tempo play and hand checking rules, do you think that favors your game, or would you have been better ten years ago?
O.J. Mayo:
I think it favors my game, but at the same time I'm a ballplayer so I think I could have been good ten years ago also.
Jonathan Givony:
Do you see yourself as more of a
Brandon Roy
kind of player who operates in the mid-range, or are you going to be more like an
Allen Iverson
, a slasher and a high volume free throw guy?
O.J. Mayo:
I see myself as more of a De
ron Williams
. I can get to the basket; I feel comfortable shooting the jumper off the dribble or spotting up, I can keep other players involved and the overall energy level up.
Jonathan Givony:
Is that your favorite comparison right now, De
ron Williams
?
O.J. Mayo:
Yes sir.
Jonathan Givony:
How long have you been here in Chicago?
O.J. Mayo:
I've been here for a little over a week.
Jonathan Givony:
What are your thoughts so far on working out with Tim Grover, Mike Procopio and Rod Baker?
O.J. Mayo:
They do a great job. I had the opportunity to finish out school, so I came a little late, but I was still working out at school. So when I came here, I just picked it up a little bit; they're doing a great job of preparing me for the draft.
Jonathan Givony:
Where do you think you're at right now in terms of conditioning from 0 to 100 percent?
O.J. Mayo:
I'm at about 85 percent. I caught a cold when I went home to West Virginia to visit my mom for Mother's Day. In all though, I'm at 85 percent.
Jonathan Givony:
What do you like that they're working with you on here? Maybe some aspect of your game that you hadn't though about before?
O.J. Mayo:
The ball-handling part, and really just getting to a spot and exploding.
Jonathan Givony:
We currently have you being drafted sixth by New York. What are your thoughts on playing in a market like New York City?
O.J. Mayo:
I'm a ballplayer, I'll play wherever. I just want to be in a winning situation.
Jonathan Givony:
It seems like when you went to college, part of your decision was based off the market you were going to play in, the exposure and all that. There's a big difference for example between Memphis and New York; what are your thoughts on that?
O.J. Mayo:
My dream is just to play in the NBA. So when you get to choose which city and all that, I think it's asking just too much. I would love to play in Chicago, Miami, anywhere; I just want to be put in a situation where the team is just about winning, nothing more, and nothing less.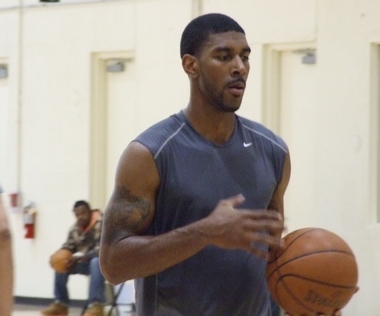 Jonathan Givony:
How do the workouts here differ from the workouts you did individually at USC?
O.J. Mayo:
I think the intensity just picks up a little more; the speed between drills picks up a little. It's all usually the same drills, I just think the intensity is up a little higher.
Jonathan Givony:
Have you had a chance to work out with any of the pro guys here so far?
O.J. Mayo:
DaJuan Wagner
, but nobody else.
Jonathan Givony:
How have you dealt with the distractions you've had over the last few weeks? Has that been difficult to deal with?
O.J. Mayo:
(Smiles) No, it isn't difficult. Things happen, and some of the little stuff is still going on, but it's out of my hands. I just need to worry about basketball.
Jonathan Givony:
At USC you carried a pretty big load in terms of your offensive responsibility; are you looking forward to being a little more versatile in the NBA, being able to show more of your passing and stuff like that?
O.J. Mayo:
Yes sir. Those are some of the things I wanted to do at USC, but Coach Floyd said we needed me to score points, so I did what was best for the team. When you get to the NBA, though, you've got a lot of players who can make shots. Like I said, I like to play like De
ron Williams
, he plays at a high level and can do a lot of things. If he needs to score, if he needs to play defense, get the bigs involved, or get a shooter going a little bit, he can do that.
Jonathan Givony:
Do you think your assist to turnover ratio at USC is indicative of the type of point guard you are?
O.J. Mayo:
No sir, I don't think so. I can definitely play the point guard spot, that's what I want to play; but if the team needs me to be a combo guard and a two-guard, really it's whatever they need me to do in order for us to be in the best position to win.
Jonathan Givony:
Do you think some of the criticism you got as USC was fair?
O.J. Mayo:
What criticism?
Jonathan Givony:
In terms of living or not living up to the hype. Your start was a little rough, but you got much better as the season progressed obviously. Do you think that was fair in terms of you being a freshman and all that?
O.J. Mayo:
No sir, I don't think so. I mean I didn't really look into it that much. I know we had an early loss, but working all summer to become a better point guard, then having to come in and play as a shooting guard, like you said, that was something I wasn't too good at in the beginning of the season. But I put in a lot of extra work before and after practice seeing as how that was the position I was going to be playing.
Jonathan Givony:
What do you view right now as your biggest strength? What is your strongest selling point to an NBA team?
O.J. Mayo:
I feel like I'm a tremendous competitor. I really want to win, hands down, more than anything. Whatever it takes to win, I'm willing to do.
Jonathan Givony:
If NBA teams are asking you to be honest and say "OJ in your opinion what is your biggest weakness," what are you going to tell them you think you need to work on?
O.J. Mayo:
I would like to play at a high level from start to finish, not taking any plays off. Of course I think all aspects of my game can always get better; I don't think there is anything I shouldn't be working on. I need to get stronger, faster, bigger, shoot better; everything can always get better I feel like.
Jonathan Givony:
What is your biggest selling point as a human being? What do you bring to the table that people might not know about you off the court?
O.J. Mayo:
I'm a likeable person, I'm a people person. I've been in many types of situations, I can relate to all kinds of kids. I know that in difficult situations something can always be done. I like to have fun, I like watching movies; I'm really just an ordinary Joe off the court, nothing spectacular, it's just me.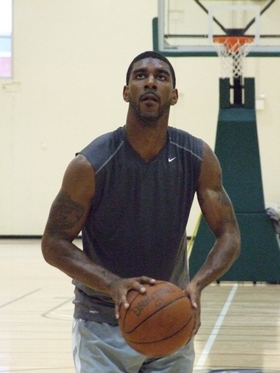 Jonathan Givony:
What about your maturation process? What are some things you think you need to improve upon as a human being when you're kind of reflecting on yourself?
O.J. Mayo:
I don't know. I try everyday to be a better person than I was yesterday. Sometimes you may be in a bad mood about something and someone asks you a question and it may come off wrong, you might not even mean it to, but just in the heat of the moment. I just need to get better at little things like that. You left this room and something there made you mad, don't bring it over to the next room; understand that it happened and then move on.
Jonathan Givony:
Five years from now, how do you project your role in the NBA?
O.J. Mayo:
My goal has always been to play for the US Olympic team, so hopefully I'll be fresh off a gold medal and getting ready to play for an NBA championship; that would be nice.
Jonathan Givony:
What about off the court ventures? Is there anything you want to get into over the next five years as opportunities present themselves?
O.J. Mayo:
I really think that America is growing population wise. Just living in LA there's a lot of different people coming over, and it's becoming a place where a lot of people want to come. So I think business management and real estate investment is something I really want to do, so whatever city I get drafted to, I want to get into that a little bit.
Jonathan Givony:
What's the most important thing you learned from Coach Floyd both as a player and as a person?
O.J. Mayo:
As a person, it's what I was telling you about, just trying to be a better person everyday. As a player, there are going to be times where you have a long day at school, you're up all night studying, then you come to practice and it's like now I have to deal with this part of college. He told us, everyday just find something that wires you, find something inside that makes you play at a high level because when you play 82 games and its game 58 and you're playing the worst team in the NBA, you still have a job to do. So find something inside to wire you. He coached in the NBA, and he said that some of his players might take a night off, so get yourself wired. That's what I learned, so sometimes if I'm tired during workouts I'll find something to get me going.
Jonathan Givony:
Did he push you?
O.J. Mayo:
Yeah, he did push me. If anything, Coach Floyd coached me like he would have coached the last player on the bench.
Jonathan Givony:
What was the most amazing basketball experience you ever had?
O.J. Mayo:
I think getting to play against Kansas State in the first round of the NCAA tournament was a unique experience. I thought that was the last team we were going to draw, so that was cool.
Jonathan Givony:
Some teams have questioned your upside since you've always been a year older than your class, how do you respond to this? Is that something you get offended by when people say maybe he's reached his peak; that's something you've heard since you've been in high school. How do you respond to that?
O.J. Mayo:
I'm going to work hard regardless of what anyone says. You can say whatever you want to say, but you're not going to take that away from me, you're not going to say that I don't work hard or that I'm lazy, that's one thing you're not going to say.
Jonathan Givony:
Is there anything else you want to tell people who are behind you and supporting you right now?
O.J. Mayo:
I want that spot.
Jonathan Givony:
Alright, thanks a lot O.J.