Scouting Report by Josh Riddell. Video Analysis by Mike Schmitz.
In Louisville's first ACC season,
Terry Rozier
was a key player in their successful regular season campaign and NCAA Tournament run to the Elite Eight. Already 21 as a sophomore, due to an extra year of prep school because of an academic issue, Rozier left the Cardinal program early and turns his attention to the next stage of his professional career.
Rozier has the physical tools to match up against NBA guards and nice size to boot. Measured at 6'2.25" with a 6'8.25" wingspan at the NBA Draft Combine, Rozier has a strong frame, long arms and good size for a point guard which will allow him to compete on both ends. Additionally, he possess excellent speed, agility and explosiveness to round out his strong athletic profile.
(Video may not load with Internet Explorer. Use Chrome or Firefox)
Rozier best attribute as a pro prospect is his tenacious defense, evidenced most by his 2.2 steals per 40 minutes which he gets by using his length and anticipation skills to play the passing lanes and lead to easy baskets. He has the potential to defend either guard spot with his 6-8 wingspan and is a pest on the ball, pressuring the ball incessantly on every possession. He moves his feet exceptionally well to stay in front of dribble penetration and his strength prevents him from being bumped out of position. He does so without fouling, averaging just 1.7 fouls per game, which is impressive considering how aggressively he plays.
He's also a great rebounder for his size, averaging
6.2 total rebounds per 40 minutes pace adjusted
(4.9 defensive), which is always useful from the guard position. Rozier's NBA coach won't have to convince him to play hard on every possession, as this has been instilled in him well after two seasons under Coach Rick Pitino, and his toughness and high-energy style has certainly earned him fans in NBA circles.
After playing mainly off the ball his freshman year alongside
Russ Smith
, Rozier became more of a primary ball-handler in his sophomore season, particularly once starting point guard
Chris Jones
was dismissed due to an off-court transgression. Although he showed some improvement in his decision making with the ball, he struggled with inconsistency throughout the season, as while Louisville was an elite defensive team, their offense often left a lot to be desired.
Rozier did quite a bit of his work offensively in transition, where his strong frame, aggressive style of play, solid ball-handling skills and excellent athleticism really shine through. These same attributes make him a solid creator in the half-court as well, as he's capable of beating opponents off the dribble with a quick first step, and can keep opponents on his hip with his size and strength.
(Video may not load with Internet Explorer. Use Chrome or Firefox)
Rozier got a lot of experience operating off ball screens at Louisville, which will help his transition to the NBA, but he was not terribly efficient in these situations, at .851 PPP according to Synergy Sports Technology, which is among the lower rates in this draft for point guards. Shifty and strong, he uses the screen well to create space, and can pull up smoothly off the dribble in the mid-range area, but doesn't always see the floor to make proper decisions and keep the ball moving within the flow of the offense. He can be deadly in looking for his own offense, as his ability to use screens and his quick step gives him space to operate, particularly in the mid-range area, but he needs to improve on getting his teammates involved.
He averaged just
3.4 assists per 40 minutes pace adjusted
, the lowest rate among PGs currently projected to get drafted, and a -0.54 pure point ratio, which also ranks last. To his credit, Rozier does take care of the ball well, turning the ball over on just 11.7% of his possessions, one of the lowest rates in the draft.
Possessing a lightning quick first step, Rozier is able to get to the rim regularly and got to the free throw line at a solid rate. He is a strong ball handler, capable of changing speeds and directions with the ball, and can get into the paint through penetration by using his strength to bully his way into the paint even if he can't blow past his defender. He struggled badly finishing what he created inside the paint throughout his career at Louisville though, settling for too many tough floaters, avoiding his off hand, and generally heaving up difficult shots in traffic regardless of how the defense played him. Rozier made just 41% of his "inside the paint" shot attempts in the half-court in his two years at Louisville, an extremely poor rate that may cause teams to wonder just how much success he'll have in this area at the next level.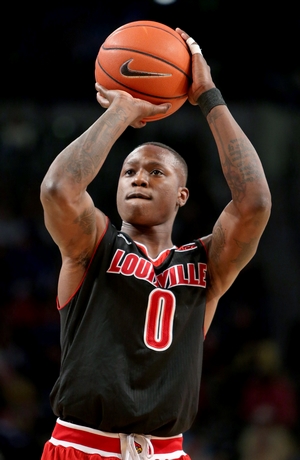 A streaky shooter, Rozier will need to prove he can be more accurate from the perimeter at the next level to become a more well-rounded offensive player. While he displayed nice fundamentals complemented with a high release point thanks to nice lift on his jump shot, it didn't always translate to consistent production. In catch and shoot situations, he converted just 34.5% of his attempts according to Synergy Sports Technology and while he fared better on jumpers off the dribble at 39.7%, these were mostly on long two-point attempts, which are not considered the most efficient looks in the NBA.
Rozier is not a non-shooter, though, hitting 33% of his career attempts, on over five tries per-40 minutes. His ability to create space is a valuable commodity, and when in rhythm he was very effective making jumpers with his feet set. His mechanics are solid, as mentioned, and he found some success at times operating off the ball Louisville, attacking closeouts with his strong first step and doing a decent job of spacing the floor with his average shooting ability, which gives him some potential in two-guard lineups.
Rozier's physical attributes and defensive ability put him firmly on the map as an intriguing draft prospect for many NBA teams. He will need to improve his shot-selection, decision making and overall playmaking ability to earn the trust of an NBA coaching staff, either by seeing the floor better with the ball in his hands or becoming a better spot-up shooter. If he can, he could find himself in a NBA rotation quickly thanks to his strong defense. Although he may need some time to develop offensively, Rozier's aggressive style of play and ability to guard two positions is attractive coming off the bench, and if he continues to improve his feel for the game, he could develop into more than that potentially.