We continue our coverage on the top NBA draft prospects in the Big 12 with part five, players ranked 5-9:
Monte Morris
,
Isaiah Taylor
,
Wayne Selden
,
Prince Ibeh
and
Johnathan Motley
.
---
More DX Conference Preseason Previews:
-The Top 20 NBA Draft Prospects in the Pac-12
-The Top 20 NBA Draft Prospects in the Big East
---
-Top NBA Prospects in the Big 12, Part One
(#1) Cheick Diallo (Scouting Video)
-Top NBA Prospects in the Big 12, Part Two
(#2) Sviatoslav Mykhailiuk (Scouting Video)
-Top NBA Prospects in the Big 12, Part Three
(#3) Taurean Prince (Scouting Video)
-Top NBA Prospects in the Big 12, Part Four
(#4) Buddy Hield (Scouting Video)
---
#5, Monte Morris, 6-3, Junior, Point Guard, Iowa State
Jonathan Givony
After a very strong freshman season, Monte Morris took another step in his development as a sophomore, becoming a full-time starter for Iowa State, who were ranked among the top teams in college basketball for much of the season before being upset in the NCAA Tournament's Round of 64 by UAB. He was named to the Big 12's Second-Team All-Conference squad, and garnered an invite to try out for the USA Basketball Pan-Am roster this summer. Already sporting a 53-17 record over the past two years, and winning the Big 12 tournament in both seasons, Morris has already enjoyed quite a bit of success at the team level as an underclassman.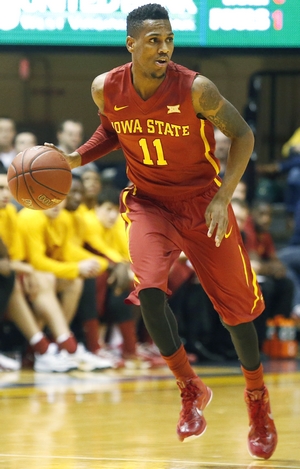 With beloved Fred Hoiberg off to coach the Chicago Bulls, we will get to see Morris in a different light this season, under the reigns of former Murray State head coach Steve Prohm. There is a case to be made for Morris as one of the top returning point guards in college basketball, after posting some of the best passing metrics in the country the past two seasons. Morris ranked first in the NCAA in assist to turnover ratio, by a wide margin, and came in third in Pure Point Rating (PPR), behind now graduated seniors T.J. McConnell and Brett Comer.
As a sophomore, Morris showed that his spectacular playmaking numbers as a freshman were far from a fluke, something that there was some concern about due to the inordinately small role (11.6% usage) he played offensively for Iowa State alongside the ball-dominant DeAndre Kane. He still wasn't a huge scorer, with his 13.1 points per-40 pace adjusted being among the lowest compared with other DX Top-100 PGs, but he was extremely efficient offensively with his pass-first style of play, posting a strong 59% TS%.
Morris is a prolific pick and roll player, seeing nearly 10 possessions per game in that situation, and ranking #1 among returning draft prospects with the 1.043 PPP he posted. He is a strong and steady ball-handler who does a great job of surveying the defense, evaluating his options and reacting to what's happening on the floor. He can drive and dish, find open shooters on the weak side, make post-entry feeds and also dish the ball over the top of the defense with flashy lobs. He has excellent timing on his passes, and outstanding court vision.
Perhaps the most impressive aspect of Morris' playmaking is how infrequently he turns the ball over. Iowa State played at a breakneck pace, faster than any other high-major college team besides Arkansas, LSU and North Carolina, but he regardless averaged just 1.2 turnovers per-40 minutes last season, coughing up the ball on just 10.8% of his possessions, which is lower than any point guard drafted in the last three years.
At 6-3, Morris has good size for the point guard position, although his 175 pound frame still has a ways to go in terms of filling out. He doesn't possess blazing speed or incredible explosiveness, which, when combined with his lack of strength, makes it difficult for him to get by opposing guards at times. He does do a nice job of playing at different speeds, showing the ability to change pace and use crafty ball-handling moves to keep defenders off balance, and showed progress with his frame this past summer with USA Basketball.
When asked to go out and create a shot on his own, he struggled at times last season, especially against some of the better competition Iowa State faced. As effective as Morris was in the pick and roll last season, he was extremely average in isolation situations, which is an area NBA teams will want to see him get better at, as pro point guards absolutely need to have the ability to improvise on the fly in late-clock situations.
Morris can handle the ball with either hand, but he tends to favor his right when it comes to finishing around the basket. Because of his average strength and explosiveness, he isn't always able to make it all the way to the rim and finish in traffic, and has thus developed a nice floater he can get off from 5-8 feet away that he was extremely effective with last season. Still, NBA teams will want to see Morris do a better job of creating and finishing through contact inside the paint as an upperclassman, as he doesn't get to the free throw line at a great rate.
Morris shows very nice potential as a shooter, hitting a career 40% of his 3-pointers thus far, and 80% of his free throws. 3-pointers have never made up a huge part of his offensive arsenal, though, with just 26% of his field goal attempts coming from beyond the arc last season. Considering his limitations as a finisher around the basket, this is an important trait for him to have.
Morris possesses smooth and consistent shooting mechanics, and showed potential as a shooter both with his feet set and off the dribble the last two seasons. He can still stand to improve the quickness of his release and do a better job of creating separation from defenders with his pull-ups, but he's shown improvement in this area the last two years.
Defensively is where Morris will need to improve to play the type of NBA role his skill-set says he's ideally suited for. On an Iowa State team known more for their offense prowess than for getting stops, Morris had some nice moments from time to time, but was very inconsistent overall. He has the size and length needed to defend either guard position at the college level, and will get up on opposing ball-handlers and put solid pressure on the ball at times, getting in the passing lanes at a nice rate (2.1 steals per-40).
With that said, Morris' intensity level wavers too frequently, as it's not rare to see him falling asleep in his stance, struggling to get through screens, and being a split-second late closing out on shooters. His lack of strength can cause him to get overpowered on dribble penetration at times, and his effectiveness at the end of games and in late-clock situations isn't always ideal.
Since he doesn't project to be a prolific scorer in the NBA, teams will want to see him develop into a plus defender that a coach can count on to defend his position with intensity, but considering his age and lack of experience, he has plenty of time to continue to develop that part of his game.
Only having turned 20 this past summer, Morris is one of the younger prospects in the junior class, and is in fact younger than a number of sophomores who are likely to get drafted this upcoming June. No longer an underclassman, it will be interesting to see how Morris evolves as a junior under a new head coach and in a backcourt that has lost some firepower from last season. Another strong year could absolutely propel him into strong draft consideration this spring.
#6, Isaiah Taylor, 6'3", Junior, Point Guard, Texas
Derek Bodner
An unheralded high school recruit, 6'3" point guard Isaiah Taylor had a surprising freshman season for Texas, starting every game for the Longhorns and becoming a key catalyst in their bounce back season.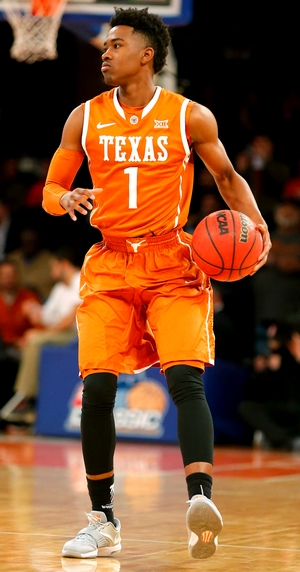 While Taylor still showed much of the same ability that made him effective as a freshman, he failed to really take the next step many were hoping for last season. His scoring average (16.2 points per 40 minutes pace adjusted as a freshman, 17.2 as a sophomore), assist total (5.2 per 40 pace adjusted to 5.9), and overall efficiency (48.6% to 49.6% true shooting percentage) all remained relatively flat, with modest, at most, improvements.
It's the lack of improvement in his perimeter shot that is the most concerning, as that remains a major hole in Taylor's game. While Taylor shot better from two point range, up from a disastrous 39.8% as a freshman to a still mediocre 42.1% as a sophomore, his proficiency from the perimeter is still a major problem. Taylor connected on only 11 three pointers on the season, shooting 28.2% from deep, and converted only 32.4% of his total jump shots overall according to Synergy Sports Technology.
The lack of ability to make shots from the perimeter, and the hesitance to pull the trigger on open opportunities that those struggles cause, has an impact on what Taylor is able to do. Defenses are more than willing to sag off of Taylor, on both pick and rolls to close off driving lanes and also when Taylor is off the ball, causing congestion in the paint.
This is unfortunate, as Taylor is lightning quick with the ball in his hands and has a real knack for creating for others off the pick and roll. Despite struggling to keep defenders honest, Taylor still shows an ability to get into the paint almost at will, but driving and passing lanes would open up even more if defenders had to worry more about him as a shooter coming off of the pick.
Taylor's biggest threat when he does get into the lane is as a passer, where he has solid court vision and passing instincts, and was able to find both big men cutting to the basket or three point shooters stationed on the perimeter with ease.
In terms of his own offense, Taylor does have some physical limitations that hold him back somewhat, as he's not an incredibly explosive leaper in traffic and doesn't have the upper body strength to really play through contact. He also wasn't able to draw fouls at quite the same prolific rate that he did during his freshman season, as both his free throw rate (54.9% to 37.1%) and free throw attempts per 40 minutes pace adjusted (7.4 to 5.4) saw significant drops, although both are still good marks.
That being said, Taylor did improve his effectiveness finishing around the basket over the previous season, and has good touch around the hoop, particularly with his left hand, and a well-developed floater game that he uses to offset some of these limitations. Still, shooting 42% from 2-point range is not very encouraging for a point guard who is already a poor shooter from outside the paint, so showing progress in this area as a junior will be imperative.
On the defensive side of the court, Taylor's quickness is definitely an asset in his arsenal, as he combines his lateral mobility with good technique to keep even quicker guards in front of him. His profile once again presents some hurdles he'll have to overcome, however. Taylor struggles to fight through screens on the perimeter, and he'll frequently float off the ball looking for steals or to double down low, and struggles to get back and adequately contest a shot, an area where his average length (6'3.5" wingspan) doesn't help.
Taylor has a couple of attributes that are definitely intriguing as a prospect, namely his quickness, ability to get into the lane, and above-average passing feel. That being said, it's hard not to be a little bit disappointed in the lack of progress in a couple of areas that could become a real Achilles heal for him down the line. With NBA decision makers hyper-focused on floor spacing, there's less and less willingness to overlook guys who are non-shooters, and Taylor will have to show significant progress from the perimeter to really make the most of his talent this season, especially since he's turning 22 years old this upcoming summer, making him the same age as some of the players in the senior class.
#7, Wayne Selden, 6-5, Junior, Shooting Guard, Kansas
Josh Riddell
One of the most physically developed players in college basketball at 6-5, 230 pounds, Wayne Selden has been on the radar of NBA scouts for several years, as he was ranked
13th in RSCI in 2013
. Now entering his junior season for Kansas, Selden is hoping that he can show NBA teams he has the basketball skill set to match his physical tools after a somewhat disappointing sophomore campaign.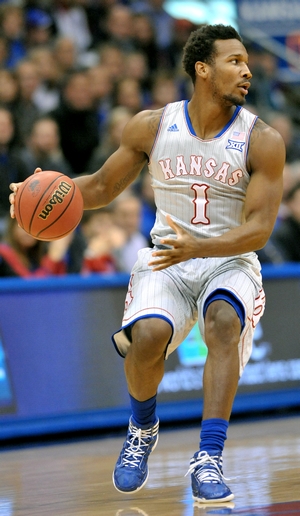 Selden has almost everything you want from a physical standpoint in a wing player, standing 6'5" with an impressive 6'10" wingspan to match. He has a strong frame that is already developed for a player of his age and allows him to compete physically on a nightly basis. He is not incredibly quick or explosive, but with his size, length and build has the athletic tools necessary to be a NBA player.
The key for Selden's draft stock and his NBA future is his ability to demonstrate that he can score consistently in some fashion. His 12.5 points per 40 minutes pace adjusted average as a sophomore is very poor, as he struggled badly with efficiency, posting a true shooting percentage of just 50% last season, which included making 39.5% of his two pointers.
Selden does not possess a very quick first step, as he often relies on his brute strength to shed defenders en route to the lane, often resorting to push off to get a clean look. On top of that, he's a relatively average ball-handler, showing little in the way of advanced moves or craftiness weaving in and out of traffic with change of speeds.
After being a 65% finisher at the rim in a limited role as a freshman, he tumbled all the way down to becoming only a 40% finisher according to Synergy Sports Technology after being forced to shoulder a bigger share of Kansas' offense. For someone with Selden's build, it's surprising to see how infrequently he's able to get all the way to the basket and finish strong, as he often stops short and settles for floaters, which he hits at a very poor rate. His combination of an average first step and a lack of crafty ball-handling ability made it difficult for him to get off too many clean looks as a sophomore. All in all, Selden converted just 25 of the 75 shots he attempted inside the paint in the half-court last season, which is nothing short of disastrous. NBA teams will want to see a player with Selden's build show a much higher degree of toughness as a finisher around the basket at the college level as an upperclassman.
While Selden struggles quite a bit as a creator inside the arc, he has proven to be a capable passer through his career, showing a very strong basketball IQ and a willingness to make the extra pass. His 3.5 assists per 40 minutes pace adjusted is a strong mark for a shooting guard. He delivers accurate passes to his teammates and has nice vision to find the open man. He doesn't always make the flashy play but he plays within himself and makes the simple, unselfish pass to keep the offense flowing.
Selden has also shown promise as a perimeter shooter, displaying a fundamental, consistent form that could make him an outside threat at the next level. He has improved slightly as a three point shooter in his two seasons at Kansas, seeing his percentage rise from 32.8% to 36.5%. He has a high release point that allows him to shoot over the defense and he looks comfortable shooting with his feet set from outside the arc. Increasing his consistency will be a big selling point for him as a prospect, as he already struggles to score inside the arc at the college level and will have an even more difficult time in the NBA. The foundation is there for him to be a perimeter threat, but he needs to show better shot-selection and consistency with his mechanics, which appear to be a bit stiff at times.
While Selden is no doubt capable as a catch and shoot player, he has also shown some flashes of ability shooting off the dribble as well. When he can put the ball on the floor and get into the lane, he has the strength to shed his defender with the potential to control himself and rise up for a pull-up jump shot. His execution on these attempts was inconsistent last season, making just 32% according to Synergy Sports Technology and an improved mark to support his catch and shoot ability will be key going forward, providing him with a secondary way to score.
Defensively, Selden puts in a high amount of effort and is a fierce competitor. He throws his body around the floor and is always moving and looking to make an impact for his team. With that said, he too often gets beat on dribble penetration with his lack of lateral quickness, which leaves his team exposed. Selden's career .9 steals and 3.6 rebounds per-40 is a below average mark for a player with a 6-10 wingspan, particularly someone with his build.
After an impressive stint in the World University Games over the summer, expectations are high for Selden's junior season. On a talented Kansas team, Selden will need to find his role and work on his skills that can translate to the NBA. He was pegged as a NBA prospect already in high school with his strong combination of size, strength, length and high basketball IQ, but rounding out his skill-set will see his stock rise before next year's NBA Draft.
#8, Prince Ibeh, 6-11, Senior, Center, Texas
Jonathan Givony
Born in London to parents who emigrated from Nigeria, Prince Ibeh moved to Texas when he was five years old. The #63 recruit in his high school class, Ibeh's career at Texas hasn't really taken off going into his senior year, partially due to the frontcourt depth Texas has sported in the last few years. His own lack of development has something to do with this as well of course, as did possibly the general dysfunction of the basketball program under head coach Rick Barnes, which led to him being replaced by VCU's Shaka Smart this past summer.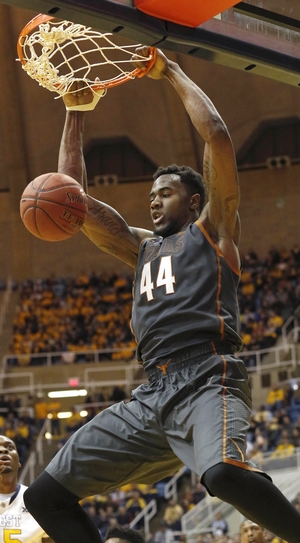 Ibeh saw the same amount of playing time as a junior as he did as a freshman, and posted very similar numbers on a per-minute basis. He once again scored around 8 points per-40, a miniscule number that ranks as the fourth lowest offensive output among collegiate draft prospects, while hitting just 37.5% of his free throw attempts, the same rate he did as a freshman. Ibeh's rebounding hasn't improved either, as he's yet to crack the 10 rebound per-40 mark in his college career, which is almost shocking considering how limited his role when he's on the floor. And he's still just as foul prone as he was when coming into college, average more fouls per-minute as a junior (7.7) than he did as a freshman (7.1).
On the plus side, Ibeh was one of the most impactful defenders in college basketball in his small minutes on the floor, being one of only two players to post over 1 steal and 5 blocks per-40 minutes in the NCAA last year.
Ibeh's physical attributes have a lot to do with that, as he shows ideal tools for what many NBA teams look for in a center these days. Measured at 6-11 in high school, yet listed at 6-10 by Texas last year, Ibeh has an incredible 7-4 wingspan that makes whatever number his height comes out at as fairly inconsequential. He also sports an amazing frame, being absolutely chiseled at 260 pounds, but is nevertheless incredibly mobile despite carrying that much weight, and also very explosive at that.
Ibeh runs the floor extremely well when motivated, and is capable of covering quite a bit of ground in the half-court as well. He gets off his feet quickly and can play above the rim with relative ease, which helped him create an
impressive highlight reel last season
relative to his lack of offensive production.
Ibeh has solid hands, catching mostly everything thrown his way. He shows potential as a pick and roll finisher, as he can get out in a hurry to the 3-point line to set a screen and then roll quickly back to the lane to complete a lob play with authority, sometimes from extreme vantage points. Ibeh is mostly a non-factor offensively, but he did finish 67% of his field goal attempts "around the basket" last season according to Synergy Sports Technology, thanks to his outstanding length and mobility, although he rarely was able to take advantage of that on a team with very poor ball-movement.
Beyond that, Ibeh is a very limited player offensively, showing little ability to score outside of five feet, as indicated by his career 44% free throw percentage thus far. Watching his offensive possessions on film involves seeing quite a few moving screens, charges, and traveling violations. He has poor footwork and awareness with the ball in his hands, as it's not rare to see him throwing the ball away or directly into an opposing defender's hands. Ibeh has dished out just 12 assists in his 1100+ minutes at Texas, posting an incredibly low 2% career assist percentage, while turning the ball over on over 20% of his possessions.
Defensively is where Ibeh shows tremendous potential as an NBA player, as evidenced by the 5 blocks per-40 minutes he's averaged over his career at Texas, which would have ranked first among all players drafted last year. Most players with his combination of height, mobility, length and shot-blocking prowess are generally on the thin side, but Ibeh is absolutely ripped, which gives him a chance to be a solid low-post defender in addition to being a rim-protector. He's simply too strong for most big men to try and back down, and too long for almost anyone to try and shoot over.
While Texas played a very conservative defensive scheme last year, Ibeh at times showed the ability to step out on to the perimeter and stay in front of players much smaller than him. He's just as fast and agile as most guards, and even if he gets beat initially, usually has no problem recovering back to the paint and making a play at the rim. His ability to cover ground makes him a massive presence rotating from the weakside, something that gives him huge potential as he continues to gain experience from seeing real playing time, and get better coaching than he's received up until now.
With that said, Ibeh is still a long ways away from reaching his full potential on the defensive end. He's not very fundamentally sound here, relying too heavily on his physical tools and not always appearing to operate at maximum intensity. It's not rare to see him jogging the floor lackadaisically, and he tends to lose his focus very easily, biting on pump-fakes, reaching unnecessarily, and generally showing poor awareness. Ibeh is also extremely foul prone, something that hasn't really improved much between his freshman (7.6 fouls per-40) and junior (7.4) seasons. On top of that, he's a very underwhelming presence on the defensive glass, as he almost never boxes out opponents and doesn't show great instincts or intensity for pursuing loose balls.
While it's difficult to project a junior who averaged just 2.1 points per game as a NBA draft pick, it would be foolish to rule out a prospect like Ibeh out. There simply aren't many human beings on the planet with the kind of physical attributes he possesses, and we've seen players like Joel Anthony, Bismack Biyombo, Ian Mahinmi, Dewayne Dedmon and others carve out careers in the NBA despite not having any real ability to put the ball in the basket, simply due to their ability to protect the rim.
Furthermore, not turning 22 until June, Ibeh is one of the youngest prospects in our senior rankings, and didn't even start playing basketball until his freshman year of high school, giving him significant upside to continue to improve.
It will be very interesting to see what new head coach Shaka Smart can do with Ibeh, since he could seemingly be quite a weapon in the style of play he's trying to implement at Texas. Unfortunately, Smart also likes to play small quite a bit, and Texas does have three other big men in Cameron Ridley, Connor Lammert and 265-pound Shaquille Cleare who all need minutes, which may make it difficult for him to see a huge bump in playing time.
Nevertheless, Ibeh's physical tools are so coveted there will undoubtedly be quite a few NBA teams lining up to give him a look in the pre-draft process. If he can have a few signature performances like the game he played at Kansas last season, he'll have a chance to show he's worthy of investing time and resources in hopes he's able to take the next step in his progression as his pro career unfolds.
#9, Johnathan Motley, 6'9, Redshirt Sophomore, Power Forward, Baylor
Matt Williams
Ranking among the top-100 or so recruits in the high school class of 2013, Johnathan Motley emerged as a starter for Baylor, averaging 7.8 points and 4.2 rebounds over 21.4 minutes per-game as a redshirt freshman. Though Motley struggled at times, he also turned in a number of impressive performances, gaining valuable experience a year ago, while flashing interesting potential.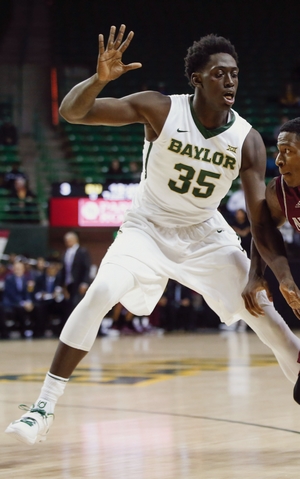 Motley's upside starts with his impressive length and athleticism. Our last official measurements taken over 3 years ago between his junior and senior year of high school had him at 6'7.5 with a 200-pound frame and a 7'3.5 wingspan. Using his redshirt year to work on his body, Motley is currently listed at 6'9 with a 230-pound frame. His wingspan likely hovers around 7'4 or more. Though the improvement in the young power forward's frame is unmistakable, he still needs to continue adding muscle as he got pushed around at times a year ago. A bouncy, mobile athlete whose length allows him to effortlessly play above the rim, Motley has a nice base of physical tools to build on.
Offensively, Motley was asked to play a surprisingly post-up heavy role for balanced offensive team that ranks among the more imposing offensive rebounding lineups in recent memory. More than one-third of his possessions came in one-on-one situations on the block, as he accounted for almost half of the Bear's total post up possessions according to Synergy Sports Technology, although he only finished as the team's fifth leading scorer.
Shooting only 36% in the post, Motley did a nice job battling inside, but is still early in his development as a one-on-one scorer, as his lack of touch, strength, and polished post-moves limited his effectiveness. He relied heavily on his right handed hook shot, which is still a major work in progress. It took Corey Jefferson three years to find his touch and blossom as a post option under Scott Drew, and it will be interesting to see if Motley ultimately follows a similar trajectory.
Outside of his post game, Motley had some nice moments finishing around the rim, especially in transition where his long strides made him one of the more promising rim-running big men in the college game. In the half court, Motley struggled a bit with his efficiency as he appeared rushed to get the ball up on the rim at times, and was prone to getting pushed off balance by defenders looking to use his lack of strength against him. Shooting just 49.4% as a finisher in the half court, Motley's numbers take a hit because of how frequently the Baylor big men played volleyball on the backboard amongst themselves offensively, but even so, he still has a lot of room to improve his ability to convert consistently inside.
Away from the basket, Motley attempted around one jump shot per-game, but converted only 25% of his looks from the perimeter and 64% from the line. He will need to tighten up his mechanics if he wants to be a weapon from the mid-post and beyond. He can be a bit turnover prone when he tries to do too much, but also faced quite a few double-teams for a player so early in his offensive learning curve.
At this stage, there's two things Motley does at a high level. First, he's a very good offensive rebounder, especially when his motor is running hot. His length allows him to get his hands on caroms that other players simply can't at the college level. His 4.3 offensive rebounds per-40 minutes pace adjusted is particularly impressive when you consider he's playing alongside Ricardo Gathers, who is arguably the best offensive rebounder in the country.
Second, Motley is a nice rim protector playing on the side of Baylor's 2-3 zone. His length and aggressiveness allowed him to make an impact altering shots at times, but also got him into foul trouble as well. Possessing outstanding foot speed for his size, Motley has intriguing defensive potential at the next level even if he won't have played much man-to-man at Baylor. He lacks discipline closing out on the perimeter at times, but changes direction well and could be a standout, multi-positional defender down the road if he retains his impressive quickness as he adds strength.
Thrown into the fire a freshman, Johnathan Motley performed fairly well for a Baylor team that ultimately fell victim to R.J. Hunter's timely shooting in the NCAA Tournament, even if he was clearly rough around the edges. He should play a similar role for the Bears this year as they figure to be a staple of most Top-25 polls once again. Motley is a player who may not factor into the draft in the short term, but his physical tools, effort and defensive potential give him a lot of promise and make him a player worth monitoring as he develops.