We continue our coverage on the top NBA draft prospects in the Big East with part four, players ranked 4-8:
Mikal Bridges
,
L.J. Peak
,
Isaac Copeland
,
Kelan Martin
and
Jalen Brunson
.
Top NBA Draft Prospects in the Big East
(#1) Edmond Sumner (Scouting Video)
(#2) Jessie Govan (Scouting Video)
(#3) Josh Hart (Scouting Video)
#4, Mikal Bridges, 6'7, Redshirt Sophomore, Small Forward, Villanova
One of the more pleasant surprises for the balanced Villanova team that rode timely shooting and lockdown defense to the National Championship, Mikal Bridges had an impressive season coming off the bench for Jay Wright's Wildcats as a redshirt freshman, contributing in a variety of ways a year ago. Though he averaged just 6.4 points and 3.2 rebounds over 20.4 minutes per game, Bridges's length, athleticism, and defensive versatility helped him impact the game on both ends in spurts and make him a player scouts will be keeping a close eye on as he moves into a more prominent role.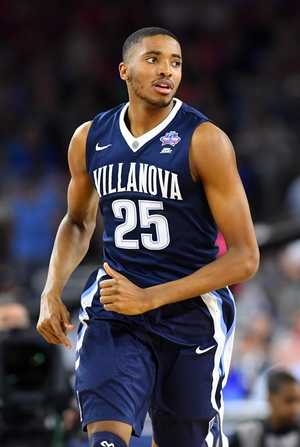 Measured at 6'6 in shoes with a 7'0.5 wingspan and a 178-pound frame ahead of his senior year at Great Valley HS (PA), the consensus top-100 recruit spent the 2014-2015 on the sidelines as a redshirt working on his body and game. Now listed at 6'7 with a 200-pound frame, Bridges has very nice physical tools for a small forward at any level to go along with terrific quickness and solid leaping ability that could improve as his body fills out.  
Bridges's athleticism played a significant role in his success offensively a year ago.  Though he averaged a solid, but unspectacular 17.2 points per 40 minutes pace-adjusted last season, he did so while scoring a tremendous 1.14 points per possession according to Synergy Sports Technology, one of the top-50 marks in all of Division I among rotation players.  Playing almost exclusively off the ball spotting up on the perimeter, running the floor in transition, and moving without the ball playing off of Villanova's rock solid guard-play in the half court, Bridges showed a promising blend of set shooting and dynamic finishing ability.
Though only 45% of Bridges's shot attempts came in the immediate vicinity of the rim last season, he shot an outrageous 81% on those attempts.  The Malvern native isn't the type of player who is going to break his man down off the dribble and make quick decisions to score craftily, as his ball-handling and overall shot creating ability is still a work in progress, but he is very much the kind of forward who regularly puts himself in the right place at the right time inside, takes what the defense gives him as a slasher, and looks to finish strong through contact above the rim.  Doing a very nice job sprinting the floor in transition, crashing the glass, cutting back-door in the half court, making hustle plays, and using his rangy strides to get to the rim off of one dribble when the defense gets careless, there's a lot to like about how Bridges handled the small role he played a year ago.
Away from the basket, Bridges showed some promise as well, albeit not with the gaudy efficiency numbers he posted in the paint.  A little over a third of the sophomore's shots came in catch and shoot situations a year ago, which he converted at a decent 35% clip.   A capable shooter from beyond the arc whose mechanics are fairly solid, if a bit rigid and inconsistent on some attempts, Bridges seems to have some upside as a floor spacer if he can clean up his release.  He was particularly effective shooting the ball from the right wing, and made 79% of his free throws last season, but struggled from the left side and connected on just 6 of the 20 corner 3s he attempted.  On top of that, he knocked down only 4 of the 18 pull-up jump shots he attempted, as he still has a lot of room to grow as a shot maker from the perimeter.  
The 2016-2017 season will be an interesting one for Bridges, as the departure of Daniel Ochefu and Ryan Arcidiacono will open up minutes and shots throughout the rotation, but Jalen Brunson, Josh Hart, Kris Jenkins and Fordham Eric Paschall transfer figure to pick up plenty of that slack.  Bridges has already proven that he can excel in a small role offensively, so it will be fascinating to see if his skill level blossoms to help fill the void, or if he once again plays a more complementary role.  If he can improve his shooting from the perimeter, there's little question that he offers intriguing roleplayer potential at this end at the next level, but he could raise his profile considerably if he can flash the ability to create a bit off the bounce and make sound decisions with the ball.
Though there's some uncertainty as to how things will go offensively for Bridges this season, there's little doubt that he'll be a major cog on the defensive end for Wright's program.  
Averaging 1.4 blocks and 1.7 steals per-40 minute pace adjusted last season, Bridges has a flair for making plays, but there's also plenty of substance behind what he brings to the floor.  The 20 year old is an active defender who fits exceptionally well into Villanova's aggressive switching attack, faring particularly well when defending on the ball.  
Despite his knack for moving his feet and staying in front of smaller players away from the rim, Bridges struggled at times defending off the ball, losing track of his man leading to some avoidable open jump shots.  He could also stand to get stronger in the hopes of improving his ability to hold position defending power forwards, something he was asked to do at times.  Given last season was Bridges's first taste of major college basketball, it will be interesting to see how he progresses on this end in the future as he has makings of an impactful, multi-positional defender.  
One of the more valuable young roleplayers in the college game a year ago, particularly as the year moved on, Mikal Bridges made the most of his redshirt season to provide valuable minutes for the National Champion Wildcats as a second year freshman.  As is frequently the case with players in his mold, the coming years will be a major test for him as his role becomes more demanding and he is asked to expand his skill set to become a more productive scoring threat.  Regardless, Bridges is a player scouts will be monitoring to see if he can take a significant step forward as a player, as he has the makings of a very promising two-way wing if he can improve his jump shot and reach his potential defensively.
#5, L.J. Peak, 6'5, Junior, Shooting Guard, Georgetown
Jonathan Givony
Lost in the midst of a highly disappointing season for Georgetown (losing their final nine of ten games in Big East conference play and finishing 7-11) was the significant development shown by their sophomore wing L.J. Peak, albeit mostly in a losing effort.
Peak shot the ball extremely well down the stretch for Georgetown, making a blistering 46% of his 3-pointers in the last 15 games of the year. He scored a strong 20 points per-40 pace adjusted on the season overall (53% 2P%, 41% 3P%), getting to the line at a solid rate and showing marked improvement in a number of categories.
Only 6'3 without shoes, Peak doesn't have outstanding height for a wing, but his very long 6'9 1/2 wingspan should allow him to guard shooting guards comfortably. He doesn't have the widest frame, but is a little stronger than he appears.
Peak has a fairly simple offensive game, revolving mostly around getting out in the open floor, making open shots, and being opportunistic with his drives. He has great quickness running the floor, which earns him some easy baskets getting ahead of the defense or attacking in the early offense, finishing an excellent 76% of his field goal attempts in transition according to Synergy Sports Technology.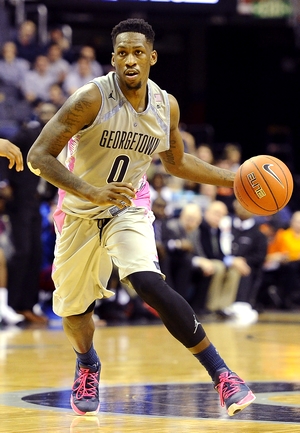 Much of his progression on this end of the floor stemmed from the improvement he displayed with his shooting, becoming a highly reliable option with his feet set, something that wasn't the case prior to last year (25% 3P% as a freshman). He shot the ball with great confidence last season when left open, and even showed flashes at times making shots off the dribble. Peak doesn't have the most conventional mechanics, as his elbow tends to flail out, but he demonstrates a consistent release point and gets it off relatively quickly, even with range extending well beyond the college arc at times.
As a shot-creator, Peak is very much a work in progress still. His quick step allows him to attack closeouts (and take advantage of the new-found attention he enjoyed on the perimeter) and get to the rim nicely, slithering around defenders with strong footwork and body control. He is quick, decisive and occasionally explosive with his finishes around the basket, often getting deep inside the paint attacking in a straight line thanks to his strong first step.
While certainly improved, Peak is not a good enough ball-handler at this stage to be called upon to create offense for himself or others consistently at this stage. He doesn't change speeds or directions very effectively with the ball yet, being especially limited using his left hand, which makes it difficult for him to create high percentage looks for himself on the fly in the half-court. He's not incredibly creative with his finishes if he can't get right into the teeth of the defense, showing average touch on his floaters, and isn't a brilliant passer off the bounce either, demonstrating just average court vision.  
As much as he improved making shots with his feet set last year, Peak has room to grow as an off the dribble shooter still, as he doesn't create much separation off the bounce and tends to release the ball on the way down occasionally. This simply isn't a big part of his game at the moment, which consists mostly of straight line drives and spot-up jumpers for the most part, even if he did demonstrate some flashes at times last year, making 12/28 (43%) of his attempts. It will be interesting to see how he builds on this next season with more offensive responsibility, and whether he's able to sustain the marked improvement he demonstrated as a 3-point shooter overall.
Defensively, Peak has been asked to guard anywhere from the 1-4 positions for Georgetown over the past two seasons, having some very impressive moments on this end of the floor. He covers ground well, has very quick feet, and can utilize his terrific length very effectively sagging off opponents and still contesting (or even blocking) shots on the perimeter.
With that said, Peak was inconsistent with this part of his game, taking a definite step back from what he showed last summer at the FIBA U19 World Championship for USA Basketball, where he played the role of defensive stopper for the Gold medal winners. He didn't always look like he's operating at full intensity on this end of the floor last season, particularly off the ball, and got beat off the dribble far more than you might hope for someone who should hang his hat on his work here.
This was hardly a problem that was unique to Georgetown last season, as the whole team was very inconsistent with their effort, approach and focus in Big East play, so it's tough to know how much of this is due to the situation he was in. What we do know for certain is that Peak will have to be an absolute lockdown defender to have any chance of carving out a role in the NBA, as he's simply not skilled enough to live off his offense alone.
Having a sneaky combination of coveted skills with his length, athleticism effective spot-up jumper and defensive potential, Peak is someone that will be monitored closely by scouts this season. Can he help what appears to be a fairly talented Georgetown team bounce back and make the NCAA Tournament after a very disappointing year? With Georgetown losing their most prolific and efficient offensive option in combo guard D'Vauntes Smith-Rivera, L.J. Peak will likely be asked to step up, putting him in an ideal situation to improve his standing among pro scouts.
#6, Isaac Copeland, 6'9, Junior, Power Forward, Georgetown
Julian Applebome
Junior combo forward Isaac Copeland built on his Big East All Freshmen Team season with an inconsistent or even relatively disappointing sophomore campaign that saw his numbers largely plateau on a per-minute basis. In what was a very down year for a Georgetown Basketball program that had its first ever losing season under Head Coach John Thompson III, Copeland showed signs of positive development in a much larger role in which he started all 33 games, but also took a step back in other categories, which left him no choice but to return for his junior campaign without even testing the NBA Draft waters.
With the departure of D'Vauntes Smith-Rivera, the teams leading scorer last season, Copeland will have an opportunity to carry more of the load offensively, for what should be an improved Georgetown team.      
From a physical perspective, Copeland remains a mixed bag. At 6'9 he has good size to play at either forward position, but boasts below average length (6'9" wingspan) which shows in certain aspects of his game, particularly in his ability to finish around the basket. Hovering slightly above 200 pounds, Copeland has a solid frame, but doesn't stand out as being a particularly strong or physical player. He is not an elite athlete in terms of explosiveness, but is fluid with his movements, and has the ability to finish above the rim if he is given time and space to load up. He runs the floor well for a guy his size, and is able to find a lot of easy offense in transition when he is able to get out in the open court, and run the wings on the break.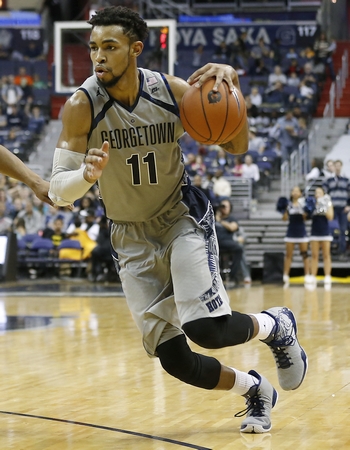 What is most intriguing about Copeland from a professional perspective is his ability to knock down shots from beyond the arc at his size. He fell off percentage wise from his freshmen year, hitting only 27% of his 3.8 attempts per game, but still seems to have the touch and quick release to develop into a more reliable threat from deep after hitting a more promising 39% of his 3-point attempts as a freshman. His mechanics are not ideal, and his jumper can come off flat at times, but he has the range and size to hit shots from all over the floor. He's active without the ball, and finds a lot of his easy offense on cuts to the basket, but he also looks comfortable moving without the ball to come off screens and hand offs for quick jumpers. While the majority of Copeland's offense came out of catch and shoot situations and off ball movement, he did show the ability to step in and knock down a one or two dribble jumpers going either direction.  
Copeland hasn't yet shown much in terms of creating his own offense. He is fairly limited in terms of ball handling ability, and rarely looks to attack off the bounce. On the occasional straight line drive to the basket or closeout attack, Copeland has shown he has the touch and body control to finish in traffic, but lacks the length and explosiveness to do it a consistent level. He's able to get away with it at the college setting, but it's something to monitor when he gets to the professional game and has to deal with more proficient rim protectors. He doesn't really look to finish through contact and only averaged 2.7 free throw attempts while spending just over 32 minutes per game on the floor.  
His ability to attack the basket at a better rate will certainly depend on defenses having to respect his outside shot, opening cleaner driving lanes. While Copeland has yet to show much in terms of advanced ball handling abilities, he has demonstrated some promise as a distributor.  He was featured in a fair amount of ball screen situations, something unique for a player his size, and showed the patience and vision to make the right decision.  His size allows him to see over the top of the defense, and find rollers to the basket and shooters spread across the floor.  He generally plays within himself, not forcing the issue, while compiling fairly low turnover numbers.  
Given his size and mobility, Copeland has the ability to guard wings, and some smaller power forwards that don't look to play a more physical brand of basketball out of the post. He competes and can be a willing defender who plays out of a stance, but is hurt by his lack of length and doesn't bring the same effort on every possession. His steal and block averages were both below 1 per-40 for his career, a bit of red flag for someone his size. He has the tendency to close out too aggressively on shooters, allowing penetration and forcing his team into multiple rotations. He should be able to be more of a reliable presence on the defensive end of the floor given his smarts and mobility, but he has to show some improvement with his fundamentals and toughness.
Copeland is a relatively mediocre rebounder, averaging just 6.8 per-40 last season. He did a poor job of attacking the offensive glass, posting one of the lowest rates at his position at just 1.8 per-40, which is disappointing considering his size and seemingly solid basketball instincts. Scouts will want to see Copeland play with a higher motor and sense of urgency on both ends of the floor, and this is one place he can make significant improvement as a junior.
Copeland didn't live up to the lofty expectations he created for himself after a very promising freshman season, , and will need to have a much more productive Junior campaign in order to keep his name in the draft conversation and not be labeled an enigma.  There are not too many guys in the college game who are 6'9, fluid, have a feel for the game, and can shoot the ball from deep at a consistent level, so if Copeland is able to find a more reliable stroke from deep this season, and play with better toughness and assertiveness, he will open up plenty of options for himself.  Georgetown has a much improved roster this season, but will surely rely heavily on Copeland's talent to try and bounce back from a highly disappointing year.
#7 Kelan Martin, 6'6, Junior, SF/PF, Butler
Josh Riddell
After a solid freshman season as an unheralded recruit from the state of Kentucky, Butler's Kelan Martin saw statistical improvements across the board in his sophomore season. This helped earn him an invite to the Adidas Nations summer camp, where he was able to test his skills against some of his peers and fared fairly well. He now returns to Butler ready to step into a leading role while trying to get the Bulldogs back to the NCAA Tournament for a third straight season.
The 6'6" forward may not have received serious NBA consideration several years ago, as he seems caught between positions, but with the evolution of the NBA game, Martin will certainly stay on the radars of scouts the rest of his collegiate career. He has a stocky frame at 6'6", 235 pounds, and although he isn't impressively long or athletic, he uses his size and strength well to battle bigger players. This can allow him to play an undersized power forward as he has the potential to be the versatile, skilled big man that many NBA teams are looking for these days.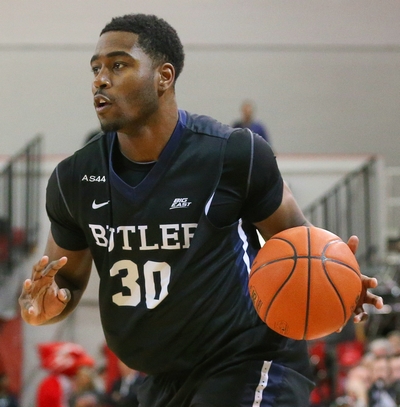 What boosts Martin's NBA case, despite his lack of size and physical tools is his feel for the game,which gives him some potential as a shot creator. He doesn't have a great first step or an elite burst so he works best off ball screens in the halfcourt which account for 22.7% of his total possessions according to Synergy Sports Technology. He can attack in a straight line to his right or left with a low, tight dribble while using his strength to get into the paint.
He converts his attempts at the rim at an average rate of 50% according to Synergy Sports Technology, and will need to find a way to improve his 47.7% overall conversion rate inside the arc. He lacks a high level of explosiveness, and although he has some touch around the basket, he is left with tough, contested below the rim finishes against rim protectors. He does balance this with an ability to get to the line, as he attempted 5.9 free throw attempts per 40 minutes. This will help his potential to finish his drives, but he will also need to find a way to help his offense when he can't draw a foul.
Martin is a capable pull-up shooter who can stop on a dime and pull up, as he made 39.6% of 101 jump shots off the dribble as logged by Synergy Sports Technology. This does help him score when he can't get all the way to the rim but these will be tough shots to rely on against quicker, longer NBA defenders.
Where Martin can really solidify his draft case in the mind of NBA scouts is by improving his shot creation for his teammates. He sees the floor from a standstill position and moves the ball effectively in the flow of the offense, but has struggled to pass when he gets moving downhill and drives into traffic too often. He keeps his head down on his drives which limits his vision and potential to find his open teammates after drawing the defense. He averaged just 1.5 assists to 2.3 turnovers per 40 minutes as a sophomore, and will need to be able to facilitate better to become a playmaking forward to help his team's offense when he cannot get a good shot.
Martin saw an impressive jump in his three point accuracy in his second season, with his percentages rising from 24.7% to 37.7% on over five attempts per 40. He demonstrated improved potential operating off the ball and being a threat when he isn't creating off the dribble. He's a capable spot-up shooter with solid mechanics who should be able to stretch his shot out to NBA distance but he will need to continue to show progress with his jumper to demonstrate to scouts that he will need to be guarded off the ball.  
The defensive end is where Martin is going to need to leave his mark going forward to prove he is capable of fitting into NBA rotations. He's not really athletic enough to sit down in a stance and move his feet guarding quicker wings, so he'll need to show some versatility with his ability to defend bigger players. However, he'll be at a size disadvantage against those players and may struggle to contest shots and hold them off in the post. He'll have to increase his intensity level and become more fundamentally sound here to compensate.
Martin's basketball IQ and feel for the game does show up on this end as well which he will need to tap into in order to become a helpful defensive player. He can be in the right spot off the ball and rotates well to slow the opposition even if he can't finish the play with a strong shot contest. He is always looking to make an impact defensively and plays with high level of energy, shown in his 7.5 defensive rebounds per 40.
He's a little inconsistent in his individual defense as he sometimes is able to get into a stance on the perimeter and slide his feet to stay in front of his man but more often than not, he is hunched over and too slow laterally, which causes him to reach with his arms and foul to stop his man. There will certainly be question marks about who he guards at the next level and he'll need to find a way to demonstrate his defensive value to scouts.
With the graduation of Roosevelt Jones and Kellen Dunham, Martin will need to step into an even larger role as an offensive creator, which he can use as an opportunity to demonstrate to NBA teams that he can be more of a playmaker off the dribble. He will be facing an uphill battle to overcome his relative lack of his size and athleticism, but has the basketball IQ to make an impression on scouts and earn him a shot to make a NBA roster down the line.
#8, Jalen Brunson, 6-2, Sophomore, Point Guard, Villanova
Jeremy Bauman
A physical left-handed guard, Jalen Brunson played an important role as a freshman for the 2016 NCAA Champion Villanova Wildcats. In 24 minutes per game, Brunson proved to be poised and decisive with the ball in his hands while starting 39 games, and was unanimously named to the 2016 Big East All-Freshman team. Heading into his sophomore year, the 20-year old will likely handle a much bigger playmaking role following Ryan Arcidiacano's graduation.
Brunson's physical profile is a mixed bag, as he has decent size for a point guard at 6-2 combined with a below average 6-3 ½ wingspan. His strength is impressive, as he weighs around 201 pounds and is great at using his physical tools to get where he wants to go with the ball in his hands, but is just an average athlete overall and won't blow anyone away with his quickness or explosiveness, even at the college level, and not certainly not the NBA.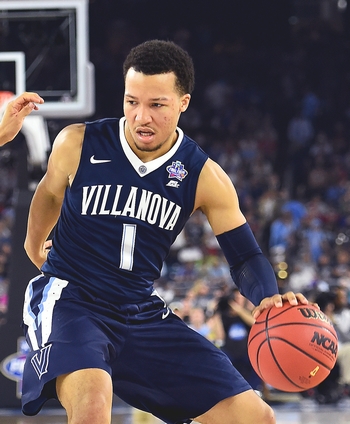 Brunson shot the ball well as a freshman, which is important considering his limitations athletically. He hit 66/168 of his overall jump shots (39.3%) and 51/119 in spot-up situations (42.9%) during his freshman season according to Synergy Sports Technology, impressive percentages for any freshman let alone one starting on a national championship team. He was very consistent when he had time to get set, but tends to rush into his motion when he had a defender closing out on him or shooting off the bounce. Footwork is a major key to Brunson's consistency because when he 1-2 steps into his shot in rhythm his motion looks much better and he gets better arc on his shot (which flattens out when he rushes his release).
Brunson moves off the ball, making himself available to kickouts on the perimeter, as he cuts with purpose and looks for angles where he might be open to catch a pass. As a shooter the key for Brunson seems to be comfort, which stems from experience, and as he heads into a sophomore season where he'll be relied on to score more frequently the opportunity to gain that experience will be awaiting him if he's ready to capitalize. The fact that he'll be asked to operate much more frequently as the lead ball-handler as a sophomore will be a major transition compared with his freshman year, and will help scouts get a much better gauge on how he might fare at his natural point guard position.
Brunson's efficiency and potential as a playmaker are crucial when projecting him to the next level. He is excellent at advancing the ball with a sense of urgency to spark the Wildcats' break. He consistently has his head up early in the backcourt and is willing to skip the ball ahead to the open man in transition, whether it leads to a basket or not. We will learn quite a bit more about his ability to run a team in the half-court this season, which will be very important for Villanova, as well as his personal outlook.
A lefty with a mature body, Brunson makes strong, confident and decisive moves with the ball in his hands. He also protects the ball by shielding it with his body and by using his strength. Brunson plays with a steady pace, changes gears and directions very well and creates space by initiating contact, all of which helps when penetrating the defense to score or kick to an open teammate. He has very good court vision and the instincts to see and deliver pinpoint cross-court passes or cunning bounce passes to open cutters. These skills also got him into trouble, though, as sometimes he got too creative for his own good, which led to some turnovers. In spite of the turnovers, his ability as a passer is still impressive. He sells options within the offense so that the defense thinks he's looking for one thing when the play is designed to flow the other way.
Brunson uses his strength and decisiveness to finish around the rim, too, and he makes use of jab-steps and pump-fakes regularly, oftentimes making strong and creative drives to the rim while staying low to the ground before taking off and finishing the play when he's created the right angle. Brunson is comfortable finishing with either hand and was effective in transition in 2015-16, shooting 30/54 on field goals (55.6%) while proving to be decisive and crafty on the break, regularly utilizing Euro-steps while attacking from smart angles to get a high percentage shot off.
Though Brunson wasn't asked to be an isolation scorer during the Wildcats championship run, he proved that he was capable when given the chance to create for himself as he scored 1.077 PPP on a very small sample size, taking just 18 shots in iso situations in 40 games on a loaded team. The versatile guard will likely be relied upon more in iso situations this year and it will be interesting to see how he fares in much more of a featured role.
The pick-and-roll is where Brunson must improve as a scorer and decision maker, as he shot just 24/67 (35.8%) while turning the ball over on 20.2% of his possessions. During his freshman season he had a tendency to over-dribble while probing the defense, which led to charges and live-ball turnovers. If he can develop a more consistent floater and pull-up jumper, instead of being overly reliant on driving, it would help to make decision making simpler while opening up angles to the rim while making him a more versatile scorer.
The defensive end is where Brunson must make strides to prove to scouts that he is more of a competitor and hustler than was on during his freshman season. Brunson's lateral quickness, effort, and willingness to contest shots left a lot to be desired, which is concerning considering his already pedestrian physical tools. When projecting to the next level it's necessary for Brunson's stock that he proves to be a capable defender since he'll have to stay in front of the best playmakers in the world at the NBA level.
A McDonald's All-American coming out of high school, Brunson played a complementary role as a freshman at Villanova; but there aren't many freshmen who are poised enough to come in and start that many games while providing the nightly impact that Brunson produced over the course of a full season. He proved that he can be a valuable role-player on an excellent team, and will now be tasked with showing he can do much more than that as a leader of a defending championship squad. With an even larger platform, an offense suited for playmakers and a year of experience under his belt, Brunson is in an ideal position to showcase himself for the next level and solidify his standing in the eyes of scouts.