Updated scouting reports on
Mike Moser
,
Kenny Boynton
and
Jarrod Jones
.
-Trending Prospects (12/9) - Doug McDermott, Scott Machado, Henry Sims-Trending Prospects (12/22) - Kris Joseph, Draymond Green, Chace Stanback-Trending Prospects (12/23) - Will Barton, LeBryan Nash and Ricardo Ratliffe
Mike Moser, 6-8, Power Forward/Small Forward, Sophomore, UNLV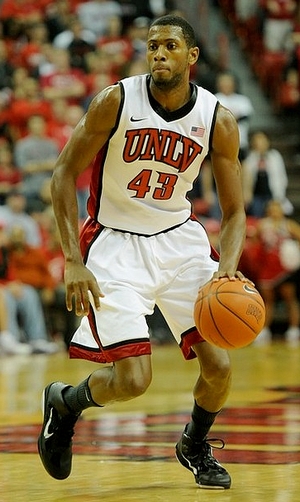 Walker Beeken
After playing less than 5 minutes per game in just 15 contests for a 14-18 UCLA squad as a freshman in 2009-2010,
Mike Moser
sat out last season as a redshirt transfer at UNLV. Through sixteen games as a sophomore in 2011-2012, that move looks to have paid off, as he's off to a fantastic start to the season, producing at a high level against a very competitive early-season schedule.
Moser plays as a face-up power forward for Coach Dave Rice at UNLV and could be viewed that way by some NBA teams for his future prospects, but as a smooth 6'8" athlete with a long, developing frame, he should also be able to slide over to small forward as he adds polish to his perimeter skills, where he stacks up well from a physical standpoint with his excellent quickness and explosiveness.
Perhaps Moser's biggest impact this season has been on the boards, where his 15 rebounds per forty minutes places him in the top five of all prospects in our database. Despite not being the strongest or bulkiest of players around the basket, he's bouncy, and shows an excellent activity level and nose for the ball. Often able to outquick opponents in pursuit of loose balls, Moser regularly goes out of his area with his long wingspan. This is clearly a skill that he can hang his hat on as he refines his skill-set and establishes the best way to utilize his talents in a NBA game.
On the offensive end, Moser has proven to be a matchup nightmare at the power forward spot for some teams, utilizing his versatility, where he's able to get out in transition, finish around the rim, and crash the offensive glass. If the situation calls for it he can also step out the perimeter and make spot-up and pick-and-pop jumpers, or attack slower players off the bounce in a straight line.
Much of Moser's versatility is highlighted in transition, where he shows the ability to handle the ball and attack the basket or utilize his court vision to find a teammate. When filling the lanes, his excellent athleticism allows him to beat his man down the floor and finish at the rim, while he can also run to the arc to spot up and knock down shots from 3-point range.
Moser is shooting just 34% from 3-point range so far, and he doesn't have the smoothest release, but he doesn't lack any confidence as a shooter and has shown in spurts that he's capable of getting hot from behind the arc, including making 6 of 9 attempts against Santa Barbara and going 3-4 against Cal. If he continues to put in the work on his jump shot, while becoming a bit more selective with when to fire away from deep, he'll have the opportunity to make himself into a reliable 3-point threat.
Defensively, Moser needs some work to be able to compete at the NBA level. His lack of bulk, particularly in the lower body, hurts him when defending in the post, as bigger, stronger players are able to establish position against him and muscle him around. His length and athleticism could allow him to eventually defend NBA small forwards, but he'll need to improve his defensive fundamentals and get used to chasing players around on the perimeter.
Moser's physical profile gives him a nice framework to build on defensively, though, and he's shown that he's capable of being disruptive and causing turnovers, as evidenced by his 2.3 steals per forty minutes, which ranks him among the top 5 power forwards in our database.
Overall, Moser has been one of the most pleasant surprises in college basketball thus far, and although his identity as an NBA player may still be uncertain, his length, athleticism, versatile skill set, and rebounding prowess make him a very intriguing player for teams to continue to evaluate throughout the season.
His UNLV team has the size, depth, talent and experience to compete with anybody, so Moser may have the opportunity to showcase his game on the big stage, where he and the Rebels will try to make some noise in the NCAA tournament.
Kenny Boynton, 6'2, Junior, Shooting Guard, Florida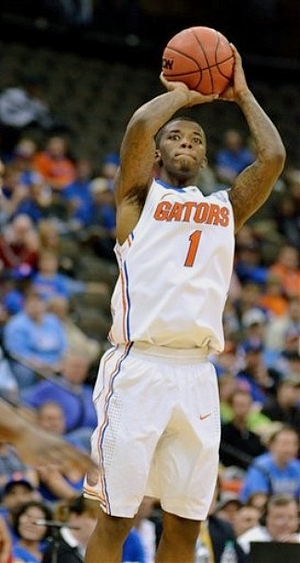 Matt Williams
Last time we checked in on
Kenny Boynton
during our 2010 preseason coverage, we mentioned how important his ability to play efficient offensive basketball on a consistent basis would be to his NBA stock down the road. So far this year, Boynton appears to have heeded that call, putting up big numbers with the type of efficiency scouts have been looking for from the highly touted guard since his freshman year.
Boynton's improved offensive efficiency is significant for his draft stock considering his physical limitations. Standing 6'2 with an average wingspan, Boynton is a natural scorer who can be an effective secondary distributor, but is ultimately an undersized shooting guard because of his shoot-first mentality and lack of dynamic playmaking ability. While he is a solid athlete with a mature frame and good first step, the Florida native is not a prolific slasher and lacks great upside defensively due to his lack of size. Taking those things into consideration, Boynton's ability to make the most of his touches offensively from the perimeter has been absolutely crucial for his professional evaluation.
After shooting 37.6% from the field as a freshman and 38.5% as a sophomore, Boynton seemed to be falling into a niche as an inefficient high-volume shooter. Considering that 60% of Boynton's total shots as a college player have come from beyond the arc, it isn't difficult to see how Boynton's reputation as a gunner was playing against him as his solid scoring output was fueled by inefficient play.
This season has been a very positive one for the young guard. Though he's playing fewer minutes and not taking too many more shots than he did earlier in his career with the arrival of
Mike Rosario
and
Bradley Beal
, Boynton is scoring at a significantly higher rate, upping his points per-40 minutes pace adjusted from a solid 17.2 as a sophomore to a blistering 23.6 through 13 games. Perhaps more impressive than his sheer productivity has been his reliability from the perimeter –he's connecting on 44% of his 3-point attempts.
The most intriguing aspect of Boynton's hot start from the perimeter has been the nature of the shots he's attempting, as he's proven to be more than just a set-shooter. Though he's still making his fair share of spot-up jump shots with his feet set, he's attempting even more shots off the dribble this season, especially when operating on the pick and roll. Whereas last year Boynton converted just 33% of his off the dribble attempts, this year they are falling 42% of the time.
Where he used to appear rushed with a hand in his face early in his career, Boynton has shot the ball with terrific rhythm so far this season regardless of the situation, and is
making more three-pointers per-40 minutes than any player in the NCAA
. Whether he's making a deep jumper late in the shot clock or elevating quickly dribbling off a pick, Boynton has shown that he can put points on the board in bunches.
Considering how rarely he gets into the paint in the half-court, Boynton's consistency as a shooter will remain a key part of how his scouts will perceive him at the end of the season. He's had a few poor shooting games this season, but has yet to fall into the type of lengthy slump that hurt his numbers in previous seasons. When Boynton is knocking down shots at a high rate, he looks like a clear pro, but considering his weaknesses in other areas, a sizeable downturn in his efficiency would take him back to square one and raise many of the same questions he faced early in his career. Whether Boynton declares for the draft this spring or not, it is worth keeping an eye on how he shoots the ball on a nightly basis.
Apart from his scoring ability, Boynton has shown the same solid passing ability we noted in our last report. He's making even better decisions with the ball than he did as a sophomore, improving his assist to turnover ratio for the second straight season to a solid 2.1/1, doing a nice job of making simple passes to unselfishly find the open man. His point guard potential remains limited by his average court vision and underdeveloped dribble-drive game, but despite Boynton's reputation as a scorer, he's also a serviceable passer for the Gators, which is certainly a plus considering the talent around him. He may not be a floor general at the next level, but he's more than a shooting specialist and is increasingly showing the mentality not to be a black-hole either—something that was definitely a concern earlier in his career.
Defensively, most of what we said about Boynton in our previous reports remains true. He's a hard worker whose fundamentals have improved to match his quickness, but his lack of size and length limit his upside at the next level. Whether his scoring ability compensates for questions about his ability to defend the shooting guard position at the next level remains to be seen.
No matter what parts of Boynton's game scouts put under the microscope, it is ultimately going to be his ability to prolifically and efficiently put the ball in the basket that is going to dictate how he is perceived by NBA decision-makers. It isn't likely that he'll continue his torrid shooting all year, but if he can avoid a significant slump and is still knocking down his jump shots at a 40%+ clip by season's end, he'll have made major headway towards legitimizing his draft stock.
Jarrod Jones, 6'9, Power Forward, Senior, Ball State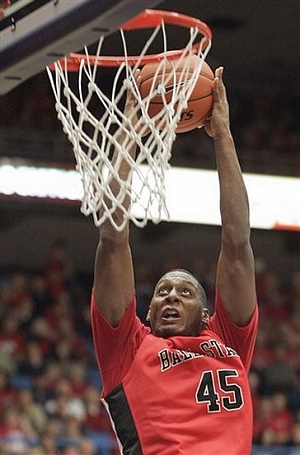 Joe Treutlein
A four year starter who has always flown under the radar in the MAC conference,
Jarrod Jones
has steadily improved his production and efficiency every year at Ball State while consistently seeing around 30 minutes per game. Jones has continued that improvement this season, while showing some intriguing flashes of skills against good competition, which should get him some extra looks at the pro level.
Standing 6'9 with a decent frame and very good length, Jones is an average athlete by NBA standars, more smooth than explosive, but still capable of elevating when he's in space with momentum. He has good fluidity, coordination, and feel for the game, making good use of the skills he possesses.
Jones does most of his damage operating in the post at this level, showing a solid array of simple moves, relying predominantly on a very good right-handed hook shot. He shows no problems establishing deep position and getting separation against low to mid-conference competition, scoring with ease in these situations. He also flashes a nice power drop-step and a turnaround jumper that he uses out to 15 feet, but his success level drops considerably as he gets farther from the basket.
There are some concerns projecting his post game to the next level, as he has yet to prove he can score at the same rate against NBA sized big men, but he's had strong outings against Arizona and Butler this season, not backing down from the tougher opposition. His ability to get separation for his shots is certainly reduced in these situations, and has to rely more on toughness to go into his man and draw fouls, something that may not get it done at the next level, where teams aren't likely to run plays for him much anyway.
The less used aspects of Jones' game are actually more intriguing projecting to the next level, especially with his recently improved jump shot. After not hitting any three-pointers his first three years in college, Jones is 5-for-7 thus far this season while bumping his free-throw percentage up from 67% to 86%. He shows solid form with a high release and a deliberate but not terribly slow shooting motion, but obviously it's hard to tell if the results are a fluke due to the small sample size.
Jones' improvements from the perimeter haven't yet translated to the mid-range either, where he is very inconsistent with his shots, probably a product of taking many of them off-balanced or off the dribble. Not used much in pick-and-pop situations, Jones doesn't get many open catch-and-shoot looks from the mid-range, something he could do well with at the next level.
In terms of his slashing game, Jones shows a nice feel operating off the ball, along with good hands and touch for finishing in traffic. He's mostly a below the rim player in the half-court, but does a good job using his length to finish around the rim and isn't afraid of drawing contact.
On the defensive end, Jones is a mixed bag, not really showing much in his ability to contest shots coming from the weak-side, blocking just 1.3 shots per 40 minutes this year. He doesn't really have the athletic tools to be a major factor here, but does a better job in man-to-man post defense, where he makes good use of his length and shows a high effort level. He's still fairly raw from a fundamentals standpoint, but moves pretty well laterally for his size and appears to have the tools to be a solid post defender. He's less tested on the perimeter, where he looks very out of his comfort zone, not being put into isolation situations often.
The biggest problem for Jones looking forward is he's just a pedestrian rebounder, averaging 10.5 rebounds per 40 minutes this season, more damning due to his team's relatively weak schedule. He certainly has the tools to be more effective here, and will probably need to really assert himself in this area if he wants to find a place in the NBA in time.
Looking forward, Jones is someone to keep an eye on for the rest of the season, as he's fairly young for his class, not turning 22 until May. His steady learning curve in his time in college combined with his developing jumper, good length, and versatile framework of skills will make him someone who could find his way into the league if a team thinks he's worth developing, especially if he can improve his efforts on the glass.
Jones is a likely candidate for the Portsmouth Invitational Tournament in April, and could continue to benefit his draft stock by leading his team to a strong record and an NCAA Tournament berth, but won't be helped by the lack of quality competition remaining on his schedule.