One of the most prolific shooter/scorers in college basketball,
C.J. Wilcox
has continued to put points on the board efficiently for Washington, despite shouldering a heavier offensive load. How will his game translate to the NBA setting?
-Trending Prospects: Isaiah Canaan
-Trending Prospects: Jahii Carson
-Trending Prospects: Chris Obekpa
-Trending Prospects: Jordan Bachynski
-Trending Prospects: Arsalan Kazemi
-Trending Prospects: Cory Jefferson
-Trending Prospects: Anthony Marshall
-Trending Prospects: Carrick Felix
-Trending Prospects: Solomon Hill
-Trending Prospects: Spencer Dinwiddie, Seth Curry, Rodney Williams
-Trending Prospects: Kelly Olynyk, Laurence Bowers, Elias Harris, Juvonte Reddic
C.J. Wilcox, 6'6, Redshirt Junior, Shooting Guard, Washington
Matt Williams
Taking a backseat to the likes of
Isaiah Thomas
,
Justin Holiday
,
Terrence Ross
and
Tony Wroten
during his first three years at Washington,
C.J. Wilcox
has quietly emerged as one of the most prolific offensive players in on the west coast as a redshirt junior. Despite Washington's recent struggles in Pac-12 play, Wilcox has been a bright spot all season, maintaining the efficiency he displayed as a role-player early in his career despite shouldering a significantly heavier offensive burden as the Huskies' first option.
Slowed by stress fractures for the second time in his career, Wilcox exited the arena after Washington's 2/7 game at UCLA wearing a walking boot. Playing through pain since early January
according to the Seattle Times
, he still suited up and played 36 minutes three days later against USC, but is clearly not 100%. Considering the injury's potential impact on his play down the stretch, now seems as good a time as any to appraise what he accomplished while healthy this season as far as it pertains to his NBA draft stock.
As we've outlined in the past, Wilcox's NBA potential revolves around his excellent jump shooting ability and solid size for his position. Standing 6'5 with a 6'8 wingspan, the 22 year-old has solid height and length for a NBA shooting guard. As we've noted in the past, he's still on the skinny side and lacks great explosiveness, but he's a solid athlete with great fluidity who shoots the ball with effortless, picturesque mechanics.
Essentially a spot-up specialist in his first season as a regular for the Huskies, Wilcox's role has evolved as
Lorenzo Romar
has seen his personnel shift in recent seasons. Seeing more touches working off of screens and operating off the bounce within Washington's offensive sets in each of the past two years, Wilcox's jump shot has been the focal point of his team's offensive attack in 2013. Despite his increased usage and the defensive attention that has come with it, Wilcox has remained an efficient perimeter scoring threat.
C.J. Wilcox Usage and Efficiency
Season
%Team Pos
TS%
RS 2009/10 DNP
FR 2010/11
8.7%
58%
SO 2011/12
15.8%
58%
JR 2012/13
22.6%
56%
As we've touched on before, Wilcox is a fairly limited one-on-one threat and finisher at the basket, only getting to the rim on 19% of the half-court possessions he uses. He's adept at knocking down pull up jump shots off of one or two dribbles when he sees daylight or his defender makes a mistake, but lacks the blow by quickness and ball-handling ability to create clean, high percentage shots inside the paint. Even when he does get to the rim, he has only finished at a 47% clip this season according to Synergy Sports Technology, while his 3.6 free throw attempts per-40 pace adjusted ranks
very low among top-100 shooting guard prospects
.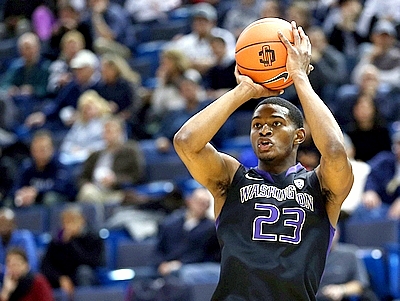 To his credit, Wilcox has developed fairly deft touch on his floater and won't hesitate to give the ball up when the defense collapses, but he shouldn't be expected to create his own offense at the next level. He fits the mold of a
Wayne Ellington
type of offensive role-player who can space the floor, make the most of his open looks, and keep defenders who close out too aggressively honest with his midrange game.
On the defensive end, Wilcox has room to improve. Lacking great lateral quickness, he tends to be too upright when trying to deny dribble penetration out on the perimeter, struggling to stay in front of quicker and more physical guards at times. Playing with good intensity and working hard to get a hand up on shooters, Wilcox would benefit from continued work on his frame.
A year older than the rest of his class and in the midst of a terrific season to this point, Wilcox is reportedly heavily considering entering his name in the 2013 NBA Draft. Teams will certainly do their research into his history of stress fractures whenever he becomes draft eligible, but Wilcox offers clear value as a role-playing shooter/scorer at the next level.