Dwight Powell has bounced back as a junior after struggling through a sophomore slump. What does his improvement mean to his NBA potential?
---
-Trending Prospects: Zeke Marshall
-Trending Prospects: Jack Cooley
-Trending Prospects: Bryce Cotton
-Trending Prospects: C.J. Wilcox
-Trending Prospects: Isaiah Canaan
-Trending Prospects: Jahii Carson
-Trending Prospects: Chris Obekpa
-Trending Prospects: Jordan Bachynski
-Trending Prospects: Arsalan Kazemi
-Trending Prospects: Cory Jefferson
-Trending Prospects: Anthony Marshall
-Trending Prospects: Carrick Felix
-Trending Prospects: Solomon Hill
-Trending Prospects: Spencer Dinwiddie, Seth Curry, Rodney Williams
-Trending Prospects: Kelly Olynyk, Laurence Bowers, Elias Harris, Juvonte Reddic
---
Dwight Powell, 6'10, Power Forward, Stanford, Junior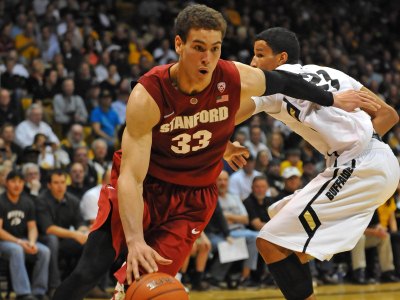 Kyle Nelson
While
Dwight Powell
entered Stanford as a consensus top-50 high school recruit, it took him until his junior season until he started to play like one. After struggling with prolonged bouts of inconsistency during his freshman and sophomore seasons, he has seemingly turned a corner. Now, averaging 15.8 points and 8.3 rebounds per game, Powell has battled through adversity to emerge as a top option for the Stanford Cardinal, a team that badly needs both his production and leadership.
Standing 6'10 with a wiry 235-pound frame and a 7'0 wingspan, Powell has excellent size for the power forward position. While he must continue to get stronger, Powell has done a good job of adding muscle to his frame without detracting from his intriguing athletic profile. While not the most explosive athlete, Powell is incredibly smooth, quick for his size, and very mobile overall. Ultimately, while Powell is likely another 20-pounds away his optimal playing size, he has the physical tools to excel as a power forward in the NBA.
His skill set certainly helps his cause as well, as perhaps the most impressive aspect of his increased productivity – he averages 19.4 points per 40 minutes pace adjusted, up from 12.7 as a junior – is his diverse skill set. Though nearly 65% of his scoring comes around the basket another 30% comes from jump shots from all over the floor. Furthermore, according to Synergy, Powell finds 22.4% of his offense in post-ups, 17.2% in isolation sets, 15% off of spot-up jump shots, and 10.8 off of cuts.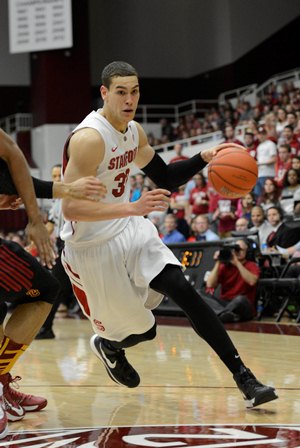 Entering his junior season, Powell had built up a reputation for playing soft in the post. On film, it is clear that he lacks the ideal strength, particularly in his core and lower body, to both hold his position on the block and to finish through contact. Many of his 3.1 turnovers per 40 minutes pace-adjusted come from simply losing control of the ball in the post. Furthermore, he is not a particularly efficient scorer inside, converting just 42.6% of his attempts out of post-ups and shooting a career low 47.5% from inside of the arc, which ranks him in the bottom of half of our top-100 prospects. He has, however, developed a solid right-handed jump hook and functional footwork pivoting on the block. The question remains whether he'll be able to score inside at the next level, especially given his struggles against PAC-12 competition.
He is at his best, however, away from the basket, operating in either spot-up or face-up capacities from the mid-range to the perimeter. By the numbers, Powell is not a particularly efficient jump shooter, making 32.1% of his 81 attempts, which are divided evenly between shots around the basket, from mid-range, and from beyond the arc. He is, by far, most effective shooting the ball from deep, where he makes 46.2% of his 1.4 attempts per 40 minutes pace adjusted while showing solid mechanics, complete with a quick release and a high release point. In addition to being a competent spot-up shooter, he has also shown the ability to occasionally get his shot off of the dribble from mid-range.
Powell's biggest strength is also his weakness, however, as his tendency to fall in love with his jump shot often results in him floating around the perimeter rather than banging in the post or attacking off the bounce. Unlike many spot-up shooting big men, the junior consistently flashes the ability to take his man off of the dribble, usually with a simple fake-and-go or rip through move. Able to put the ball on the floor and attack with either hand while showing excellent body control when finishing in the paint, Powell's quickness and functional ball-handling put a lot of pressure on opposing defenses.
On the defensive end, Powell's physical profile is intriguing even if the results are mixed. Though he displays good lateral quickness for his size, he does not seem to be the most focused or physical defender, which tends to limit his effectiveness staying in front of his man on the perimeter. Combined with his lack of bulk, his average awareness negatively affects his ability to guard bigger players in the post.
On the plus side, he looks far more patient and less foul prone as a junior, even if he still commits 4.0 fouls per 40 minutes pace adjusted. Additionally, his physical gifts allow him to contribute statistically in a variety of ways, to the tune of 1.0 steals and 1.4 blocks per 40 minutes pace adjusted.
On the whole, if Powell is going to reach his potential on the defensive end of the floor, he'll need to improve his intensity and toughness. He has all the tools to hold his own on this end of the floor, but he does not consistently make the most of his size and athleticism when defending one-on-one or crashing the glass.
In sum, while Powell has shown a significant amount of improvement thus far in his junior season, he still has a long way to go before realizing his potential. Compounding these question marks is the fact that he is a year older than the rest of his class. To this end, scouts wonder how much he can still improve from both a physical and a skill-level standpoint. Ultimately, however, Powell presents an intriguing combination of a legitimate face-up game with NBA caliber size and athleticism, which will keep scouts interested even if he does not significantly improve much further. A potential early-entry candidate for the 2013 draft, Powell is a player to keep an eye on moving forward.