Tyler Ulis
sits down with Jonathan Givony to discuss what he's working on in anticipation of his private workouts, his daily schedule, the type of player he is, how he sees himself fitting onto an NBA roster, and much more.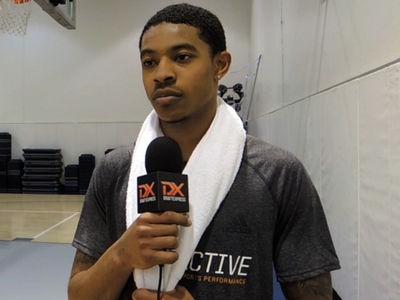 Jonathan Givony: What does a day look like for you out here in Los Angeles?
Tyler Ulis
: Wake up around 8, eat breakfast. Get ready, go over and get my body right. Stretch and stuff, and get ready for the workout at 10:30. After that, we end around 11:30 – 12. I'll go lift weights at 12:30 across the street, and from there get a massage, or maybe get a little treatment, and then we're done for the day.
Jonathan Givony: What kind of basketball stuff do you guys usually get into?
Tyler Ulis
: A lot of 3 on 3 stuff. When we go live it's usually 3 on 3, a little 1 on 1. Everything else is a lot of actions. Pick and rolls, shooting, hand off drills, you know a lot of movement.
Jonathan Givony: How is it different here? This process is all about you, being able to showcase your talent, being able to show NBA teams what you can do. At Kentucky it was about the team, and getting wins, about picking up for guys. You were the leader of that squad. How is that different for you out here?
Tyler Ulis
: It's not that big of a difference because you know they understand you're still working on your game, as well as thinking about the team, you're thinking about yourself and getting in the gym, late at nights, working out. Here it's different because there is not as much teamwork, but we get into 2 on 2 and 3 on 3, so you still got to work as a team and help each other. So I still try and lead these guys out here.
Jonathan Givony: What do you think you were able to show the NBA guys at the Pro Day in Los Angeles that they might not know about you already?
Tyler Ulis
: I don't know, hopefully they left here with some good compliments, and some good comments. I just come out and try to play my game, don't really think about it too much. Play like they weren't in the gym, if you try to impress people you're going to have a little too much on your shoulders, more pressure on yourself. So you know, I just go out there and play my game.
Jonathan Givony: What do you think you need to work on to reach your full potential as a basketball player?
Tyler Ulis
: Just get my body right. Start working on my body. Get more flexible, get more explosive, quicker laterally. Try to gain a little weight and get stronger.
Jonathan Givony: How about your shooting. How is it moving out to the NBA Line? How has that been for you?
Tyler Ulis
: I like the NBA line. I just keep working on my shot, that's an everyday thing. You got to get in the gym and get shots up because that's what you do for a living. You know, I've always been a guy who is going to get in the gym and get shots up, so I'm going to keep doing it.
Jonathan Givony: You have a really developed in between game. Is the added spacing of the NBA line going to give you more room to operate in the mid-range area?
Tyler Ulis
: I believe so. I believe that the way they space the court, and the way some bigs play ball screens, they step back and give you that mid-range. A lot of people say that the mid-range shot is the worst shot in the NBA. That's something I love, and fell in love with this year, so I can't wait to get there and see what it's like.
Jonathan Givony: As a freshman your role was to come off the bench and bring energy, and we saw you picking guys up full court, and just really locking down. It seemed like you didn't have the ability to do that as much this year because you had to play so many minutes and you couldn't afford to get in foul trouble. Is that something we're going to see you get back to now? That in your face 94-foot defense.
Tyler Ulis
: Definitely, that's what I got to do to survive up here. My freshman year Cal told me when I walked in the door that's what I'm going to have to do. Like you said this year I couldn't do it as much because I didn't want to get in foul trouble. I like to play with my hands, I like to gamble so you know I didn't want to get in foul trouble this year and hurt my team. I backed it up a little bit, but I still had to try to deflect passes and disrupt offenses. I feel like I did it for the most part, but I still got to turn it up a notch.
Jonathan Givony: It seems like we saw a big contrast at the Pro Day between drills and the 2 on 2 and the 3 on 3. You honestly looked a little bit bored in the drills, but in the 2 on 2 and the 3 on 3 your game came out. Are you not a drills guy? Is what you do better reflected in the competitive stuff?
Tyler Ulis
: Definitely. I think what I do is better reflected there because that's real live game situations. You can make reads, and I'm a guy who makes reads. My game is based off my decision making and you know I can't make reads in drills. But you know you go through drills, its hard work out there. I went to work out there, you know I'm working hard, clapping guys up, making shots, stuff like that. I never get bored with anything in this sport, but you know with the live action is where I'm better.
Jonathan Givony: What are you looking for in an NBA team? What are you hoping for in terms of where you might end up next season?
Tyler Ulis
: I have no idea. I'm just hoping someone gives me an opportunity. Look past my size, look at my game, and just give me an opportunity to get out there and show what I can do.
Jonathan Givony: Have you been in touch with the guys at Kentucky? How much of a role is that going to play in your future? Going back to the coaching staff, and the fan base, and all that.
I love Kentucky, so you know I'm always going to go back and show the fans some love. I'll be back there August 1st for the Pro Camp. You know, seeing guys, go back there and see my friends and talk to them again. It's always love there, see KP [
Kenny Payne
], and Coach Cal, and the coaching staff. It's a family that I'll always be a part of.
Jonathan Givony: Great stuff man, appreciate it.