And, just like that, it's over.
As always, there were many positive things being said by NBA types throughout the day about the adidas EuroCamp, discussing how unique of an opportunity to scout such an extensive compilation of international draft prospects, and how much time, money and energy that saves them.
They were quick to mention the excellent work Pete Philo, Jelena Soce, Michele Gherardini and the rest of the extensive camp staff do in putting together this event year after year. Even though the quality of the roster took a hit due to circumstances that were out of the organizers' control, you didn't find a great deal of bickering coming from the rows of scouts.
One GM instead decided to focus on the quality of basketball being played: "It's great. These kids haven't been Americanized yet, they don't realize that they're not supposed to play hard the whole time."
And it was true, the players competed throughout, and did so unselfishly at that, always looking to make the extra pass.
As we mentioned, things got especially rough on day two, and by the third day, many players were sitting out nursing minor injuries. Some of those players included some bigger names at the camp:
Lucas Nogueira
, Lynos Chrysikopoulos,
Leon Radosevic
,
Dejan Musli
and others did not play during the third day—forcing the organizers to throw newcomer
Ater Majok
into the fold.
---
Measurements from the event have been released, and you can view them in our extensive historical database
-adidas EuroCamp recap, Day two
-adidas EuroCamp recap, Day one

---
Another player who sat, due to a tweaked back that he suffered when getting smacked into on day two, was
Josep Franch
. Franch, a Spaniard who spent last season playing with DKV Joventut in the Spanish ACB league, actually showed pretty well in the first couple days of the camp. At times he made some spectacular, flashy passes, occasionally resulting in turnovers, but on the whole he really ran Team 3 well.
The 20-year old is a crafty player, and he also showed some very good creativity when getting into the paint and forcing the defense to collapse on him. He plays the game at his own pace and shows very nice timing running the pick and roll, always looking willing to make the extra pass.
At nearly 6'3" without shoes, he's got great size for a point guard, even if his narrow frame, average wingspan and underwhelming athleticism may limit his potential to play in the NBA or as a starter at the highest level in Europe, particularly on the defensive end. He must improve his ability to score efficiently inside the arc if he wants to prove otherwise.
We sat down and talked with Franch about his experience in Treviso, his season in Spain and what the future holds for him…
Speaking of guards, we have not done
Nemanja Nedovic
justice in our daily recaps. The guy put together a very solid three-day performance. He had people talking and talking positive, and that is more than 90-odd-percent of the campers here could say.
Against the Croatians in the evening game, Nedovic ran the team exceptionally. The final score was 103-74. It was the first time a team in the camp scored over 100 points, or anywhere close. Satoransky and Neto each had more assists, but Nedovic was a calming influence on the team. He played very confidently and picked his spots very well driving when the lane opened up and moving the ball if not. He finished with 9 points and 4 assists, but looked in total control of the game at all times.
Nedovic is one of the most intriguing NBA prospects at this camp from our perspective, as he combines stereotypical European fundamentals with excellent size, a well developed frame and outstanding athleticism. He's yet to turn 20, but put together a very strong season for Red Star in the Adriatic league (11 points, 2.5 assists per game in 22 minutes), and then proceeded to absolutely explode in the Serbian league (16.4 points, 4 assists per game in 21 minutes).
Unlike most European guards, he projects as being able to defend his position at the NBA level, as he stands 6-4 with a great build and quick feet. He's somewhat stuck between the point guard and shooting guard positions at the moment, and surely needs to improve the consistency of his outside shot, but he's surely one of the most intriguing guards on the international landscape.
We caught up with Nedovic at the camp and asked him about his progression as a player over the last year…
If day two was the day of the big man, day three saw a mix of strong performances.
Big man
Augusto Cesar Lima
followed up day two well. After struggling shooting 1/9 in the early game again, Lima had a big evening game playing with the EuroCamp All-stars against the U19 Croatia team. Lima finished with 18 points on 7/8 shooting and 7 boards. Clearly the best athlete on the floor, Lima made a killing finishing on the pick and roll, showing excellent hands and terrific length attacking the rim.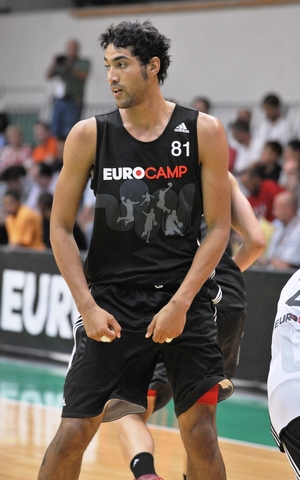 At 6-10, with a solid 7-1 wingspan and very nice leaping ability, Lima looks the part of a NBA big man, especially looking at his frame. His feel for the game does not appear to be the best, his skill-level is still in need of work, and his motor tends to run hot and cold at times, but Lima has the physical tools and upside NBA teams love, and should be a player that's followed closely next year in anticipation of the 2012 NBA draft.
A raw big man that we haven't mentioned in detail, but who showed very well at the camp overall, was automatically-eligible Frenchman
Bangaly Fofana
. Fofana is fairly skinny, especially in the lower body, but is long, springy and plays very hard. He put on a clinic over the course of this camp for how to defend the pick and roll, stepping up and hedging on the perimeter impressively, and showing very nimble feet getting back into the lane. His 7-5 wingspan allows him to make a significant impact on the game defensively, particularly in the paint where he blocked and altered plenty of shots.
He's a limited player in pretty much every facet offensively, but does have some room for growth considering that he's only been playing basketball for about five years. Coaches who have worked with him—such as French National team head coach Vincent Collet, who was one of the instructors at this camp—say very good things about his attitude and work ethic, which is very important for a prospect like him. To really reach his potential Fofana must develop the lower body strength needed to hold his own defensively inside the paint, as well as increase his toughness-level and garner more experience.
Fellow French man
Sarra Camara
also had another solid outing, coming up with 10 points, 6 boards and 2 blocks in the third game of the day. He followed up an intriguing 2010 EuroCamp with an even better 2011 showing – and surely seems worthy of seeing more than 14 minutes per game on a bad team in France.
The real story was a few guys who must've read the day one and day two recaps and were feeling left out.
Edwin Jackson
of France was killing it on day three. In the All-star game he shot a perfect 7/7 including one three and some long twos, he got to the line after taking it strong to the rack, he finished well; he did it all. He netted 18 points, grabbed 4 boards and his defensive pressure on the other side of the court caused the other team to cough up 4 turnovers. On the day he shot 12/15, which for him and his generally suspect shot selection was a big plus. Don't think NBA teams didn't notice either. The brass of one Western conference playoff team sat down to interview him right after the game ended on the bench.
Jackson is a bit of an enigma in this draft, and has been for some time. On one hand he seemingly never fails to put up strong performances year after year in the EuroCamp, but on the other he still hasn't come close to breaking through during the regular season when things matter most. The French player is a great athlete with an NBA caliber frame, but is slightly undersized at just 6-3 in shoes and looks mostly content firing up pull-up jumpers. He's been a very streaky shooter throughout his career, which is a major issue, but always looks just on the verge of breaking through and developing into a very interesting player.
Tomislav Zubcic
had his best game of the camp in today's All-star game as well. He didn't force anything, but he didn't fade into the background and revert to being passive either—which has been a major issue for him in the past.
He shot the ball with confidence, nailing the two threes he took and shooting 6/7 overall. He was also dialed in to the other aspects of the game too, though, which was good to see. He really utilized his intriguing length grabbing 6 rebounds and swatting two shots.
Zubcic is someone who has intrigued us for as long as we can remember – he saw his first DraftExpress write-up
five years ago
back in 2006, and many still remember his excellent Nike Hoop Summit performance.
Standing 7-feet tall, with very intriguing perimeter skills, including the ability to lead the break or make shots from beyond the arc, he's a unique prospect that surely caught the eye of many teams here.
On the other hand, Zubcic has been a distinct underachiever throughout his career, easily rattled and dropping his head at the first sign of adversity. His physical and mental toughness leave a lot to be desired, and that reflects not only in the inconsistency he shows from game to game and even quarter to quarter, but also in his defense and rebounding ability, which are well below average for a player his size. The fact that his wingspan is shorter than his height surely doesn't help matters here.
With that said, Zubcic is still only 21 years old, and still has another year of eligibility after withdrawing his name from the draft at the deadline. We'll have to see how he follows up this fairly encouraging EuroCamp performance next season.
Mindaugas Kuzminskas
, while an unwilling rebounder and defender, shot the ball much better today and scored a bunch. He was 6/10 overall from three and had 32 points in two games. While clearly a skilled player at 6-9, Kuzminskas is an underwhelming athlete and doesn't seem to have improved very much since last season. His move to Zalgiris may have set him back, as he seems to be a lot more one-dimensional now. Automatically draft-eligible this year, Kuzminskas isn't quite that good of a knock-down shooter to let teams ignore his clear-cut deficiencies in other areas.
David Jelinek
manned up today and didn't rest on his laurels from day two. Today he was driving at the rim and finishing through contact and had a very nice dunk after running the fast break with fellow Czech teammate
Tomas Satoransky
. He scored 18 points without attempting a three-pointer in 19 minutes. That's a great sign from a player who shot 46% from beyond the arc in the ACB this season, seeing a solid 15 minutes per game.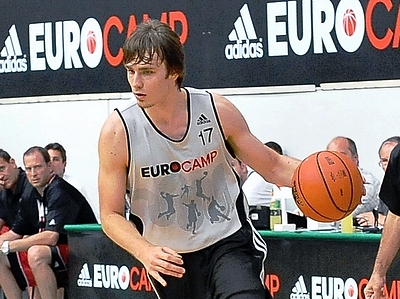 All in all, Jelinek was one of the breakout performers of this camp, showing very nice versatility on the offensive end. He can make shots both off the dribble and with his feet set, and found ways to score in enough other ways to avoid being labeled a one-dimensional player.
Possessing average athleticism and size for a shooting guard at 6-4 without shoes with a 6-6 wingspan, Jelinek is not what you could call a physical specimen. He did have a very productive season in the ACB, though, and followed that up with a strong EuroCamp campaign. If he can show that he can defend his position effectively at the NBA level, he might have a chance to hear his name called when he becomes automatically eligible for the draft next year.
We got a chance to speak with Jelinek as the camp was coming to a close...
As far as the Croatian side goes,
Mario Hezonja
was much less effective today tallying two more points (7) than fouls (5) on 2/5 shooting.
Boris Barac, after going 6/6 from three-point land yesterday was Croatia's leading scorer and "only" shot 50% from three (3/6). While clearly not a great athlete by NBA standards, Stanko's brother is a player to keep an eye on considering his size, scoring instincts, aggressiveness, and age (born in 1992).
The only game of the day we didn't cover above was a game between the Serbia U19 team and the Benetton Junior team. In all honesty, it wasn't much of a game and nobody really popped out.
Bogdan Bogdanovic
had 6 steals and played hard as always for Serbia.
On the Benetton side, the 7'4"
Samuel Deguara
pushed the equally tall but much less sturdy Serbian centers around and recorded 13 points and 8 rebounds, but he is much too slow-footed, lumbering and uncoordinated to be an NBA prospect, or maybe even a high-level European prospect at that.