Matt Williams
After having a breakout season of sorts last season as Zagreb relied on its younger players in the midst of serious financial struggles,
Tomislav Zubcic
has not played as significant a role for the club this season. Starting some games, but also coming off the bench for stretches as well, the Croatian forward has seen his playing time and usage decline. His strengths and weaknesses remain largely unchanged, as he is yet to achieve the mismatch potential that caught our eye for the first time some six years ago.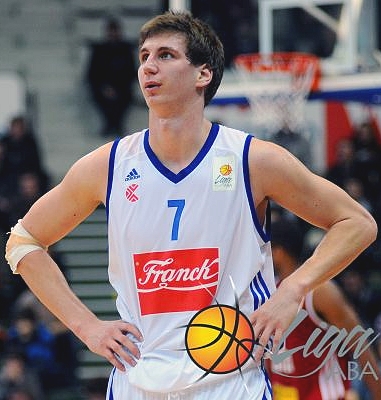 At 6'11, Zubcic's size has always been a big part of his upside, especially when he would push the ball up the floor and take slower defenders off the dribble at the junior level. The Croatian forward has added some weight to his frame over time, but remains somewhat skinny. He does not have a big wingspan relative to his size, and is not explosive, but is a long strider and moves fluidly for a big man.
Zubcic's intrigue at this juncture of his career stems from his spot-up scoring ability. After playing a much more versatile role last year, more than half of his shots have come in catch and shoot situations from the perimeter. A reliable shooter with time, space, and his feet set, Zubcic can draw opposing big men away from the basket. He struggles to knock down shots under defensive pressure and needs to improve his consistency from the perimeter to reach his full potential, but sports a fairly smooth release for a near 7'footer and range out to the international 3-point line.
Unfortunately he's only managed to knock down 28% of the 3-pointers he's attempted this season in all the various leagues he's played in, which is likely one of the major reasons he's had a difficult time finding a consistent role offensively.
As an interior scorer, Zubcic shows soft touch and good hands. He's a solid, albeit unspectacular, finisher, only finishing plays above the rim when he has space to gather himself. He's capable of putting the ball on the floor for one to two dribbles to attack the basket in a straight line, but is still developing his polish and toughness to be an effective slasher.
The same can be said for his back to the basket game, as he tends to shy away from contact in the post, but is able to finish some of his touches with a soft right handed hook shot. He has not developed a polished post repertoire at this point, which is not surprising considering how much time he spent out on the perimeter early in his career, and needs to get stronger and do a better job drawing contact around the rim, but his skill level shines through at times.
On the whole, Zubcic is still a ways away from being a finished product offensively. He is a smart player and a solid passer, but is not always aggressive or consistent enough to contribute at a high level in any one particular area.
Defensively, Zubcic spends quite a bit of time defending the perimeter, even playing at the top of Cibona's 2-3 zone on the few occasions they throw something different at opposing offenses. Gambling aggressively in the passing lanes and sometimes pushing the ball up the floor himself, Zubcic lacks the lateral quickness and strength to be a great individual defender. His ability to maximize his frame, be more physical, and improve as a rebounder will be the keys to his development on this end of the floor.
After an impressive showing at the 2009 Nike Hoop Summit, Zubcic was at one time a potential early entrant for the NBA Draft. He seemed to be on the brink of turning the corner in his development last season, but has had large bouts of inefficiency this year, and is barely seeing more than 10 minutes per game in the weak Croatian league as of late.
Now automatically eligible for the draft, Zubcic remains a prospect with some intriguing tools, but may have worn out the extent of his upside with his lack of improvement over the last few years.