Day two of the adidas EuroCamp in Treviso, Italy included a number of standout performances.
Adidas Announces 2015 EuroCamp Location
With rumors that the EuroCamp may have been held elsewhere in Europe next year, adidas announced today that the event will once again be held in Treviso, Italy in 2015. Given the proximity to other relevant basketball events taking place at this time of year, NBA teams seemed pleased with the decision.
2014 adidas EuroCamp Day One Recap
2014 adidas EuroCamp Preview and Roster Breakdown
The second day of the 2014 adidas EuroCamp began with team practices,competitive odd-man fast break drills, and controlled scrimmages.
We discussed the format of the camp with Bill Bayno, the adidas EuroCamp Coaching Director, to get a better understanding of how he and the other coaches assembled here try to tackle the challenge of building a competitive, functioning team of young players from across the world, many of whom have never played in a setting like this one, while also balancing the venue as a showcase for the players to be seen by scouts.
Bayno has constructed the EuroCamp sessions to follow the same pattern every morning. Each day begins with an hour of team practice where coaches can get to know their players, build some group cohesion, figure out their rotations, and install their own sets. A lot of teaching occurs here, as the coaches have the freedom to do as they please in these sessions to prepare their team. They won't hesitate to stop the action if teachable moment arises.
Lionel Hollins
, for example has gotten rave reviews for how hands-on he's been here, as all the coaches have worked feverishly to teach the campers NBA terminology, implement defensive schemes, drill on fundamentals, and put their team in a position to play well in front of scouts.
Much of the drill work Bayno and the rest of the coaching staff runs the players through in the second part of the day is reminiscent of what you'd see at some NBA practices, with a lot of controlled, but competitive drills revolving around decision-making and transition play. Not only does this put the campers in position to learn on the fly, but it also gives scouts the chance to see more live action than they would watching the players run through shooting or 1-on-0 type drills.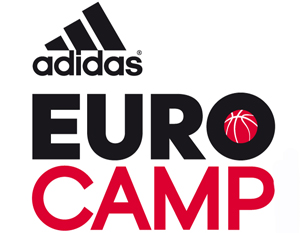 Day Two Developments
This was the final day of the EuroCamp for two significant 2014 draft prospects.
Ioannis Papapetrou
did not suit up today, instead doing a number of interviews with teams before flying back to Greece to rejoin Olympiacos. We spoke to Papapetrou yesterday about his experience here, his decision to leave Texas, and what he brings to the table as a player.
This is also likely the last day of the EuroCamp for
Vasilije Micic
, who will rejoin Mega Vizura for the second leg of the Serbian League semi-finals, which only begin tonight as they were pushed back to conflict with the EuroCamp after floods ravaged the region. Micic struggled defensively at times with the speed of the American guards today, but played very well overall, making some shots from the perimeter en route to 14 points while dishing out 10 assists in 25 minutes against the adidas USA Select Team. He was the maestro of the team, delivering crisp passes all over the floor with superb creativity. He's clearly a step above any of the guards here and a real candidate to get drafted in the late first round. We spoke with Micic about how he approaches a camp like this as a point guard, his season in Serbia, and his plans for the 2014 NBA Draft.
Team Game Notes
In the first game this morning, Carleton University faced off against the French U20 National Team. Falling 67-72 in overtime, the CIS program impressed with its organization and intensity. While the team lacked great size and athleticism relative to their French counterparts, they are extremely competitive, well coached, fundamentally sound, and unselfish. Sprinting back on defense, making the extra pass, and forcing turnovers, it is not surprising that this team has given the NCAA teams they've faced in the preseason all sorts of problems as they play a high-efficient, low-mistake style of basketball, and represented themselves extremely well.
Today was not Carleton's best showing, as they shot just 7/33 (21%) as a team from beyond the arc after shooting a ridiculous 44.3% from deep during the CIS season. To put that number into perspective, the high-powered Creighton offense led the NCAA this season shooting 42.1% from deep.
-
The main attraction in this game was Phil Scrubb who finished with 19 points on 5/19 shooting. Shooting 47% from deep during the CIS season, Scrubb went 1/10 from beyond the arc today, but showed good instincts and a very strong feel for the game. While the Richmond, British Columbia-native is not a tremendous athlete, the 6'4 guard can do a little bit of everything and has a clear future as pro at some level. He'll get another chance to impress scouts tomorrow when Carleton matches up with a young, but athletic adidas USA Select Team.
Scrubb's brother Thomas finished with 18 points on 7/18 from the field to go along with 9 rebounds, showing well in his own right.
-
One of the most intriguing players on the French U20 team so far this weekend in competitive action has been
Petr Cornelie
. A 6'10 power forward who played essentially the entire year for Le Mans at the LNB Espoirs level where he averaged 12.3 points and 9 rebounds per-game. Cornelie is a stretch big man who presents an obvious matchup problem with his size and shooting ability. Possessing fine shooting mechanics, a long, lanky frame, and a good motor, the 18 year old Calais-native has interesting potential.
He looked comfortable today hedging and recovering when defending the pick and roll, and has nice athleticism to complement his much improved offensive skill level. Though he's untested at the senior level, Cornelie is a player scouts will be keeping tabs on as he continues to develop.
-
Axel Bouteille
finished the game with 10 points on 5/7 shooting. The leading scorer in the French junior league, the 6'6 wing is one of the top 1995-born prospects in France and a talented, aggressive slasher whose footwork and craftiness make him an effective offensive player. While he doesn't have great strength or shooting mechanics, he finds ways to score from the inside and out. Knocking down a pull-up jump shot and creating space with pivots and spins, it will be worth monitoring how Bouteille translates to the senior level. He saw a few minutes here and there for Chalon in the French League and EuroCup, but if he can become a more proficient shooter and continue to keep defenders off balance with his savvy midrange game, he'll earn plenty of playing time and attention from scouts in the coming years.
-For the second straight day,
Jaylen Brown
impressed scouts with his ability to draw contact and get to the line. The adidas USA Select Team got blown out 119-85 by a team composed of the top EuroCamp participants, but Brown held his own against the much older competition finishing with 21 points on 7/11 shooting to go along with 6 rebounds.
-
Like Mega Vizura teammate Vasilija Micic,
Nemanja Dangubic
had a very strong day today. Scoring 23 points for the EuroCamp All-Stars against the adidas USA Select Team, the athletic 6'7 wing isn't a great ball-handler and needs to get stronger, but his combination of defensive intensity and finishing ability helped him make an impact.
Playing primarily off the ball today, Dangubic found a comfort zone, no longer forced to create his own offense which led to a number of turnovers yesterday. He went 2/5 from three spotting up, which was nice to see, as he shot just 29.5% from beyond the arc during the Adriatic League season. If Danbugic can develop a consistent outside shot, he has terrific roleplayer potential.
Having grown over 2 inches since last year according to official measurements, he's a player to watch as we approach the international withdrawal deadline.
-
Marcus Eriksson
went 3/5 from beyond the arc playing for the EuroCamp All-Stars, but put on a clinic this morning as he rarely hit anything put the bottom of the net during drills.
-
Rokas Giedraitis
had a nice afternoon after being shut out yesterday. An athletic wing with a nice frame, he looked good in transition and hit a pair of spot-up 3's en route to 14 points. The 6'7 Lithuanian forward is a late bloomer who hadn't played a second of action in his native country's first division until this year. Automatically eligible for the 2014 NBA Draft, Giedraitis is a long shot to hear his name called, but he helped make up for lost time today.
adidas NEXT GENERATION Practice
One of the additions to the adidas EuroCamp schedule last year was a practice featuring a collection of U16 prospects from across the globe. Adidas assembled an impressive group of prospects once again.
NEXT GENERATION Prospects
| PLAYER | HGT | POS | BIRTH YEAR | COUNTRY | TEAM |
| --- | --- | --- | --- | --- | --- |
| Acoydan McCarthy | 6'5" | SF | 1999 | SPA | Real Madrid |
| Arnoldas Kulboka | 6'7 | SF | 1998 | LTU | Sabonis Basket Center |
| Olivier Sarr | 6'7 | SG | 1999 | FRA | Toulouse |
| Luka Kotrulja | 6'5 | PG | 1998 | CRO | Split |
| Aleksa Radanov | 6'7" | SG | 1998 | SRB | Red Star |
| Richard Freudenberg | 6'7" | SF | 1998 | GER | Bayern Munich |
| Joan Ferran Bernacer Aznar | 6'4 | SG | 1999 | SPA | Islas Baleares |
| Gabriele Stefanini | 6'1 | PG | 1999 | ITA | Reggio Emilia |
| Michael Loutzis | 6'4 | PG | 1998 | GRE | BC Kronos |
| Rodions Kurucs | 6'6 | SG | 1998 | LAT | VEF Riga |
| Bathiste Tchouaffe | 6'5 | SF | 1998 | FRA | INSEP |
| Isaiah Hartenstein | 6'9" | PF | 1998 | GER | Artland Dragons |
| Nikola Miskovic | 6'6 | SF | 1999 | SRB | Mega Vizura |
| Efe Eros Gunyeli | 6'6 | PF | 1999 | TUR | Fenerbahce |
After consisting of mostly drills a year ago, this year's NEXT GENERATION practice wasted little time before letting the players get up and down. With this group having come in a day earlier this year to workout on the side courts in preparation for today, the players looked less overwhelmed and intimidated. The attendees scrimmaged 3-on-3 early on before running full court 5-on-5 games from a large portion of the time allotted for this showcase to the delight of scouts. Based on what we saw, it wouldn't be surprising if a handful of these players wound up getting drafted down the road, as this group had a lot of talent.
-
Taking part in the Jordan Brand International game earlier this spring, Isaiah Hartenstein impressed here with his combination of strength and finishing ablity. Possessing good hands, a strong lower body, and the ability to score with both hands, Hartenstein stood out more than any other player in this group. His back to the basket game is still a work in progress, but his ability to hit midrange jump shots and finish through contact allowed him to score consistently here while he flashed some shot blocking ability on the other end of the floor as well. A force at the junior level in Germany, Hartenstein is a prospect scouts will be keeping tabs on in the coming years, as he has very interesting potential, especially if he continues to grow. His father, the 6'9, 265-pound Florian Hartenstein, played collegiately at Oregon before embarking on a long career in the German BBL.
-
A tall (6'5) point guard with a great feel for the game, Luka Kotrulja impressed here with his ability to create in the pick and roll, score from the midrange off the dribble, and use crafty footwork to find angles inside. Among the youngest looking players in this group, he has a lot of maturing to do physically and isn't a freak athlete, but nonetheless appears to be a very promising talent. Having made his Croatian League debut last month before he turned 16 a few days ago, Kortulja is a precocious talent who seems to compare favorably to former Split prospect and 2005 NBA Draft pick and Roko Leni-Ukic.
-
Bathiste Tchouaffe of France had a nice showing here, ranking among the most mature players in this group. A member of the French U16 National Team last summer, the 6'6 wing is a solid athlete with good shooting ability and an aggressive approach to the game. Already seeing minutes in the French 3rd Division with INSEP, he was able to simply overpower many of the players here in addition to flashing a developing perimeter game and a knack for crashing the boards.