Scouting reports on ten of the top wing prospects seen at the 2016 FIBA U17 World Championship, including R.J. Barrett, Dzanan Musa, Troy Brown, Yves Pons, Jaylen Hoard, Miguel Gonzalez, Sergi Martinez, Gary Trent, Onuralp Bitim and Elias Valtonen.
---
More 2016 FIBA U17 World Championship Scouting Reports
:
FIBA U17 Point Guards
---
R.J. Barrett, 6'7, Shooting Guard, Montverde Academy, 2000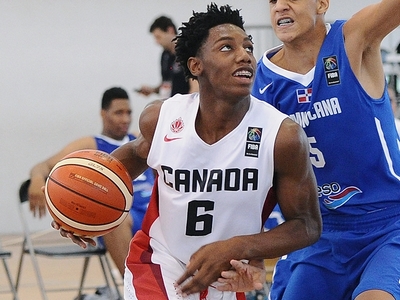 Strengths
-Ideal physical attributes for a wing. Excellent size. Tremendous frame. Long arms. Big hands
-Fluid athlete with outstanding body control
-Can make shots both with feet set and off the dribble. Release point isn't ideal, but ball comes out of hand relatively nice with time and space. Good shot preparation before the catch
-15/39 for 3 (39%) in 13 games in DX database thus far
-Relentless slasher. Has an innate sense for weaving through traffic and getting to the front of the rim
-Knows how to use his body to initiate contact. Gets to the free throw line at a great rate
-A force in transition. Very difficult to stay in front of with a head of steam
-Comfortable operating out of ball screens. Changes gears powerfully
-Has some ability to drive and dish creatively
-Has tremendous potential defensively. Already displays a solid energy level on that end of the floor
-Plays with great confidence considering he turned 16 just a few days prior to the event.
-Aggressive scorer who is willing to carry the load offensively. 26.2 points per-40 career
Weaknesses
-Still working on the consistency of his 3-point shot. Has a low release point on his jumper which makes it easier for opponents to contest. Elbow is a little rigid. Jump-shot mechanics can hopefully become more fluid in time. Doesn't shoot it the same way every time at the moment
-Lacks a degree of creativity and touch around the basket with his finishes. Not always able to convert the looks he creates for himself. Has good, not great explosiveness vertically
-A little left hand dominant, especially with his finishes. Uses his left hand on the right side of the basket
-Struggles at the free throw line. 58% career. 60% in Zaragoza
-Doesn't have much of an in-between game at this stage. Needs to force his way all the way to the rim in the half-court at times, as he doesn't display much willingness to pull-up off the dribble when the defense cuts off his driving angles
-Developing his vision off the dribble, especially in tight spaces, will be the next stage in his evolution as a shot-creator in the half-court
-A little quiet on the floor
Outlook
Lefty wing who is considered by many to be the best player in his high school class in North America. Has done nothing to discourage that in the multiple times we've seen him the past few months (Dick's Sporting Goods Invitational, Jordan Brand Classic International game, U17s). Finished 9th in PER at the event, despite being 12-18 months younger than many of the players he faced.
Interviews and Highlights from the U17s
Dzanan Musa, 6'8, SG/SF, Cedevita, 1999
Strengths
-Extremely talented ball-handler and shot-creator. Essentially played point guard for Bosnia. Plays at a different speed than other players his age. Sees the game at a very high level
-65% of his offense came in pick and roll, isolation or transition situations at the U17s
-Can find the open man off the dribble. Good court vision and highly creative passer when he wants to be. Makes pinpoint passes into the post or pushing ball ahead in transition
-Gets low with the ball, changes speeds and directions. Solid first step. Can string together some really complicated sequences with the ball
-Can reject the ball screen and get to the rim driving either direction
-Tough shot-maker. Finds a great deal of offense pulling up off the dribble, even beyond the 3-point line. Has excellent touch
-Also makes shots with feet set
-Can rise up over the top of a defender and knock down touch jumpers
-Finishes with either hand creatively around the basket
-Tremendous overall scoring instincts. Career 28 points per-40 in FIBA play.
-Has a knack for finding rebounds coming off the defensive glass
-Hot blooded player. Extremely competitive. Teammates on Bosnia seem to like playing with him.
Weaknesses
-Has developed a strange and concerning hunch in his back that could become a real issue long term. Perpetually hunched forward in his stance. Something he needs to address immediately
-Somewhat of a one man show. Wants to go one on one every time, making him fairly predictable. Struggled badly in the 1/8th finals against an unimposing Australia team that finished the tournament in 7th place (34 points on 34 possessions)
-Volume scorer. 55% career TS% in FIBA competition
-Averaged more turnovers than assists at the U17s. Career 1/1 assist to turnover ratio
-Did his best work of the tournament against the worst teams (50 points against Taiwan for example, 36 against Korea, 32 and 34 vs Dominican Republic). Was 4/18 vs France
-Lacks a degree of strength and explosiveness as a finisher around the basket in traffic. Struggles to finish over length. Will he be able to finish effectively inside the paint against legit rim protectors in the pros?
-Drives into the teeth of the defense frequently without a plan, finding mixed results
-Can he be effective without monopolizing the ball exclusively the way he did for Bosnia?
-Extremely reactive on the court. Body language is very poor. Stares down the referees every time he's unable to score. Some real concerns about his attitude. Has made some very controversial statements in the press indicating a real lack of humility and self-awareness
-Mostly indifferent defensively, which is not surprising considering the heavy load he was asked to shoulder. Wingspan (6'8 ¼) measured the same as his height. Hunched forward in his stance, making it difficult for him to stay in front of quicker players.
Outlook
Widely considered the top talent in the 1999 European generation. Already saw minutes for Euroleague team Cedevita despite only being 16. Undoubtedly a tremendously skilled offensive player with outstanding instincts for putting the ball in the basket and finding the open man. Nonetheless, some real concerns about how that will translate to higher levels, especially if his attitude doesn't improve. Will his back be a cause for concern down the road?
Troy Brown, 6'7, Shooting Guard, Centennial, 1999
Strengths
-Looks closer to 6'7 now. Has a solid 6'10 wingspan
-Frame continues to fill out. Strong legs and upper body. Has gained 25 pounds in the last two years.
-A complete basketball player. Swiss army knife of USA team. Averaged 16 points, 9 rebounds, 5 assists and 4.5 steals per-40, playing a team high 24 minutes per game. Really set the tone for this team with his defensive intensity and unselfishness. Does whatever the coach asks
-Strong ball-handler. Plays at different speeds.
-Showed some progress as an outside shooter during the USA Basketball training camp, particularly pulling up off the dribble. Shot 94% from the free throw line at the U17s
-Has excellent court vision. Sees over the top of the defense at 6'7. Passes ahead in transition. Finds the open man. Very effective secondary ball-handler who can play some point in a pinch as well. Uses both hands to whip the ball all over the floor.
-Tremendous timing defensively. Guards 1-4. Strong and competitive enough to contain most power forwards, but quick and long enough to stay in front of guards. Has outstanding anticipation skills jumping in the passing lanes. 4.5 steals per-40 in Zaragoza. 2.8 per-40 for career.
Weaknesses
-Hasn't found a consistent release point as a shooter yet. Somewhat stiff release with unnecessary hitch at the top. Sometimes shoots it sideways. Super high arching shot. Inconsistent rotation.
-Really struggled with his outside shot in Zaragoza. Went 5/20 for 3. Career 25% 3P% in 44 games in our database.
-Low release on his pull-up jumper makes it difficult to get off when closely guarded
-Lacks a degree of explosiveness as a finisher. Isn't always able to convert plays in traffic
-Better attacking gaps in the half-court than he is dancing with the ball in one on one situations. Doesn't have a lightning quick first step.
Outlook
Played an Evan Turner type role for Gold medalists USA. Continues to get a little better every time we see him. Super versatile wing who can play every backcourt position. Development of his outside shot will dictate how highly regarded of a NBA prospect he becomes down the road, but is undoubtedly one of the best players in high school basketball, and still hasn't even turned 17 yet.
Yves Pons, 6'6, Small Forward, INSEP Academy, 1999
Strengths
-Good size for the wing at 6'6
-Strong frame. Long arms. Big hands
-Very developed upper body. Huge shoulders and biceps. Does not look like your typical 17-year old physically
-Elite level athlete. Ridiculously powerful and explosive. Pulls off in-game dunks you might expect to see in a dunk contest. Finishes on the way up, not at the top of his jump, and then continues to elevate
-Multi-positional defender. Capable of covering guards, wings and forwards alike. Contains dribble penetration with outstanding lateral quickness. Plays with huge energy
-Completely shut down tournament's #1 scorer Dzanan Musa in their head to head matchup
-Career 2.4 steals and 2.3 blocks per-40 minutes. 10.7 rebounds per-40 in Zaragoza
-Capable of making an open shot. Does not have the worst stroke. Ball comes out of his hand fairly nicely. Can even knock down shots off the bounce. Career 69% from the free throw line.
-Quick, powerful first step. Draws fouls just by putting the ball on the floor
Weaknesses
-Shot 7/24 for 3. Shoots a very flat jumper that doesn't leave him a great deal of room for error. Not the most fluid looking jump-shot. Has a lot of room to improve in this area. Does not appear to have great touch or feel as a shooter/scorer
-Ball-handling skills are a work in progress. Straight-line driver who struggles when forced to do anything complicated in the half-court. More combo forward than wing in terms of his ball-skills at the moment
-Overall feel for the game is not great at this stage. 4 turnovers per-40. Can get a little careless with the ball. Lack of experience shows.
Outlook
Highly productive lefty wing/forward from Haiti. Has the tools to play some small-ball power forward, especially if he grows another inch or so. Misses a lot of time with injuries the past two seasons, which put him somewhat off the radar prior to this event. Only played 17 minutes per game for reasons no one in Zaragoza could quite understand. Made the most of it, averaging 10 points and 4 rebounds with 1.3 blocks and .7 steals, while shooting 77% from 2-point range. Finished the tournament ranking 5th in PER. Will need to continue to improve his skill-level and basketball IQ, as he won't be able to overwhelm opponents with his sheer strength and athleticism the way he often did in Spain.
Jaylen Hoard, 6'8, Small Forward, INSEP Academy, 1999
Strengths
-Excellent size for the wing at 6'8. Big enough to play some small-ball power forward, which could make him a real mismatch
-Fluid player. Quick off his feet
-Good frame that should fill out in time. Strong upper body
-Very long arms
-Can grab a rebound off the defensive glass and push the ball in the open floor. Long strides in transition
-Powerful first step. Deadly in short-iso situations
-Draws tons of fouls and gets to the free throw line at a great rate (over 10 per-40 in Zaragoza)
-Uses eurosteps and other fancy footwork moves to his advantage
-Can find the open man off the dribble. Solid court vision. 4.7 assists per-40
-Has a good looking stroke from the perimeter. Ball comes out of hand nicely. Has soft touch
-Doesn't have the most fluid mechanics, but throws the ball in the basket consistently regardless, which is a good sign
-Makes shots from all over the floor, both with his feet set and off the dribble
Weaknesses
-Good, not great athlete. Lacks a degree of fast-twitch explosiveness vertically and off the bounce for a top-shelf prospect
-Lower body needs work. Skinny calves and ankles
-Ball-handling skills are a work in progress. Averaged nearly 5 turnovers per-40 in Zaragoza.
-Doesn't get very low with his handle. Doesn't change speeds with the ball. Still has a ways to go to become a high-level shot-creator
-Very limited driving and finishing with his left hand. Avoids using his off hand at all costs
-Tends to avoid contact at times around the rim. A little bit soft with his approach
-Capable 3-point shooter but not consistent yet. Career 32% for 3 in DX database (37 games).
-Dips the ball unnecessarily below his knees on the catch, slowing down his release. Jumper isn't very fluid at this point
-Sometimes looks like he's operating at half speed. Lacks a degree of nastiness. Tends to disappear at times
-Very reactive on the floor. Gets down on himself easily. Not a "next play" guy
-Has the tools to be an excellent defender but isn't there yet. Doesn't sit down in his stance. Upright. Lackadaisical in his approach
Outlook
Had a tremendous tournament averaging 33 points, 8.5 rebounds and 4.7 assists per-40, confirming himself as one of the top talents in the 1999 age group, certainly amongst Europeans. Elegant player with plenty of virtues and flaws that can be corrected in time. Still figuring out how to use his talent consistently on both ends of the floor. Will be interesting to see how his mentality evolves in time. Moving to a high school in North Carolina next season and may be on the college track long term.
Miguel Gonzalez, 6'7, Small Forward, Valladolid, 1999
Strengths
-Good size for the wing and solid length
-Finishes creatively around the basket using either hand and very soft touch
-Solid outside shooter. Dips the ball on the catch, but has a consistent release point. Shot 40% for 3 this season in LEB Silver (Spanish 3rd division)
-Team player who likes to move the ball. Pushes ahead in transition. Makes post entry passes. Hits the roll man for layups. Doesn't let the ball stick in the half-court. Contributes to his team's ball-movement willingly with some very heady passes
-Shows glimpses of crafty footwork and creativity as a ball-handler going one on one, playing pick and roll or attacking closeouts. Fluid enough to operate at different speeds, even if his skill-level doesn't quite allow it yet. Should be able to develop this part of his game in time
-Really nice anticipation skills jumping in passing lanes and grabbing rebounds off the defensive glass. Uses his size and length to his advantage
-Active and competitive on defense. Moves his feet. Gets over screens.
-Intelligent and mature player. Ticks a lot of boxes as a role-player
Weaknesses
-Has a narrow frame. Not overwhelmingly athletic
-First step is average. Not the craftiest advanced ball-handler to make up for it. Isn't always strong with the ball. Lacks the strength to get into the paint at times. Relies heavily on floaters when he can't get all the way to the rim. Has a difficult time dealing with contact
-Not someone who is going to create a great deal of offense in the half-court. Needs creators around him. Had to do a little more than he was probably comfortable on this Spanish team
-Much better in catch and shoot situations than he is off the dribble. Needs to improve the fluidity of his pull-up stroke. Doesn't create great separation from defenders
-Big ball dip and low release point overall. Shoots a push shot. Needs to quicken his release
-Not incredibly physical. Due to his frame? Or does he lack toughness?
Outlook
Goes by 'Miki Gonzales.' Smart and versatile Spanish wing player with good size and skill. Already has some experience at the pro level in the 3rd division.
Sergi Martinez, 6'7, SF/PF, Barcelona, 1999
Strengths
-Strong frame. Long arms. Big hands
-Aggressive scorer at youth levels. 22 points per-40 in FIBA play (27 games)
-Can create off the dribble using long strides and crafty footwork. Good body control knifing through traffic
-Can play with his back to the basket. Uses strong frame to overpower weaker players at this level, but also uses fakes and soft touch to his advantage
-Has a variety of moves and footwork he can use to get his shot off
-Loves to grab rebounds off the defensive glass and ignite the break. Has solid ball-handling skills in the open court
-Can also create in a straight line on short-isos
-Lives at the free throw line (9.6 attempts per-40 in FIBA)
-Great feel for coming up with rebounds, even in traffic. 12.8 per-40 career. Also gets in passing lanes (2.6 steals per-40).
Weaknesses
-Has the height of a small forward, but the body and game of a power forward
-Fluid athlete, but not overwhelmingly explosive. Plays below the rim
-Not a 3-point shooter. Career 10/47 from beyond the arc in 43 games. Also struggles from the free throw line (56%). Will have a difficult time translating his effective at the junior level to the pros without an outside shot
-Not a great finisher around the basket. Lacks a degree of explosiveness and touch
-Somewhat predictable offensively. Wants to get to the rim driving in a straight line. No in between game. Prefers to avoid using his off hand. Relies heavily on his strength inside the post.
-Averages nearly twice as many turnovers as assists in FIBA play.
Outlook
Go-to guy of Spanish national team at the U16 and U17 levels. Also had a strong Adidas Next Generation campaign with Barcelona. Has seen some minutes in the LEB Gold (2nd division) with Barcelona II. Aggressive scorer who is quite a mismatch at the junior level. Has some interesting things that could translate to the pro level, but will likely have to improve his outside shot to play at the highest levels.
Gary Trent, 6'5, Shooting Guard, Apple Valley, 1999
Strengths
-Very physically mature at 6' 5" and 203 pounds. Strong, proportionate frame. Doesn't shy away from physicality. Solid length with a 6' 8" wingspan.
-Impressive scoring instincts - 20.4 points per 40 minutes in seven FIBA U17 World Championship games and 30.3 points per 40 minutes in 49 games in our database. Plays with a score-first mentality that works for and against him.
-Most of his offense revolves around his shot making ability. Shot only 26% at the U17s but can get hot in a hurry. Shoots on the hop, not reliant on elevation, 123-for-333 (36.9%) from 3-point range in 49 games in our database. Best as a shooter off the catch but is capable off the bounce when given time and space. Can make a three when the defense goes under a ball screen.
-Solid first step. Good footwork attacking closeouts. Can straight line drive due to his size and aggressiveness. Starting to make an effort to play at different speeds out of ball screens.
-Not a great finisher overall but has the frame to absorb contact.
-Comfortable posting up smaller guards
-Capable passer when he wants to facilitate
-Has the size and length to be an adequate defender when he's motivated. Good feet in spurts. Can sit down in a stance. Has the strength to shed screens.
-Quick hands and solid instincts in the passing lanes - 3.7 steals per 40 minutes at U17s.
Weaknesses
-More powerful than explosive.
-Really struggles around the rim. Doesn't get much lift. Very right-handed. Shot only 5-of-17 at the rim at the U17s. Would benefit from continuing to add more floaters and craft finishes.
-Very streaky shooter, especially considering that's likely his most translatable skill from an NBA standpoint. Both elbows flying out, rotation isn't all that tight. Made only 7-of-27 (25.9%) 3-pointers at U17s. Best with his feet set. Can add more ways to get to his jumper off the bounce.
-Not a great 1-on-1 shot creator. Limited to mostly straight line drives. Doesn't have much "wiggle" with the ball. Struggles to cover much ground with his dribble - strides aren't overly long, doesn't take much space laterally with his moves. Has trouble turning the corner, especially when going left as he gallops with the ball.
-Can improve his ability to operate as a secondary ball handler. Not all that creative playing out of ball screens. Struggles a bit versus the big defender.
-Feel for the game is a work in progress. Not the most willing passer. More focused on getting buckets than making the fundamental play at times.
-Can work on becoming more even keel emotionally. Defensive effort declines when things aren't going his way offensively. Likes to complain to referees. Can be a bit too reactive.
Outlook
Trent, who has posted historic scoring numbers at the EYBL level, continued his scoring ways with a solid U17s performance that earned him a 24.3 PER in seven games. The "early bloomer" excels in international youth play as he's able to lean on his strength and aggressiveness when his jumper isn't falling, which was the case at the U17 World Championships. While Trent is a ready-made scorer who will be an instant contributor at the college level, his NBA upside remains up for debate as he'll really have to adjust to no longer being the most physical guard on the floor and rely more on skill and finesse given his average explosiveness. Trent will benefit from buying into becoming a defensive stopper, transforming from "shot-maker" to "shooter", focusing more on playmaking, and adding more to his game off the dribble in order to maximize his NBA potential.
Onuralp Bitim, 6'5, Shooting Guard, Huntington Prep, 1999
Strengths
-Good athlete for a European prospect. Solid quickness. Can elevate off two feet in space
-Will catch alleyoop lob passes above the rim
-Has a nose for putting the ball in the basket. Very aggressive scorer. Career 25 points per-40 through 41 games in DX database
-Likes to push the ball in the open floor
-Shows some ability to create in iso and pick and roll situations with crossovers and change of speeds
-Can throw the ball in the basket off the dribble at times with nice touch. Should be able to develop his outside shooting ability by smoothing out his stroke
-Has some vision finding the open man in drive and dish situations
-Good instincts getting in the passing lanes (2.8) and crashing the glass (9.4 rebounds per-40). Has good anticipation skills for finding the ball that could serve him well later on as his game rounds out
-Plays with confidence and aggressiveness. Wants to take big shots
Weaknesses
-Has average tools for the shooting guard position in terms of size, length, frame.
-Does not really know what his limitations are this stage. Averaged twice as many turnovers (2.8) as assists (1.4) for career thus far.
-Jump-shot is very streaky. 26% career 3-point percentage. 64% FT%. Mechanics aren't great. Long and deliberate stroke. Not very fluid, particularly shooting off the dribble.
-Flat-footed pull-up jumper with little elevation. Jumps way forward. Easy for defenses to contest, but takes quite a few of them
-Advanced ball-handling skills are a work in progress. Doesn't quite know how to create high percentage shots inside the arc consistently, especially against better defenses. Completely shut down by US team in two U17 contests (15 points on 19 shots with 3 assists and 9 turnovers)
-Struggles to get all the way to the rim and finish through contact. Heaves up a lot of low percentage runners and floaters
-Average defender. Doesn't have great fundamentals. Intensity level is low
-Can be a little selfish at times and display poor body language
Outlook
Turkish shooting guard playing high school basketball in West Virginia. A volume scorer at every level he's played at. Has talent, but also a long ways to go to become more efficient on both ends of the floor.
Elias Valtonen, 6'6, Small Forward, HBA-Marsky, 1999
Strengths
-Solid frame at 6'6. Built fairly well. Body has potential
-Versatile scorer. Shows the ability to put the ball in the basket from all over the court. Averaging 21 points per-40 in three years of FIBA competitions thus far, including 23 at the U17s.
-Excellent catch and shoot stroke. Shoots it the same way every time. Has range on his jumper. Very consistent from the corners. 75% FT%
-Decent first step attacking off the dribble. Can get to the rim in a straight line. Shows nice timing attacking closeouts
-Can create a little going one on one. Shows potential making shots off the dribble. Uses shot-fakes to set up his moves
-Will find the open man in drive and dish situations. Has some creativity as a passer. 19% assist percentage on career
Weaknesses
-Not an exceptional athlete. Struggles to finish around the basket at times
-Lacks a degree of toughness and explosiveness inside the paint. 47% 2P% on career. Avoids contact at times. Doesn't want to use his off hand
-Jump-shot looks good, but hasn't had the best results in FIBA play thus far. 30/102 (29%) in 24 career games. Can stand to improve the quickness of his release
-Can be his own worst enemy at times. Prefers to blend in. Can be very passive. Floats in and out of games. Doesn't display a consistent approach from game to game. Gets down on himself when adversity hits.
-Gets very careless with his decision making. Very turnover prone in FIBA competitions (21% TO%)
-Average defender. Little upright, heavy footed on perimeter. Doesn't cover ground that well. Has the size of a shooting guard, but can he stay in front of quicker wings? Doesn't display the highest intensity level
Outlook
Skilled Finnish wing player reportedly on the college track. Very talented offensive player. Has the makings of an excellent college prospect, but has a number of areas he'll need to address long term to be considered a better NBA prospect.