-The bracket projections reflect games played through Sunday, January 28th. They are not a prediction of the future, but rather a checkpoint for where teams currently stand. In other words, it is what the bracket would look like if today was Selection Sunday. The criteria I use to select and seed the teams is the exact same criteria that the selection committee uses.
A rundown of all the teams in the field is written below the bracket.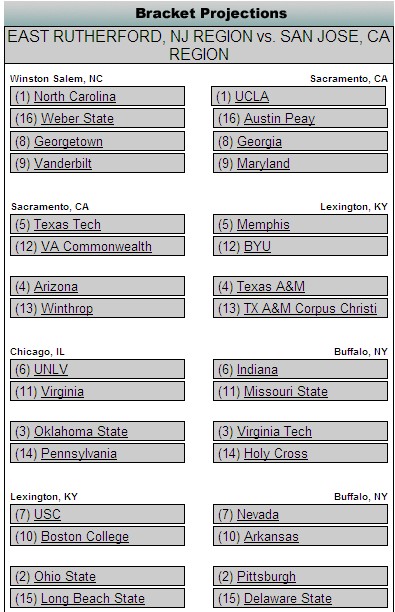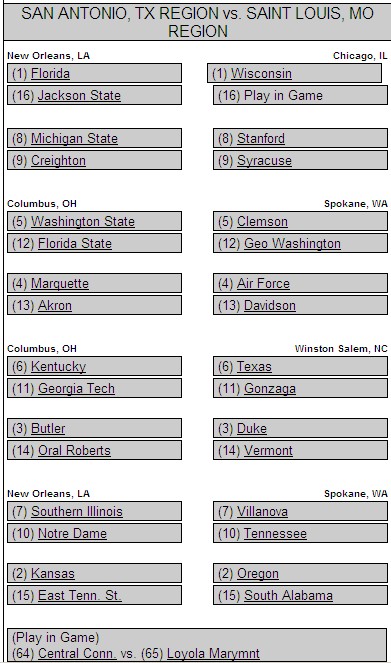 NOTES ON THE BRACKET
-There are nine ACC teams in this bracket. I'd be surprised if there wound up being that many in the final bracket on Selection Sunday because the teams will end up beating each other out. Florida State is one of the teams that appears to be on their way down.
-Loyola, MD is showing up as Loyola Marymount for some reason. It's Loyola in Baltimore that I have playing in the play-in game.
S CURVE RANKINGS AND RUNDOWN
-The projected conference champions are CAPITALIZED.
1. NORTH CAROLINA. Clearly one of the strongest team. They have five wins against the RPI top 25, and three of those five came away from home. They just blew out Arizona on the road, and they weren't even at full strength for that game.
2. WISCONSIN. A Very close second to North Carolina, at least as far as their resume is concerned. They have eight wins against the RPI top 50, are unbeaten in Big Ten play, and have won 17 straight games
3. FLORIDA. Their RPI is only in the 20s, but that is due to the fact that they played some of the weakest competition imaginable out of conference. They also played some tough teams as well, including a blowout win against Ohio State and an overtime loss to Kansas when the Gators weren't at full strength. They are unbeaten in SEC play, and have the toughest part of their schedule ahead of them, and as well as they're playing it probably means they'll improve their resume.
4. UCLA. They lost to Stanford after building a 17 point lead, but they still have one of the best overall teams and resumes. They have 7 wins against the RPI top 50, are #1 in the RPI and #2 in SOS.
5. PITTSBURGH. Other than a loss to a pretty good Marquette team at home, Pitt has looked like the best team in the Big East. Their other two losses came on the road to Oklahoma State and Wisconsin, but that's hardly damaging.
6. KANSAS. The Jayhawks have been somewhat inconsistent when it comes to how well they've played, but nevertheless they're 19-3 and have been able to win even when they're not at the top of their game. They have two really good wins against Florida and Oklahoma State.
7. Ohio State. The Buckeyes don't have a big time road win yet, but they have just one loss in Big Ten play, are highly ranked (which indicates a good NABC Ranking), and all of their losses came on the road to current projected #1 seeds. That's not too bad.
8. Oregon. The Ducks are coming off a somewhat surprising loss to Washington, but they followed it up with a very impressive overtime win against Washington State. They also have big wins at Georgetown, at Arizona and at home against UCLA.
9. Duke. Duke has three wins against the RPI top 25 and another two against the RPI top 50. They've won their last five games, including Clemson and Boston College in that stretch.
10. Oklahoma State. The Cowboys won their first 11 games, and have a big win against Pittsburgh. They were blown out by Kansas, but other than that they've looked pretty good all season.
11. BUTLER. They continue to dominate their conference, and their big wins from early in the season are really helping them out. They do have one bad loss to Illinois Chicago, but they are still a pod caliber team.
12. Virginia Tech. They have really turned it on since ACC play began and have big wins against Duke, North Carolina and Maryland. They did have some bad losses early on, but they are a different team now and the committee will take that into account.
13. Marquette. They have been rather inconsistent and struggled to get by a very poor South Florida team on Sunday. They do have a huge win against Pittsburgh and another big win against Duke. Their inconsistency could hurt them if they drop some games to lower caliber teams though.
14. Texas A&M. They don't have a ton of quality wins, but they are highly ranked and don't have any damaging losses. They'll need a few more wins against the RPI top 50 if they want to remain a solid pod team, though.
15. Arizona. This team is going south. They're 2-5 in their last seven games. None of those losses were particularly damaging, but the quality of losses is stacking up and making them look bad. They were blown out by North Carolina in their last game. They play in the Pac Ten, which means they'll have mulitiple opportunities at quality wins, but it also means that wins can be hard to come by.
16. AIR FORCE. The Falcons are coming off of a loss to BYU, but BYU has yet to lose at home and is playing very well right now. They are highly ranked, have an RPI of #13, and have quality wins against UNLV, Stanford and Texas Tech. They may not get quite as much credit for the Stanford and Texas Tech wins because neither of those teams were playing as well as they are now when Air Force beat them, but they still have a solid profile.
17. MEMPHIS. C-USA doesn't provide the Tigers with any opportunities to get quality wins, and they nearly lost their last game against Southern Miss. Still, they've won nine straight and are 17-3 on the season. Their only impressive win came against Kentucky, though, and the lack of tough competition could hurt their seed. They still have a shot at the pod system if they win out, though.
18. Clemson. They've lost four of their last five, and their last twolosses came on last second shots. They've been playing good basketball and not winning, which is frustrating, but they don't want to let the losing streak to go on too much longer.
19. Washington State. They appeared to have Oregon beaten in their last game, but the Ducks forced overtime and beat Wazzu in the extra frame. They're still having an incredible year and have good wins against Arizona and USC. They're in a three way tie for third place, and just one game out of first in the Pac Ten.
20. Texas Tech. They have two big wins against Texas A&M and Kansas, but both of those came at home. They aren't nearly as impressive on the road, and the committee will consider that if that trend continues, but they are still in solid shape.
21. Kentucky. The Wildcats ended their two game losing streak in a big way by blowing out Tennessee over the weekend. Their resume and team continue to improve as the season goes on. Their recent losses to Vanderbilt and Georgia were both close games to quality teams, so it didn't hurt their resume too badly.
22. Indiana. The Hoosiers' stock is rising. They did put on a how-not-to-offensive clinic in their loss at Illinois, but other than that they just keep playing better and better. They have just two losses in the Big Ten, and are in great shape overall. Their next game is at home against Wisconsin. That should be fun.
23. unlv. Other than a surprising loss to Wyoming, UNLV has been very solid lately and is one of the frontrunners in the Mountain West Conference. They have notable wins against Nevada, BYU and at Texas Tech.
24. Texas. The Longhorns still have a poor RPI, but everything else about them looks pretty impressive, so their seed wouldn't reflect their current RPI. They're 15-5 with just one loss in conference play, and that was in triple overtime against a very good Oklahoma State team, so they are in pretty good shape overall.
25. SOUTHERN ILLINOIS. The Salukis have won five of their last six, which is an accomplishment considering how much parity there is in the Missouri Valley. They defeated Virginia Tech earlier this year, but won't get as much credit for it as they would if they were to beat them now because VA Tech wasn't playing as well at the time the Salukis beat them. Nevertheless, they appear to be the best team in the MVC right now, and that alone is worth a bid and decent seed.
26. NEVADA. Some might think this is a little low, but Nevada's next RPI top 50 win will be their first. The only teams that they've beaten that are in this bracket projection are Gonzaga and Akron, neither of which are considered high quality. Based on what the committee has done with teams with resumes like this in the past, I don't see them being seeded much better than this.
27. Villanova. They're coming off a loss to Notre Dame that they had every chance to win. Still, The Wildcats are in pretty good shape. They don't have much in the way of quality wins, but they do have a notable road win againt Georgetown, an RPI of 16, and an SOS of 8.
28. Georgetown. The Hoyas have won four in a row, which is good when you play in a league like the Big East. They're 5-2 in league play overall, but have no wins against the RPI top 40. They don't have any poor losses either, so they're in pretty good shape.
29. Michigan State. Other than breaking their hearts, the loss at Ohio State didn't hurt the Spartans all that much. They are 17-5 and although they don't have any big time wins, they have some decent ones against BYU, Bradley and Illinois. They do need to play better on the road and rack up some quality wins if they want their resume to improve.
30. Georgia. The Bulldogs are very hot right now. They've gone from pretty much being out of the picture, to on the bubble, to a solid team for time being. They won another exciting game on Sunday against LSU to improve to 12-6 overall. They have two quality wins against Kentucky and Arkansas, have no bad losses, and have won five of their last six.
31. usc. The Trojans were beaten rather badly by Stanford, but rebounded from that by winning at California. Their RPI is only 57, but they are 6-3 in Pac Ten play with wins against Arizona and at Oregon, which is enough to get them solidly into the dance despite a somewhat poor RPI. They are a good team, and the RPI will take care of itself by the end of the year if they keep winning.
32. Stanford. After several close calls, Stanford finally got a huge win against UCLA, which really improves their resume. The Cardinal are playing good basketball right now, and their stock is rising.
33. Vanderbilt. The Commodores have really looked impressive these past few weeks. They have wins against Kentucky, Tennessee, Alabama and LSU. They do have a really bad loss to Furman, but they've more than made up for that with what they've done recently. They're at Florida for their next game so a win isn't likely, but a loss won't hurt them. If they continue to take care of business they'll be fine.
34. Creighton. After a rocky start out of conference, the Bluejays have won six of their last eight. Not playing better out of conference cost them a chance to really get a good seed, but they still have several opportunities to build on and improve their resume. They have been known to be inconsistent, though, so it's also possible that they do more damage to their profile between now and the end as well.
35. Tennessee. About three weeks ago, this team looked like a pod team, then all went to hell. They've lost five of their last six and although not all of those losses were bad losses, it still looks bad on their resume and I just couldn't seem to rank them any higher than this on the S Curve. All five of those losses came on the road, but teams that can't win on the road often don't get the best seeds. They need to turn things around in a hurry.
36. Maryland. They've been struggling in conference, but they got a much needed win against Georgia Tech their last time out. They also had some decent wins out of conference which helped them out. Their next two games are against Florida State and Wake Forest. Those are two games they should be able to win, which would give them a little more stability.
37. Syracuse. The Orange are inconsistent, and completely fell apart in the second half of their last game against Louisville, which is their second straight loss. They do have two big wins against Marquette and Villanova, but other than that they haven't done much of anything. Other than a game at Villanova, all their remaining conference games are winnable, so they really need to take care of business.
38. Arkansas. Yet another inconsistent team. They just got a nice road win against Alabama, but had lost four out of five prior to that, and some of those were games that you'd think Arkansas would have won. The loss to South Carolina was particularly surprising. They need to take care of business against the bubble teams and non tournament teams the rest of the way.
39. Notre Dame. The Irish can't seem to win on the road. Their only road win came against Maryland, and that was prior to losing their starting point guard. They need to win some road games to solidify their resume.
40. Boston College. They have just two conference losses, but they haven't really gotten into the meet of the ACC yet. They played well against Duke for most of the game, but couldn't keep pace down the stretch. I don't know if they'll be able to hang on or not. They'll need to win some big games in conference if they want to feel safe.
41. Missouri State. They have a huge win against Wisconsin, which is the biggest reason they're in the field at all. Their only other top 50 RPI wins were two wins against Bradley, who is at best a bubble team. Their next three games are winnable, and they probably need to win all of them in order to stabilize their resume.
42. Georgia Tech. Like a lot of young teams, the Yellowjackets are inconsistent. They have some big wins against Georgia, Memphis and Duke, but have lost their last three games and need to turn it around. Three of their next four games are winnable, and they need to take care of business if they want to remain inside the bubble.
43. Virginia. Virginia just won a big game at Clemson, where they came from behind. They also have big wins against Maryland and Arizona, and are on a four game winning streak. They probably need another quality win or two between now and the end if they want to feel safe, and they need to take care of business against the bubble teams and non-tournament teams.
44. GONZAGA. If the Zags lose to more conference games, it might be too many if they don't win the conference tournament. They do have a big win against North Carolina, and other than their loss to Saint Mary's none were really bad, but they really don't have any other big time wins and that is why they're this close to the bubble.
45. Florida State. The Seminoles really need to win some road games, or their spot in the tournament will disappear. Their RPI is 28 and they have two big wins against Florida and Virginia Tech, but their only two road wins came against Stetson and Georgia State.
46. byu. The Cougars are unbeaten at home, and just got a big quality win against Air Force, which improved them to 14-6 on the year. They have a decent RPI and have won 10 of their last 12. They do have a really bad loss to Lamar which could be problematic if they aren't able to finish strong down the stretch.
47. VCU. VCU is unbeaten in conference play, and just won a big game on the road against Drexel. If they keep winning like that they should be okay for an at-large bid if they fail to win the conference tournament.
48. GEORGE WASHINGTON. The Colonials just won against Rhode Island to take sole control of first place in the Atlantic Ten. They have a win against Virginia Tech, but it came at a time when the Hokies weren't playing as well as they are now. Other than that, their schedule was pretty weak, so their margin for error is very small.
49. WINTHROP. Clearly the best team in the Big South, but they've struggled to win their last two games against High Point and Coastal Carolina. It's unlikely they'll get in without winning the conference tournament despite the fact that they don't have any bad losses. They just don't have any good wins.
50. DAVIDSON. Strong team in the Southern Conference. They are young, but have improved as the season has gone on. Appalachian State could be tough to beat if they meet them in the conference tournament, though.
51. AKRON. This team should have scheduled tougher, because they were probably good enough to pull off an upset and improve their resume. Their schedule is weak so they won't get much consideration if they don't win the conference, but they are a pretty good team. Toledo has the best record in the MAC, but they play in the weaker division.
52. TAMUCC. The Islanders have won nine in a row and are unbeaten in conference play.
53. HOLY CROSS. The Crusaders are unbeaten in conference play and have won nine in a row, but they still need to go to Bucknell to play and that won't be easy. That will be a big game because the regular season champion has home court advantage throughout the conference tournament.
54. ORAL ROBERTS. They have a big win against Kansas and are unbeaten in MidCon play. They've also won nine in a row. It's a good thing for them because the MidCon tournament is in Tulsa.
55. VERMONT. They still need to go to Albany, which won't be easy, but Vermont is 15-6 on the year, has a win at Boston College, has won ten of their last eleven, and has just one conference loss.
56. PENN. They're 2-0 in Ivy League play and still have a long way to go, but still appear to be the best team.
57. LONG BEACH. UC Santa Barbara and Cal State Fullerton are also good teams out of the Big West. Winning the regular season championship is important because that team byes into the semifinals. Any of those three teams are capable of winning it.
58. SOUTH ALABAMA. I don't believe they are the best team in the Sun Belt, but they have won eight in a row and are 9-2 in the SBC standings.
59. EAST TENNESSEE STATE. Their only conference loss was against Belmont in overtime. They've won eight in a row since then.
60. DELAWARE STATE. They clearly appear to be the best team in the MEAC, but they did lose their last game against Florida A&M. That ended a seven game winning streak.
61. AUSTIN PEAY. The Governors have won ten in a row, and have a two game lead in the conference. Samford is a pretty good team in this league as well.
62. JACKSON STATE. They are tied with Grambling for first place in the SWAC, but appear to be the better team overall. They had out of conference wins against Rutgers, Illinois Chicago and UTEP. They also came close to beating Drake. They've lost two games in conference play, though.
63. WEBER STATE. They're in a three way tie for first in the Big Sky with Montana and Idaho State. No team really seems to be immerging, so it's anyone's league.
64. CENTRAL CONNECTICUT. They won in overtime against Sacred Heart to take sole control of first place in the NEC. I still feel that Sacred Heart is the better team, though, and it won't be easy for CCSU to win when the two face each other again later on.
65. LOYOLA, MD. Marist appears to be the best team, but Loyola actually has a one game lead on them in the conference standings and actually beat Marist earlier this year. The two will play again this upcoming weekend, and Marist could return the favor and take back control of first place.
OTHER CONSIDERED: Alabama, West Virginia, Northern Iowa, Xavier, Drexel, New Mexico State, Louisville, Providence, Michigan, Purdue, Illinois, Bradley, Wichita State, Kansas State, Appalachian State.
-In most cases, these teams are either struggling on the road, or just don't have enough in the way of quality wins.
HIGHLIGHTED GAMES FOR MONDAY, 1/29/07
-ILLINOIS CHICAGO AT BUTLER (Horizon League). UIC is the one team that beat Butler in conference play, but it won't be as easy for them to beat them on the road. Butler remains to look like a solid pod team and has pretty much dominated the league.
-HOFSTRA AT DELAWARE (Colonial Athletic). Hofstra is just one game behind VCU in the conference standings, and if they could overtake them and end up finishing first they will get strong consideration for an at-large. They need to take care of business against a rather weak Delaware team tonight.
-SAN DIEGO AT GONZAGA (West Coast). Gonzaga struggled their last time out against Portland, and needs to play better because any loss in this conference is damaging to them. Seeing as how they're very close to the bubble, they need to continue to take care of business.
-KANSAS AT NEBRASKA (Big Twelve). Nebraska has lost four of their last five, but they will be psyched for this one and the atmosphere will be electric. This is going to be a tough game for Kansas to just walk into and win. They're still in excellent shape for the pod system and could still end up getting a #1 seed, but they need to win this game if they want to remain in the picture for a #1.
-DREXEL AT NORTHEASTERN (Colonial Athletic). Northeastern has surprised some teams at home this year, so Drexel needs to be on upset alert. They can still get an at-large bid, but they can't afford too many losses. In fact one more loss before the conference tournament might be too many.
-WILLIAM & MARY AT VCU (Colonial Athletic). VCU is coming off a huge win against Drexel, but needs to focus on taking care of business against William & Mary and avoiding what would turn out to be a very damaging loss.
-PITTSBURGH AT VILLANOVA (Big East). This one is going to be a fun one. Villanova sort of blew it in their last game against Notre Dame, but a win here would be a nice way to rebound from that. Expect the Nova fans to be intense and give them an advantage. Pitt is a solid pod team and the result of this game isn't going to change that, but it would be another big time road win on their resume, which would help them out.