-Some of the seeds and selections may look a little strange, but that's because it's early in the year and the bracket reflects what has happened so far. A lot of teams that you may expect to be seeded higher just haven't had the chance to get any statement wins yet. Likewise, teams that have gotten statement wins (or bad losses) have been seeded accordingly.
Since it's too early to use the RPI, I'm pretty much just using the coaches' poll in its place right now. The bracket reflects that as well as head to head competition so far this season. It's still hard to accurately analyze anyone's body of work, so consider that when looking at this bracket.
-The Bracket only reflects games prior to November 20th.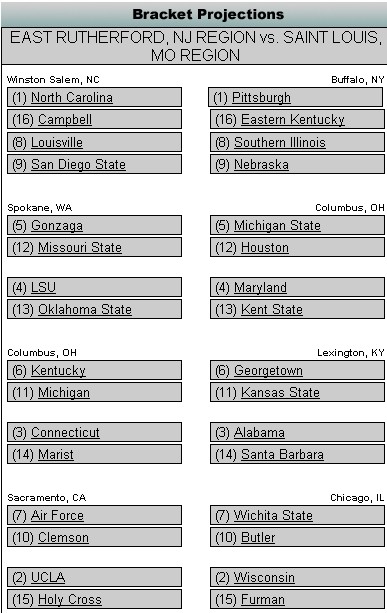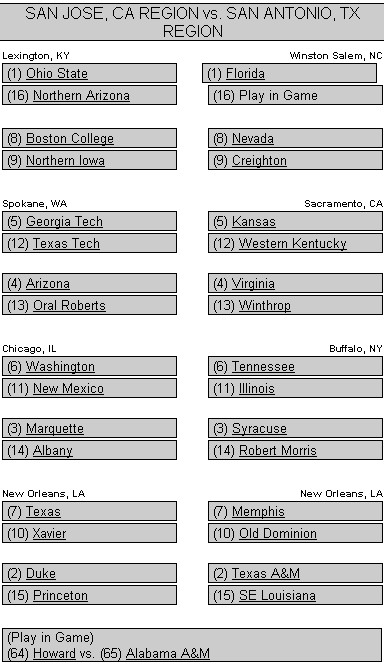 BRACKET NOTES
-Nebraska got a huge and unexpected win against Creighton over the weekend. It ends an eight year losing streak to Creighton for Nebraska, and gives them a nice quality win early. They are just 1-0 against div1 teams right now though.
-Old Dominion got an impressive win at Georgetown this past weekend as well. Considering that it was a road win makes it even more impressive. Their only loss this season came to Clemson in a close game. The Colonial was expected to be a tough conference this year, but Old Dominion wasn't considered a heavy favorite by many. However, George Mason and Hofstra have both struggled early. Hofstra, the team who was favored by most, is still looking for their first win.
-Kansas's loss to Oral Roberts has them seeded much lower now than where they'll probably end up at the end, but then again this is nothing more than a checkpoint of where teams currently stand. It doesn't necessarily mean I think they'll end up there.
-Old Dominion, Albany, Butler, Northern Iowa, Air Force, Winthrop, New Mexico and Western Kentucky are all teams outside of the major conferences that have looked good early on. One could argue that they've played tougher teams and had better wins than many of the teams that are highly ranked. The new poll came out on Monday, and none of those teams are ranked themselves. Albany will have trouble getting attention due to a weak schedule. I wouldn't be surprised if they turn out to be like George Washington from last season or Pacific the year before. I don't think they'll end up ranked as high as GW did, but I wouldn't be surprised if they ended up winning all but two or three of their games and getting a #8 or #9 seed. They face Connecticut this week, but other than that there isn't a single team on their schedule that they can't beat.
Vermont has looked good, especially in their blowout win against Boston College. They've also looked bad. Maryland blew them out and they followed up their upset win against BC with a loss to Drexel. That is why they aren't in the bracket, but if anyone in the America East can give Albany fits it's Vermont.
-The exempt tournaments continue this week, and those are important because most of the teams remaining will likely be in the bracket picture come March. That means these games will be looked at by the selection committee and play a big role in the selection and seeding process.
-Oklahoma State was the last team selected. They had a win against a pretty good Northwestern State team the other night. They still have a lot of work to do. Then again, so does everyone else.
My personal top 25, which has nothing to do with my bracket projection. I'm trying to guess the committee with my brackets, not necessarily rank teams the way I think they should be ranked:
1. Florida
2. North Carolina
3. Pittsburgh
4. UCLA
5. Washington
6. Ohio State
7. Arizona
8. Duke
9. Kansas
10. Maryland
11. Gonzaga
12. Texas A&M
13. Syracuse
14. Nevada
15. Michigan State
16. Memphis
17. Kentucky
18. Air Force
19. Wichita State
20. Clemson
21. Virginia
22. Southern Illinois
23. Texas
24. Old Dominion
25. Northern Iowa
-If it were the top 26 rather than the top 25, I'd have Winthrop in at 26
-Savannah State, one of my favorite stories this season, is still unbeaten. They have a long way to go before I consider them top 25 material, but it's a great start for a team that has done nothing but lose since joining div1.