Our team keeps dwindling down from players leaving to go overseas, which is a good thing for them. I can't knock them for it. We are no longer the Rio Grande Valley Vipers. We are the self proclaimed '8 deep'. We gave ourselves the name because we only have 8 players now and we are a scrappy team, since we are smaller than everyone else. While being '8 deep' we won two tough road games and lost two heart breakers on the road to Austin. One of our games went to double overtime and was a thriller. We had the game won until we missed some free throws and missed some shots at the end of regulation and overtime to win it. But the game was exciting and fun to play.
Some hours after our last game at Austin I received word that I was soon to be getting a "Gatorade call up" and my dream of finally playing in the NBA would come true. I would be going to the fast paced Golden State Warriors. I can't lie, I was excited, I don't think I slept that whole night after finding out. I was just up thinking about having my dream of playing in the NBA really come true. I'm so close to accomplishing some of my goals, and still, I have many more that I want accomplish.
I have been getting calls from all my family and friends. I hope I don't let them down. I know I have a lot riding on my back, but no pressure right? I just have to go out there and perform the same way I have been in the D-League. Which I know I can do. I know I belong in the NBA, and this is my opportunity to prove all the naysayers wrong. I'll let my play speak for itself on that aspect. But I'm overjoyed and blessed for the opportunity. I was kind of sad leaving my teammates and coaches from the D-League, though. The bond that we had the month I was there was unique and unforgettable, but I got to go fellas, sorry.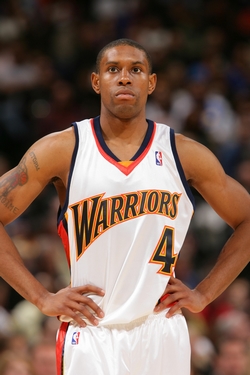 When I arrived in Golden State, the players welcomed me with open arms. The coaches just told me to do the same thing I have been doing in the D-League-- they don't want me to come here and be passive. They want me to be aggressive, because that's what got me here. I get to watch and play behind one of the best point guards in the league in Ba
ron Davis
. Some of the stuff he does is unbelievable. I was already a fan, but now I'm a believer, haha. I have already learned a lot from him just by watching for the seven games that I have been here for. He's an all-star on and off the court.
The first game I got here he handed me some bundled up twenty dollar bills and said "hey you new guy, make sure you get me two green teas in the morning before shoot-around and don't be late." Yes of course I got them, I ain't no punk though don't get it twisted, it's just all a part of the things they make rookies do. I got an extra $40 out of the deal because he let me keep the change.
I have to say, the NBA life is something I can get used to. The charter flights, the chef before and after practice, the per diem every road trip, the traveling seeing different cities and meeting different people, and oh yeah, the basketball-- the best part of all.
In my first NBA debut against the red hot Portland Trailblazers, I was excited. I finally made it to this big stage, and when the coach called me to go in, I was shocked and overzealous at the same time. I didn't know any plays, but in Coach Nelson's system you don't have to. They don't run any plays. They just get the ball and go. My first shot I missed-- I wasn't used to coming off the bench, so I didn't have my legs under me, but hey, no excuses.
One thing that shocked me was during a timeout Coach Nelson doesn't say nothing. He just sits there and rubs his head and will occasionally draw up a play every now and then. When you have been in the league as long as he has, and accomplished the things he has at a high level, you shouldn't have to. I asked one of the players "why he doesn't talk during timeouts?" They said he just doesn't. They were like "if that shocks you about this team, then you are in for a bunch more surprises and weird things." And I have come to experience some of those things in the week I have been here.
The 2nd half rolls around, and he calls me in again, and I make the most out of if it. We were getting beat by maybe 15 or 20 points. But I had 9 points in the 2nd half. I finished with 11 points for the game and like 4 assists. I was happy to come out and play like that my very first NBA game. I didn't think I was going to play 30 minutes, but it was good to get my feet wet against a team like that.
All I have been hearing about the next day after our game against Portland was: "are you ready to play at Oracle Arena? We have the best fans in the league, it's exciting to play at home." I remember watching the playoffs last year when they beat the Dallas Mavericks and I knew just from TV that the fans were crazy. In person I knew it had to be an even better experience. So I was anxious to see for myself, and oh did they not disappoint…. The fans were loud and enthusiastic the entire game.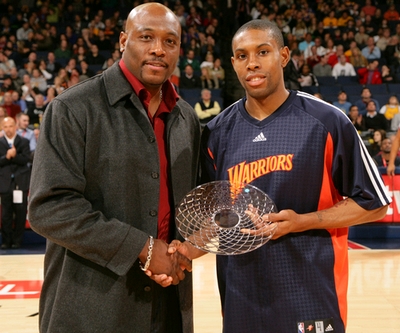 When I was coming to check into the game, fans were yelling "Go CJ, we are proud of you" and when I checked into the game and the announcer said my name, everyone stood up and started cheering for me. That was the moment of my life, I can go ahead and die now. I'm just joking, but you know what I mean. I busted out a big smile while running down the court. I know, lame right? But I had to, I was happy and couldn't think of anything else, because we had the ball on offense and I didn't want to turn it over. I was so excited, I don't think I would have hit the rim if I shot the ball. But the only shots I took that game were threes, and they all went in, and were big shots for the team. So I can finally say I helped contribute to a victory for my team on the NBA level. Hopefully it won't be the last.
My phone hasn't stopped ringing for like the past week-- people congratulating me, making ticket requests already, and other stuff. But it's been a rollercoaster ride, and I'm glad it all paid off. I still have a lot of work to do. I'm not finished just yet, though, stay tuned for more from the Quiet Storm!!!