Dwight Powell, 6'10", Senior, Power Forward, Stanford
---
Latest DX Scouting Reports:
-Gary Harris
-Lamar Patterson
-Jarnell Stokes
-Jahii Carson
-Nick Johnson
-Cleanthony Early
-P.J. Hairston
-Zach LaVine
-Artem Klimenko
-Keith Appling-Tyler Ennis
-Markel Brown
-Jordan McRae
-Rodney Hood
-Doug McDermott
-Juvonte Reddic
-Jordan Bachynski
-Andrew Wiggins
-Elfrid Payton
-Aaron Craft
-Marcus Smart
-C.J. Wilcox
---
Derek Bodner
After a breakout junior season, talented senior forward Dwight Powell hoped to take the next step in his progression as a prospect. While Stanford as a team had one of their better seasons under coach Johnny Dawkins, culminating in a surprising win over second seeded Kansas in the NCAA Tournament Round of 32, Powell's individual production did not take the jump some may have expected.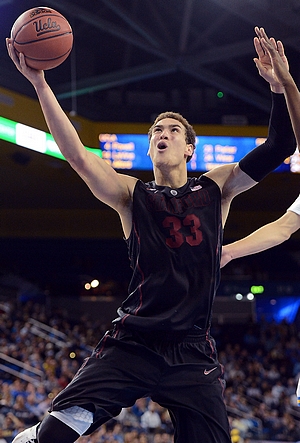 Powell's averages of 17.1 points per 40 minutes pace adjusted (down from 18.9), and 8.5 rebounds per 40 pace adjusted (down from 11.0) were significantly lower from his breakout junior campaign. Part of that was situational, as the veteran-laden Cardinals saw increased contributions from Chasson Randle, Anthony Brown and Stefan Nastic, taking possessions away from Powell, who was used much more as a high-post distributor in their Triangle offense than in the past. Still, Powell's lack of progress has to be viewed as a disappointment considering his talent-level.
That being said, Powell's proficiency both in the post and on the perimeter continues to present a matchup problem for many at the collegiate level. Powell's bread and butter in the post continues to be his right handed hook shot, which has shown continued improvement. With soft touch, a high release point, and a quick spin move he occasionally uses to set it up, the shot has become Powell's go-to move in the post.
The rest of his post game continues to be a work in progress. Powell's strength in his lower body and in his core, while improved over where it was when he came to Stanford, still remains underdeveloped, and he struggles to establish and maintain deep post position, and can easily get dislodged, because of it. He also has a very unrefined left hand and few reliable moves over his right shoulder, making him fairly predictable in the post.
Stepping away from the hoop is where Powell may find the most success at the next level. His jump shot remains inconsistent, and at 0.743 points per possession according to Synergy Sports Technology, fairly ineffective. He struggled to build on the promise he showed from three point range last year, when he shot 45.5% from deep, albeit on such a low sample size (1.0 attempts per game) that he really need a strong showing this year to reinforce that what we were seeing would hold true. He struggled to do so, connecting on only 26% of his attempts this season.
Despite the relative lack of efficiency, Powell's jump shot looks mechanically sound, with a high release and a good follow through that could lead to more dependability in the future with more time and repetition. One area that has shown a bit of improvement is that Powell has shown an increasing ability to hit jumpers not only from a standstill, but on the move as well, using one or two dribbles in either direction to setup a pull-up jump shot.
A continued improvement in the reliability of his jump shot would open up what is perhaps the most intriguing part of Powell's game, which is his potential as a face-up power forward. Powell is a mobile athlete, showing a good combination of ball handling ability, quickness, and fluidity for a player his size, although he's often too passive to take advantage of that.
Powell does have a very high basketball IQ, posting one of the best assist rates of any of the big men in this draft. He does a great job of seeing cutters diving to the rim and is excellent in dribble hand-off situations, giving him added versatility facing the basket at both the 4 and 5 positions.
While Powell doesn't execute all that much in the way of advanced ball handling moves, he does have a nice left to right spin, and is capable of taking his man off the dribble in either direction. Once he gets into the lane, he has good elevation, excellent body control, and a soft touch around the basket, although he tends to have more of a finesse game inside. While he's comfortable handling the ball with either hand, in traffic he tends to shy away from finishing with his left hand, making him fairly predictable down low and making it easier for defenders to challenge his shot.
Powell's perimeter-oriented game and a general lack of rebounding instincts hurt him on the glass, where he's rather pedestrian on both ends of the court, coming in at only 8.4 rebounds per 40 minutes, pace adjusted. Powell has never been a great offensive rebounder, with most of his drop off coming on the defensive side of the ball. Stanford plays a fairly big front court, with Powell sharing time with Stefan Nastic and Josh Huestis, and Stanford was a fairly good defensive rebounding team as a whole. Still, Powell's lack of lower body strength comes into play here, as he frequently struggles to maintain position in a box out, and he doesn't have the greatest instincts or mindset to be a dominant rebounder, as he clearly lacks toughness.
One area where Powell has made some strides is as a defender. There are still ample questions about how this will translate to the next level, as he lacks the lower body strength to defend in the post, while also not providing much help as a weak side shot blocker. He has shown some improvement on the perimeter, however, doing a better job of getting into a defensive stance, moving his feet, and using his length to contest shots. He still remains extremely foul prone, at 3.8 personal fouls per 40 minutes pace adjusted, although this is a strong improvement over the 5.0 per 40 minutes pace adjusted he averaged over the first two years of his collegiate career.
Dwight Powell may not have made the statistical improvement many hoped for, and he still has some of the same holes in his game that have made him a frustrating, albeit tantalizing, prospect over the years. Still his combination of fluidity, ball handling, and potential face-up game bring a fair amount of intrigue in a league that is becoming increasingly perimeter and space oriented. While Powell will be 23 years old by the time his rookie season is set to begin, if some team believes that they can take the promise he shows as a jump shooter and make that into a consistent, reliable weapon, there may be some untapped potential there.