Updated scouting reports on Kentucky's
DeMarcus Cousins
, South Florida's
Dominique Jones
, La Salle's
Aaric Murray
and Iowa State's
Marquis Gilstrap
.
DeMarcus Cousins, 6-11, Freshman, Center, Kentucky
21 minutes: 16 points, 9.7 rebounds, 0.9 assists, 1.8 turnovers, 1.9 blocks, 55% FG, 66% FT, 1-5 3P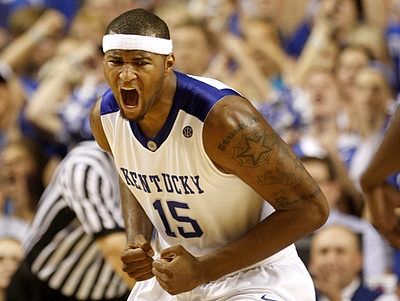 Jonathan Givony
You'd be hard pressed to find a freshman who has dominated his opponents from a statistical standpoint the way
DeMarcus Cousins
has for Kentucky so far this season.
#1 in PER (actually
ranking #1 in the last 8 years in that category
), Points per-40 minutes pace adjusted, rebounds per-40p, field goals made and second in free throw attempts, Cousins has answered his many critics by going out and producing in unbelievable fashion.
A man amongst boys at the college level, Cousins' combination of size, length and strength is simply unparalleled at this level of competition. There are only a handful of players that can even match up with him from a physical standpoint, and outside of a couple of ho-hum performances against the strongest big men he's faced (UConn and North Carolina), he's completely destroyed the slew of largely mediocre post players he's been forced to deal with.
Watching him on film, it's not difficult to see why. Cousins can establish position deep in the post pretty much whenever he wants at the college level with his huge frame, huge and extremely soft hands, and incredible wingspan-- making him the perfect target to lob the ball inside the paint to. He's the type of guy who wants the ball in his hands and shows a real hunger to score as much as possible, which is a big part of the reason why he's currently ranked as the #1 per-minute scorer in college basketball.
Once he gets the ball where he wants it, Cousins is more than skilled enough to know what to do with it, showing quick feet, terrific footwork, excellent body control and fantastic touch to finish off plays. Often-times you'll see him creating his own shot by spinning off his man abruptly in impressive fashion, and then just using his terrific length to convert easily at the basket. Although he isn't the most explosive guy you'll find in terms of his ability to play above the rim, this aspect of his game can probably be improved as well (although only to a degree) by shedding the 10-15 pounds of baby fat he's still sporting.
More than just a brute force in the lane, Cousins sports some intriguing perimeter skills as well, showing better ball-handling skills and jump-shooting ability than you would typically expect from a player his size. The problem is that he tends to over-do this aspect of his game from time to time, forcing up bad shots and making a couple of questionable decisions pretty much every game. To his credit, he's gotten much better about this as his freshman season moves along.
Cousins' free throw shooting is another area he's made strides in as the season moves on, as he seems to be showing better focus here than he did earlier in the year. He gets to the charity stripe at a simply outrageous rate of 12-times per-40 minutes pace adjusted, and converts 66% of his attempts once there.
Somewhat of a black hole once he receives the ball inside the paint, Cousins is not what you would call a willing passer, even if he is capable of finding the open man. He's at his best right now acting as a finisher off cuts to the rim, offensive rebounds and transition opportunities, where he's nearly automatic around the basket.
Defensively, Cousins is mostly a mixed bag at this point. On one hand he provides an incredible presence in the post with his terrific size, length and bulk, often not needing to do much more than just stand in the paint with his arms outstretched in order to help his team come up with a stop. He's pretty physical on top of that and appears to be putting in a solid effort in for the most part, making it extremely difficult for opposing big men to get shots off over the top of him, and coming up with a solid 3.4 blocks per-40 minutes pace adjusted in turn.
On the other hand, Cousins is not the most fundamentally sound player you'll find, which combined with his below average lateral quickness causes him to get exposed from time to time when being attacked off the dribble by quicker players he's forced to switch onto. He looks a bit lazy and/or not focused getting back on defense sometimes, something that caused him and Kentucky coach John Calipari to butt heads over on occasion early on in the season.
Whichever franchise drafts him will likely need to live with his limitations on this end of the floor and commit to being more of a half-court oriented team, as it's unlikely that Cousins will get much lighter on his feet over the next few years.
While Cousins is without a doubt a precocious talent with the type of physical tools and scoring instincts that you rarely see at the college level, there are many question marks revolving around whether he has the intangibles needed to reach his extremely high potential. His body language and overall temperament on the floor is often very poor, looking somewhat lazy and disinterested and at times downright selfish. He's clearly not the smartest guy you'll find on or off the court, and he already tends to react very poorly to different situations on the floor and lose his temper in concerning fashion.
A few articles have already been written about
his extremely unpredictable nature
and whether that might come back to haunt Kentucky at some point in a big game, and these same concerns may give NBA executives room for pause when thinking about drafting him extremely high in the lottery and making him the face of their franchise.
Simply put, is he the type of player who can help a team win games, or will his attitude on and off the court end up being a detriment to his career? These are the things that will be keeping NBA GMs up at night through the months of May and June, and will surely require an incredibly thorough examination into every detail of his personality and background. Still, it's nearly impossible to find players who are as talented as him, which is why he's unlikely to last very long in the Green Room when it's all said and done.
Dominique Jones, 6'4, PG/SG, Junior, South Florida
21.0 points, 6.1 rebounds, 4.4 assists, 2.8 turnovers, 2 steals, 49% FG, 72% FT, 36% 3PT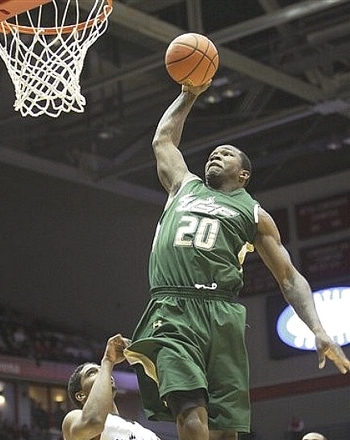 Joseph Treutlein

After a promising freshman season, Jones plateaued or even regressed a bit as a sophomore, though he's come back strong as a junior, posting the best numbers of his career in both production and efficiency. Jones has improved in multiple areas of his game, some of which will be very important for his game to translate to the next level.

Athletically, there's not much new to say about Jones that we haven't already said before, as he's a strong 6'4 combo guard with a very good first step but not much in terms of vertical explosiveness. Jones' lack of ability to explode in the lane has always been one of the things holding back his game, but he's managed to solve that problem indirectly by developing a much-needed right-handed floater.

Where he previously had trouble finishing over long, athletic bigs in the lane, Jones is now capable of pulling up with his floater, which he is hitting with remarkable accuracy, so much so that you can probably make the argument he has the best floater of any player in the country right now. This is incredibly important in projecting his game to the next level, because he would've simply been incapable of consistently finishing in the lane without this new ripple.

As for attacking all the way to the basket, Jones does a pretty good job finishing there, if only because he's doing a better job of picking his spots, pulling up for the floater when facing weak-side help and only going to the rim when he has an opening to get his shot off. Jones also has no problems throwing his well-built frame around, getting to the line at a high rate (7.2 FTA per game), and all of these things combined lead to him scoring 1.41 points per possession on shots around the basket, which ranks in the 91st percentile of college players according to Synergy Sports Technology.

In terms of ball-handling, Jones has made some improvements in his time in college, now mixing in respectable spin moves and crossovers to get free, though he still could probably stand to improve some more with the ball, specifically when using his left hand. When going right, Jones looks very comfortable, having no trouble reaching top speed and staying under control on his way to the rim, but going left he definitely lacks the same confidence and comfort level, and it makes him much less effective.

As a shooter, Jones still hasn't developed much in terms of his pull-up jumper, lacking fluidity and comfort when relying on stepbacks and pull-ups, though he's very good in space, possessing solid mechanics and three-point range. He also does do a good job getting separation when he is trying to create his own jump shot, though his accuracy falls off considerably when he's moving side to side into his shot.

Jones has steadily increased his assist numbers all three years in college, though it's still hard to classify him as a point guard, as he clearly has a scorer's mentality, and he's still splitting ball-handling and floor manager duties with teammate Chris Howard. Jones does a good job creating on simple drive and kicks, and by keeping his head up to make some solid passes in transition, while he also shows flashes of ability in the pick-and-roll game. Still, it's questionable if he's ever going to develop the mentality to be a pure point.

Defensively, Jones has upped his intensity a bit this season, playing more aggressive man and off-ball defense, resulting in him ranking 14th in our database in steals per game at 2.0. On the ball, he shows a very strong stance and gets right up into his man, while also showing good reflexes and doing a good job using his length to contest shots. He doesn't have the greatest foot speed, and this is definitely exposed when defending quicker points, but if he continues to hone his fundamentals and put in the effort consistently, he should be able to be adequate defending most shooting guards at the next level.

Looking forward, Jones is definitely helping his NBA prospects this season, though he still may be best coming back to school another year to continue developing the weaker areas of his game, namely advanced ball-handling and his pull-up jumper. While the development of his floater definitely eases the concerns of how his lack of vertical explosiveness will translate to the next level, there are still questions surrounding his position and if he's a good enough shooter to make it as a scoring guard. When he does come out, he should be firmly on the draft radar, and will likely have every opportunity to earn a spot in the NBA.
Aaric Murray, 6-10, Freshman, Center, La Salle
12.1 Points, 7.2 Rebounds, 1.4 Assists, 2.1 Turnovers, 2.6 Blocks, 49% FG, 48% 3FG, 63% FT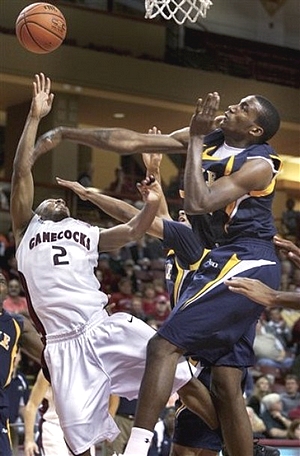 Matthew Williams

A late-bloomer who took up the game just a few seasons ago at Glen Mills School, an institution for court-referred students, Murray emerged as a prep in late-2007 before surprising many by committing to play for La Salle a year later. Despite offers from better programs, Murray opted to stay close to home, where he matured from a young man in trouble with the law to one of the top center prospects in the 2009 recruiting class and a notably better student. Now a freshman, Murray has been quite a pick up for the Explorers, leading the team in rebounding, providing a defensive presence, showing an extremely unique skill set for his position offensively, and emerging as a potential NBA prospect in the process.

From a physical standpoint, Murray doesn't have great tools, but is at least adequate considering the position he'll play. Standing 6-10 and possessing a solid, albeit lanky frame that he's shed some weight from since his high school days, the young center lacks much in the way of quick explosiveness, but is a long strider who compensates with his big wingspan and can play above the rim when he has a chance to gather himself. In the long-term, it would be nice to see Murray continue developing his lower body strength and pack on some bulk to his upper body to allow him to be more effective operating near the rim.

Additional explosiveness and strength would certainly add to the things Murray already does well offensively. Despite his lack of experience, Murray possesses outstanding natural touch on his shot, as evidenced by his 47.8% shooting from beyond the arc –a mark that ranks him amongst the top shooters in our database. Though he doesn't have the most fundamentally sound release, and shifts his form from shot-to-shot, the Philadelphia native shows excellent shot making ability –an unusual quality for a player his size. Synergy Sports Technology indicates that nearly half of Murray's shots are jumpers, and he even flashes the ability to put the ball on the floor for one dribble to take advantage of opportunities from the midrange.

When Murray isn't hoisting shots from the perimeter, he proves to be a capable finisher at the rim, taking advantage of the shots his teammates create for him and seldom backing down from contact at the rim. Though he isn't tentative with a head of steam going to the basket, he definitely favors his turnaround jumper when operating in the post and will need to become more aggressive as time goes on to take advantage of his size –his 1.7 FTA average certainly could use a boost, as could the 66% he shoots from the line. As he matures as a player, Murray will need to develop some crafty counter-moves in the paint to compensate for his lack of elite athleticism and exploit his turnaround jumper.

Defensively, Murray doesn't possess great lateral quickness, but his length and tendency to give a cushion allows him to contest shots extremely well. Ranking in the top-15 players in our database in blocks per-40 minutes pace adjusted, Murray already shows a knack for using his big wingspan, but appears to be learning the game defensively at the moment. He gets in a good stance and does a solid job defending off the ball, but he's still developing the ability to make crisp rotations to block shots from the weakside and will need to improve his fundamentals in terms of closing out and defending one-on-one in the post.

While clearly not possessing the same upside as some of his counterparts in this freshman class, Murray is the type of intriguing talent that will draw interest whenever he declares. His ability to hit shots is really impressive, and while he's still very early in his learning curve in terms of court awareness, passing, post offense, and defense, he displays some rather impressive tools for a player with only a couple of seasons under his belt. Though he's a bit old for his class at 20, Murray is definitely a player to keep tabs on in the future as he continues to make a name for himself in the A-10.
Marquis Gilstrap, 6-7, Senior(?), SF/PF, Iowa State
15.1 points, 9.2 rebounds, 1.3 assists, 2.5 turnovers, 1 block, 48% FG, 44% 3FG, 66% FT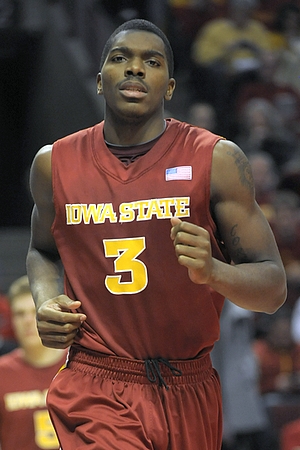 Kyle Nelson
Iowa State "senior"
Marquis Gilstrap
has one of the more interesting stories in college basketball. At 22 years old, Gilstrap has only played two full seasons of basketball in four years. He suffered a broken leg while playing for Palm Springs Community College and, finally, after a standout season at Gulf Coast Community College, he joined the NCAA ranks.
Now, at Iowa State, Gilstrap is easily one of the Big 12's best newcomers and has quickly vaulted up the ranks as an NBA prospect. With his remaining NCAA eligibility still a question mark (at least until March) and his immediate pro future unknown, it is necessary to take his draft prospects seriously even if returning to school still might be an option.
Standing between 6'6 and 6'7, Gilstrap is undersized for the power forward position he typically plays, but has above average size for a power wing at the next level. His frame and length certainly help him, as well, and he certainly looks the part from a purely physical standpoint. He is a good, though not elite, athlete at this level, displaying solid explosiveness and quickness in the open floor, and terrific strength to compliment his aggressive nature.
Offensively, he is still a work in progress, with a raw perimeter game and a scrappy inside presence. Gilstrap has made his offensive impact this season on the perimeter, where he has knocked down 44.4% of his shots at 2.8 attempts per game. Though he is clearly a streaky shooter, he has maintained his consistency thus far this season and has shot an impressive 13/25 from the perimeter over his last seven games, against teams such as Duke, Texas, and Kansas.
Gilstrap's shooting mechanics are unconventional and his motion is compressed, as he leans forward while shooting, which results in a shot without much arc. While some decision makers may take issue with his untraditional mechanics and his somewhat-shaky shot selection, he makes shots from well beyond the collegiate three-point line and has been hitting shots consistently throughout his career.
His offense from elsewhere on the floor is more of a mixed bag, however. As a slasher, his underwhelming ball handling ability limits him. He drives right almost exclusively and is further limited by his lack of advanced ball handling, particularly in his inability to change directions off the dribble. Furthermore, he is not the best finisher around the basket, showing neither the touch nor the creativity to score, not to mention the basketball IQ to kick the ball out to the perimeter when there are three defenders in the paint.
While he is an explosive player, he has yet to truly utilize this skill in the paint outside of in transition or off of cuts to the basket. He has shown flashes of mid-range game, as well, but as of yet, nothing conclusive, and certainly nothing consistent enough to affect his draft stock. He is still a raw player offensively, less than one year into his first and possibly last NCAA season, but his quick adaptation and versatility should make him of interest as a marginal prospect to NBA scouts.
On the defensive end, Gilstrap is also a mixed bag, though his combination of size, length and athleticism hints at his potential at the next level. The most significant concern, however, is his lack of fundamentals on the perimeter, which does not help him guard quicker wing players. If he improved his focus, from closing out shooters more effectively to making quicker rotations, he could overcome a lot of his deficiencies on this end. For the meantime, however, he is content gambling for steals and, much like the rest of the team, lacking consistent defensive focus. Improving this part of his game will likely play a huge role in how his career ends up.
One thing Gilstrap does very well, however, is rebound the basketball. With 8.7 defensive rebounds per 40 minutes pace adjusted, he is ranked 17th in our database in front of players such as
Ed Davis
,
Al-Farouq Aminu
, and
Derrick Favors
. While his fundamentals are not perfect, the toughness and aggressiveness he shows fighting for position against far bigger players is outstanding and he perfectly utilizes his physical advantages on the boards.
Gilstrap is a fringe prospect at the moment, but he has the type of defined skill set and physical tools that could interest scouts. At this stage he is a combo-forward, but given the dearth of undersized big men and under-skilled wings who currently get by on effort, defensive prowess, and the ability to hit the corner three point shot, it is not out of the realm of possibility to consider Gilstrap getting drafted in June.
This, of course, rests on his ability to continue hitting jump shots and playing well despite playing for the Big 12's worst team. Similarly, he must impress at Portsmouth (should he choose to vacate his appeal for extended eligibility) and in individual workouts. At this stage in the season, there are few truly under the radar prospects who stand a shot at getting drafted, but Gilstrap is certainly worth a look from NBA personnel drafting in the second round.