Highlights of 6-8 Angolan forward Silvio De Sousa from the 2015 Basketball Without Borders Global Camp in New York City during NBA All-Star Weekend.
---
More NBA Basketball Without Borders Coverage
-Rosters, Preview and Camp Analysis
-Jamal Murray Highlights
-Lauri Markkanen Interview and Highlights
-Dragan Bender Interview and Highlights
---
De Sousa recently landed at Montverde Academy in Florida, one of the top high school basketball programs in the US, where he's only been classified as a freshman.
He came to the attention of NBA scouts last summer already at the U17 World Championship in Dubai, impressing throughout the tournament but particularly with a 17 point, 7 rebound outing against a stacked USA Basketball littered with future NBA players. This, despite the fact that he was only 15 years old at the time, playing up against prospects (on paper) almost two years older than him at times.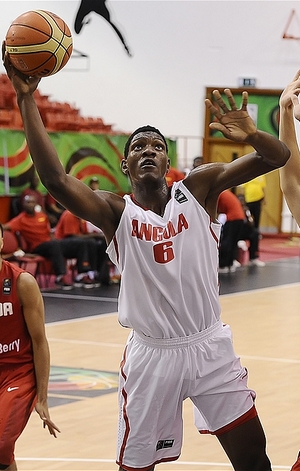 De Sousa had a very strong weekend in New York, showing strong athletic ability and a mature frame that belies his age. He was one of the most competitive and aggressive prospects in attendance, repeatedly posting up bigger and older players with solid footwork, going out of his area for rebounds, and making plays defensively using his length and athleticism. His outside shot looked smoother and more consistent than it did this past summer, and he seemed to have no problem stepping out to the mid-range and knocking down jumpers, even flashing range extending out to the 3-point line at times.
With his ripped frame, De Sousa looked like someone that could step out on a college court in the not too distance future, so the fact that he is currently slated to play high school basketball for another three years plus drew some animated responses from NBA scouts in attendance.
While he's somewhat of a combo forward at this stage, not quite big enough to be a full-time power forward, the improvement he showed in his ball-handling and perimeter shooting ability leaves plenty of room for optimism for the future. If he grows another inch or two, which seems feasible if he's indeed only 16, then he could develop into a very interesting prospect. Even if not, his skill-level should continue to improve, and he shows plenty of promise defensively already.
Highlights:(Video may not load with Internet Explorer. Use Chrome or Firefox)