Matt Williams
A player we've evaluated a number of times over the last few seasons,
Aaron White
's collegiate career came to an end at the hands of the Gonzaga Bulldogs in the first weekend of the NCAA Tournament. Emerging as an immediate contributor as a freshman, White saved his best for last, turning in his most productive and efficient season en route to being named to the Big 10 All-Conference 1st Team.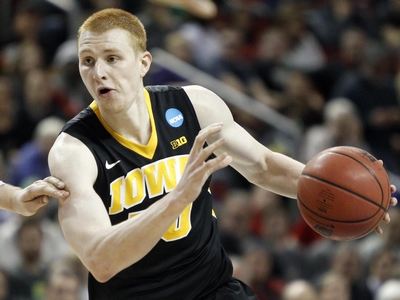 A productive scorer each of the seasons at the college level, White had a breakout campaign by his standards offensively. Scoring between 17.2 to 18.1 points per-40 minutes pace adjusted in his first three seasons in Iowa City, White poured in an impressive 21 as a senior. Though his trademark efficiency dipped slightly, White remained one of the most efficient volume scorers in the college game. Of the 523 Division I players that used over 400 possessions last season, White ranked sixth in scoring efficiency at 1.151 points per possession according to Synergy Sports Technology, edging
Frank Kaminsky
for the top spot in the Big Ten.
White's efficiency, as it has throughout his career, is the result of his terrific energy, outstanding hands, solid athleticism, and knack for filling lanes both in transition and the half court. A very coordinated, and extremely springy big man, White exceled at finishing cuts and fast break opportunities, which comprised over 40% of his offensive possessions.
More than just a finisher, White made his impact felt in a variety of ways at the college level. Able to attack the basket in a straight line, beat slower forwards off the bounce, exploit mismatches in the post, and knock down shots from the perimeter, White is a jack of all trades scorer, even though he doesn't create one-on-one particularly frequently. He's adept at getting to the line, drawing a tremendous 9 free throws per-40 minutes pace adjusted to
rank first
among power forwards in our top-100. On top of that, he's a smart passer who makes the simple play and values the ball, as his tiny 1.5 turnover per-40 minutes pace adjusted suggests.
Despite his prolific play offensively this season, White still has room to grow in a few different areas. Though he shot 36% from 3 this season, he did so while only making 21 total attempts from beyond the arc, and questions remain about his ability to grow into a perimeter threat who can stretch the floor at the next level. An 82% foul shooter, White has had confidence issues with his shot at times in his collegiate career, but has a framework that could serve him well down the road, something he will certainly need to do much more frequently than he did for Iowa.
Defensively, White does his best work playing the passing lanes, coming up with an impressive 1.7 steals per 40 minutes pace adjusted. He's an intense and engaged defender, but his 6'11.5 wingspan and 222-pound frame leave him susceptible to strong post scorers, lanky finesse fours, and render him a below average rebounder and shot blocker relative to his peers. He gets out of position at times when defending off the ball as well. White would be best suited to defend stretch fours at the next level, or potentially more limited small forwards, as his foot speed is his most useful asset on that end of the floor. His ability to defend more interior oriented scorers and talented shot creators remains a concern.
Though he lacks great strength, length, and defensive potential, White's outstanding offensive efficiency, ability to score without having the ball in his hands constantly, and potential as a shooter should get him plenty of looks in the second round. If he can offset what he lacks defensively with what he can do on the offensive end, he could carve out a role in time. If not, he's a fantastic prospect for the European game.