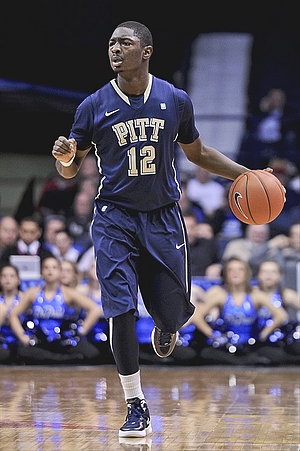 Joe Treutlein
Coming off a strong junior season for both himself and his team,
Ashton Gibbs
and the Pittsburgh Panthers are having a much rougher go of things this season, where they're thus far an abysmal 1-7 in Big East play, dead last in the conference.
Things haven't been much better for Gibbs, who has seen his FG% and 3PT% plummet in response to a slightly larger offensive role. Gibbs has clearly had a tough time adjusting to the graduation of backcourt mate and facilitating guard
Brad Wanamaker
, which has highlighted some of Gibbs' limitations as a player.
From an offensive strengths standpoint, things remain largely the same for Gibbs, as his game is heavily predicated on his highly dangerous jump shot from both mid and long range. Boasting a quick release along with very consistent mechanics, Gibbs can get his shot off easily in a variety of situations, and is a big threat to score both spotting and pulling up. He does a really good job maintaining his balance on the move, being very accurate when moving side to side into his shot, especially in space.
Gibbs' numbers have fallen off substantially from three-point range this season, down from a blistering 49% last season to a subpar 34.5% this year. The manner in which he takes his shots has a lot to do with this, as he's much more frequently pulling up off the dribble and/or shooting with a hand right in his face this season, a result of much more focused defensive attention. While Gibbs would never see this kind of attention at the next level, his fall off in efficiency this season is still concerning. He would be facing larger, more athletic opponents on a nightly basis in the NBA, which would pose similar challenges to him getting off high-percentage shots, especially given his jump shot's lack of elevation and somewhat push-forward motion.
Looking at the rest of Gibbs' offensive game, there really isn't much to evaluate from a scoring standpoint, as thus far this season he's taken an unbelievable 234 jump shots in the half-court according to Synergy, compared to just 15 shots around the basket, which works out to less than one per game. Gibbs' lack of great size, quickness, and shot-creating ability going to the rim leave him extremely limited in this area, and make him a very one-dimensional prospect looking forward. Looking at last season's Synergy numbers doesn't help his case much either, as he attempted 273 jump shots compared to 14 shots around the basket in the halfcourt last year, which actually makes this year's distribution a marginal improvement.
From a playmaking standpoint, Gibbs hasn't really taken advantage of Wanamaker's absence this season to showcase his point guard skills, with his assists going up from just 2.8 to 3.1 per game. He's actually been overtaken in the Panthers offense by 6'5 wing
Lamar Patterson
who's averaging 3.7 per game, which doesn't bode very well for Gibbs' chances at developing into a full-time point guard in his future. Gibbs gets most of his assists through flow of the offense passing, spending most of his time in Pitt's offense operating without the ball on the wing, not playing like a conventional point guard in any sense.
On the defensive end, things remain concerning for Gibbs, as his lack of lateral quickness defending guards is frequently evident. He's routinely gets beat laterally by guards not known for having excellent quickness and athleticism, and has similar troubles defending pick-and-rolls due to lack of strength and size. His motor, focus, and fundamentals on this end are all solid, and he has proven in the past capable of being part of a good team defense, but it's tough to see him being even an average defensive player at any position in the NBA.
Looking forward, Gibbs should have chances to prove his worth to NBA teams at the Portsmouth Invitational Tournament and possibly in pre-draft workouts, but his team's lack of success this year and likely complete lack of postseason play won't give him many more big opportunities to play in front of scouts this season. Gibbs' shooting ability and history of winning at Pitt will be enough to make teams do their due diligence on him, but he will likely need to further develop his game and recover from this season's setbacks before having a strong chance at finding a niche in the NBA, something he could do in Europe where his skills and pedigree could be quite useful.