Julian Applebome
In his second season as Head Coach at Boston College, Jim Christian's squad went a disappointing 0-18 in ACC Conference play, but found a bright spot in freshman guard Jerome Robinson. Coming out of Needham B. Broughton High School in Raleigh, North Carolina, Robinson was a rather unheralded recruit who didn't receive many high level offers outside of Boston College, and some potential interest from Clemson.
For a Boston College roster that lacked depth at almost every position, Robinson was a major piece for the Eagles last season and started all 23 games that he played in. He missed a good portion of their conference schedule (nine games) with a fractured wrist that he suffered in a game against Florida State, but returned towards the end of the season at full strength, and will likely be the focal point of the offense for a Boston College program that faces an uphill battle in the loaded ACC.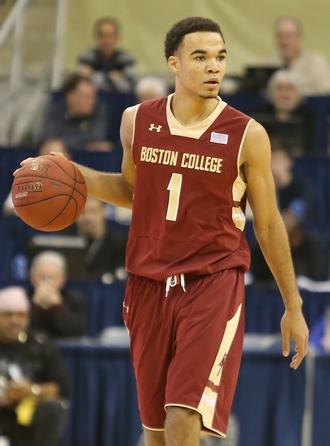 There is definitely some intrigue surrounding Robinson's physical profile and versatile skill set. At 6'5", with decent length, Robinson has the body to play the shooting guard position, but also the combo guard skills to operate as a big point guard. He possesses an average frame and could benefit from some added strength, but at just 19 years old it's not a major concern at this point. He is a quick and shifty athlete, who can operate at different speeds and shows some good quicknes in the open floor. He is bit heavy footed in a crowd, and doesn't finish explosively in traffic, but given time and space he has the deceptive athletic ability to load up and finish above the rim. His fractured wrist injury came after he finished an explosive highlight reel dunk in transition and came down hard on the floor.
Robinson spent time last season playing both guard positions, showcasing a unique skill set for a 6'5" freshman. While he is by no means a refined true point guard, his ability to handle the basketball and creative vision project him as a big ball handling guard down the line. He is shifty and quick, can shake his man off the dribble going one on one, operate as an effective screen and roll ball handler, or play out of drive and dish situations. In stretches, Robinson looks like a mature guard who can make reads and execute basic passes, but at times he has the tendency to overplay and force the issue, something to be expected from a freshman guard slated alongside mid-major caliber teammates asked to compete in the most talented conference in college basketball. His 3.6 assists per 40 versus 3.2 turnovers is a good indicator of the creative playmaking ability he has, yet also his need to better understand efficient point guard responsibilities.
During his freshman year, Robinson showed some promise as a slashing guard with his ability to get into the paint off the bounce, but once he gets there he didn't show that he could regularly turn those scoring opportunities into points. He did show that he was comfortable finishing around the rim using either hand, but he lacks the strength or explosive leaping ability to finish consistently in a crowd. He only attempted 3.7 free throws per 40, a number which you would like to see rise with more aggressiveness and confidence going towards the rim.
While Robinson showed potential as a playmaking guard his freshman year, he also surprised as a perimeter scorer. His 37% from deep on 3.2 attempts per 40 is an impressive number for a freshman who can handle and pass the ball. Robinson has a relatively quick release and gets good elevation on his jumper, which allows him to get his shot off fairly easily given his size. The ball can come off his hands a little flat at times, especially when he is forced to get his shot off quickly. He showed some potential shooting on the move or off the dribble, but was far more comfortable in catch and shoot situations. Defenses were forced into closing out hard to Robinson on the perimeter, and he proved more than capable of stepping in and knocking down a one or two dribble jumper.
Defensively, Robinson showed some potential as an impact player over the course of his freshman season. Physically he has the tools to defend both guard positions at the college level, as long as he maintains consistent effort. He does a solid job staying in a stance and keeping his hands high on drives to the basket, but he can be a bit over aggressive at times and get beaten off the dribble. He has good instincts and awareness and was able to come up with at least one steal in 17 of the 23 games he played in last season. If he can add some strength to his frame he'll be able to better defend better against bigger guard penetration on the perimeter. He is also an effective rebounder from the guard position, posting a per 40 rebounding average of 4.8.
In his sophomore season at Boston College, Jerome Robinson will look to build on an impressive freshman year. He didn't really excel in any one aspect of the game last season, but showed some promise in a variety of areas. There is definitely some potential in a big ball handling guard who can also step outside and make shots, so if he can continue to show developments in both of those aspects of his game he will garner some more individual attention on a team that will likely again finish towards the bottom of the ACC.