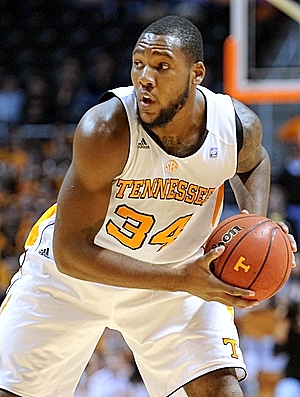 Jonathan Givony
A top-100 recruit according to many high school scouting services,
Jeronne Maymon
played just nine games at Marquette as a freshman before electing to transfer. Maymon's father has
gone on the record
stating that he was unhappy with the way his son was being utilized by Marquette head coach Buzz Williams, who has taken his team to consecutive NCAA Tournament Sweet 16 appearances since Maymon transferred.
"They didn't want to play the game right, so now we're going to watch them lose every game. That's just how it works," Tim Maymon told Jim Polzin of the Wisconsin State Journal. "You don't bring a kid in and not use him the way he's supposed to be used. So this kid has left the state of Wisconsin as one of the premier players in the state. "
Maymon transferred to Tennessee and became eligible mid-way through his sophomore season, but wasn't able to make much of an impact, only seeing nine minutes per game, about half of what he played at Marquette. His first real minutes finally came this past season as a junior, where he was productive enough to be named second team All-SEC. He announced his presence to the world early on with a monster 32 point, 20 rebound outing against Memphis in the Maui Invitational, but was somewhat inconsistent against non-conference competition before finishing out the season very strong in SEC play.
Severely undersized for a power forward at 6-7, Maymon has with a long wingspan and a chiseled frame that allow him to remain very effective at the college level. He's not an incredibly explosive athlete, playing the game noticeably below the rim, but is mobile and knows how to use his strength to his advantage.
Left handed, Maymon is utilized in a variety of ways offensively, scoring at a good rate (18 points per-40), and very efficiently (57% 2P%) at that.
Maymon's most reliable source of offense comes facing the basket from around 17 feet, where he shows good ball-handling skills, a powerful first step and long strides taking slower defenders off the dribble. He gets to the free throw line prolifically, nearly 8 times per-40 minutes (second best in the SEC), and knocks down 66% of his attempts once there.
Maymon would be well served to continue to develop his mid-range jumper, as he made just 7 of the 25 attempts he took last season. He'll need to do that at his size if he's to reach the highest levels of professional basketball, as very few 6-7 players can get by off strength and hustle alone.
He also sees a decent amount of possessions with his back to the basket, where he can be effective against smaller power forwards thanks to his ability to establish deep post-position with his chiseled frame. It's difficult to see this part of his game translating to the highest levels of basketball due to his average height and leaping ability.
He's a good, but not great finisher around the rim, lacking a degree of explosiveness to score over longer opponents in traffic at times, but having the strength to take a hit and draw fouls, as well as a soft enough touch needed to use the glass effectively.
Maymon's biggest strengths as a prospect revolve around his rebounding ability, ranking seventh in the SEC last season per-40 in this category, tied with fellow frontcourt mate
Jarnell Stokes
. He uses his strong frame, long arms and excellent competitiveness to go out of his area on a regular basis crashing the offensive glass.
Defensively, he certainly puts the effort in, but can be slightly overmatched at times due to his average combination of size and fundamentals, particularly on the perimeter. He tends to lose his focus at times here, not getting a hand up on shooters, and letting opponents drive by him attacking off the dribble. In the post, he's a bit more effective thanks to his strength and length.
Projected to be an extremely important part of Tennessee's rebuilding effort in his senior year, Maymon is instead on the shelf indefinitely after having surgery in both knees over the offseason, and suffering what
his head coach deemed
"a setback" recently in one of his surgically repaired knees. He will be out for at least the start of the season, putting a bit of a damper on what is expected to be a very important season for both him individually and Tennessee's basketball program as a whole.
Regardless of his injury status, Maymon does not project as a great NBA prospect at this stage due to his lack of size, even if he certainly could have a very productive career overseas. Playing just 274 total minutes and losing almost the first two years of his college career does not look like the best move in hindsight considering the significant amount of experience he's lost out on not being on the basketball court, which makes this upcoming season more important than ever for his long-term growth.