Josh Riddell
The [url=http://www.draftexpress.com/stats.php?year=2015&league=NCAA&per=per40pace&qual=top100&sort2=DESC&pos=all&stage=all&min=15&conference=All&sort=6 15th best scorer in our top-100,
Joseph Young
helped lead Oregon to a NCAA Tournament appearance each of the two seasons he played as a Duck after transferring from Houston. Young was named the
Pac-12 Player of the Year
, as he quickly turned into one of Oregon's best scorers ever during his tenure in the Pac-12.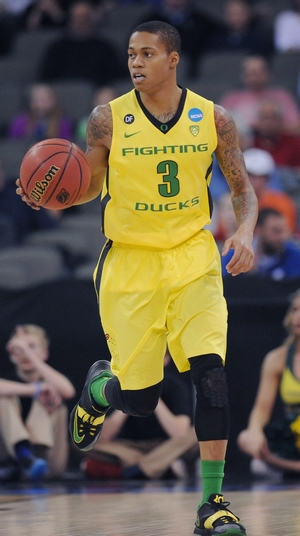 There is little question about Young's ability to put the ball in the basket, as he failed to score in double digits in just two games last season. He can do it in a variety of ways and has great potential as a microwave scorer off the bench at the next level. His 3-point shooting dipped slightly last season to 36.4%, but his career average of 39% is an excellent mark, especially considering his high volume of three point attempts, as he attempted 6.3 per 40 minutes pace adjusted for his career. His overall efficiency did decrease some with an increase in usage and his senior season ended with a still-solid 57% true shooting percentage on 16.8 field goal attempts per 40 minutes pace adjusted (59% career). In a smaller role, he'll need to show he can be as efficient against NBA defenders, cutting out some of the heat check type shots he takes from time to time, some of which is due to the heavy role he was forced to shoulder on an undersized and highly inexperienced squad that was decimated due to injuries and suspensions.
Young, who will be 23 at the time of the draft, has a small frame at just 6'2" and 182 pounds, with a solid 6'5" wingspan, but a below average 7'10 ½ standing reach. He'll be one of the smaller combo guards in the league and even if he shifts over to the primary ball handler spot, he'll be undersized compared to other NBA players. With that said, Young is one of the most athletic guards in the draft, which certainly helps make up for his lack of great measurables. He has terrific quickness with the ball in the open court and demonstrates impressive explosiveness off his first step and with his leaping ability, which can help overcome his lack of size.
Young is multi-dimensional scorer, able to make shots consistently and prolifically both in catch and shoot situations (41.9%) and off the dribble (43.9%), according to Synergy Sports Technology. He's comfortable in spot-up situations, taking a dribble or two before his jumper or coming off screens. He has great form on his shot, always seeming to be on balance, and his quick release allows him to get his shot attempts off despite his smaller size. He'll need to show he can extend his range to the NBA distance while being able to release his attempts against NBA defenders to continue to be a capable jump shooter at the next level, but has made enough long distance attempts from well beyond the arc in college to lead you to believe this won't be too much of an issue for him.
As a senior, Young ran ball screens more often, increasing his percentage of possessions from 21.7% to 26.8% as the pick and roll ball handler, according to Synergy Sports Technology. If defenses play aggressively on him to take away his jump shots, he will need to have a counter move and show he can get into the lane. He's not an advanced ball-handler, currently relying on his quick first step and speed to get past his defenders to the rim so he will need to add some moves that will help him break down the defense. He's effective around the rim for his size, converting 57.1% of his attempts according to Synergy Sports Technology. He's done a nice job of drawing contact and getting to the line in the past, although his free throw attempts per 40 minutes pace adjusted dropped to
3.9, one of the lowest among shooting guards in our top 100
. This would be especially helpful for him to put points on the board, especially considering how accurate he is from the charity stripe.
As a free throw shooter, which is one of the better indicators we have about player's shooting ability, Young made 93% of his attempts from the line, which is the best rate in the draft and actually would have led the NBA this year as well if he had done the same there.
Young will need to show he can contribute other ways than just scoring and he started to do so as a senior by becoming a more willing and capable passer. He saw his assists per 40 minutes pace adjusted jump from 2.3 to 3.7, although his turnovers increased as well from 1.4 to 2.5 per 40 minutes pace adjusted. Only one likely draft prospect who is expected to see minutes at point guard has a lower PPR than Young (
Terry Rozier
), which is indication that he needs to improve as a playmaker to see consistent minutes there at the next level.
Young started looking for teammates more as a senior, but also became looser with the ball, which resulted in some careless turnovers. When he has the ball in his hands, he'll need to focus on making the right read to take care of the ball, either getting his own offense or finding his open teammates if he draws the defense.
Defensively, Young hasn't added much value during his time in college. He lacks the physical tools to be an impact defender, but also doesn't have the best work ethic on this end, as he has a tendency to stand straight up instead of being in a stance while giving up on plays after his man is by him. While his size and length don't project him to be a lockdown defensive player, putting in more effort on this end to play sound defense while learning the nuances of a NBA defense will help him provide value outside of his scoring prowess. When Young did look to lock in on the defensive end, he was able to bring some value with his tremendous lateral quickness, which indicates he has more potential on this end of the floor than he was able to show in college with the heavy role he played offensively.
With his ability to score buckets quickly, Young may be able to find a role as a bench scorer in a similar vein as
Isaiah Canaan
or
Louis Williams
. NBA teams value outside shooting quite a bit these days, and with Young's athleticism and scoring instincts, he might be able to do more than that even.