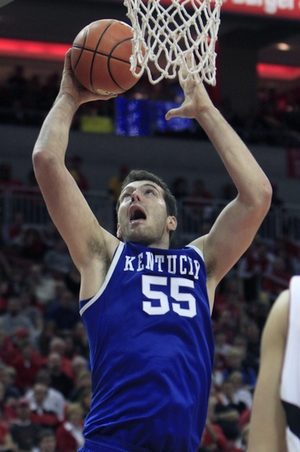 Walker Beeken
Perhaps no player has been a more pleasant surprise in this year's NCAA tournament than Kentucky's
Josh Harrellson
. The Wildcats' center was a valuable piece all season, but his increased production in the tournament has been a huge factor in Kentucky's run to the Final Four, as he's averaged almost 15 points and 9 rebounds per game while shooting 76% from the field.
Harrellson—a former Junior College recruit--was nowhere near the NBA radar prior to this season after only seeing the floor in blowouts as a junior—playing just 88 total minutes all year. However, with the departures of De
Marcus Cousin
s,
Patrick Patterson
and
Daniel Orton
to the NBA, and
Enes Kanter
being ruled ineligible, Harrellson was thrust into the starting center role for the Wildcats. Without much depth at the big positions, he's been able to play through some of his struggles this season, and now he's peaking at the right time, helping his team to victories and catching the attention of NBA scouts.
From a physical standpoint, Harrellson isn't exactly what scouts are usually looking for from an NBA center. At 6'10" and 275 pounds, with a frame that could still use some tightening up, Harrellson has the strength and bulk needed to compete on the interior, and while he is a better athlete than he appears at first glance, he lacks the length and athleticism of a prototypical NBA big man.
Harrellson has earned praise from the Kentucky coaching staff this season for his commitment to improving his conditioning, enabling him to play increased minutes than what was initially expected from him. He'll need to continue to work hard on his conditioning level and maximizing his explosiveness to limit the disadvantages he'd face physically against NBA caliber centers.
On the offensive end, Coach John Calipari has creatively found ways to take advantage of Harrellson by using him in ball-screen actions and dribble handoffs to free his teammates for shots. He's comfortable catching the ball on the perimeter and shows good decision making skills, as evidenced by the fact that he has as many assists as turnovers this season, which is rare for a big man and ranks him 4th amongst all centers in our database in assist-to-turnover ratio.
Harrellson will never be a player who will get many post-up opportunities (only 7% of his possessions this season have been in the post) or really have any plays called for him, but he's been very efficient with his touches, scoring over 1.1 points per possession on the season, and shooting an impressive 61% from the field. He also shows great activity and effort on the offensive glass, grabbing 5.2 offensive rebounds per forty minutes pace adjusted (3rd highest of all centers in our database), and utilizing both hands to finish around the rim on put-backs.
In order to really enhance his appeal to NBA coaches on the offensive end, Harrellson will likely need to prove that he's capable of knocking down mid-range jump shots, which would keep defenders more honest and make him more of a pick-and-pop threat. He's taken less than one jump shot per game so far this season, and has only connected on 28% of those attempts, but he has a decent release and looks to have the potential to be a serviceable mid-range shooter if he puts in the work.
Defensively, Harrellson will always be at a disadvantage athletically, but he does his best to overcome some of his limitations by playing with a great motor and being extremely physical. He stands his ground in the post and makes it difficult for players to establish post position. Once they have the ball, he continues to fight hard and challenge shots and generally shows good instincts. His average length compared to NBA centers will be an issue though, as will his lack of lateral quickness when defending pick-and-rolls and having quicker big men face him up.
While Harrellson will need to continue to perform in the pre-draft process to hear his name called this June, his play in the tournament has solidified him as a player that NBA scouts need to seriously evaluate. Teams are always looking for extra size, and Harrellson's motor, toughness, passing, rebounding ability, and production at the highest level of college basketball will earn him plenty of looks this summer as teams look for extra big men to fill out their roster.