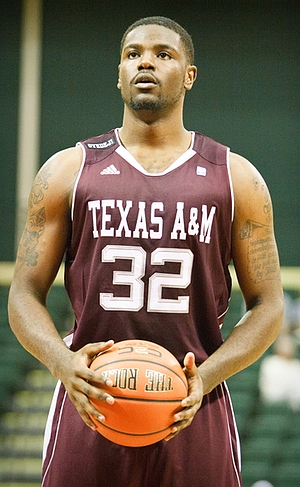 Walker Beeken
After playing just 12.7 minutes per game in his freshman season, Texas A&M big man
Kourtney Roberson
should have a chance to play more minutes and earn a larger role as a sophomore, thanks to the departure of starter
Nathan Walkup
.
The first thing that stands out about Roberson are his big hands, terrific wingspan and extremely muscular frame at 6'9", looking the part of a physically imposing presence in the paint. Athletically, he's not an exceptional specimen, but he does move well for a guy his size and has pretty quick feet.
Roberson's bread and butter at this stage of his development revolves around his rebounding ability. He used his big body, high intensity level and excellent hands to average an impressive 12.5 rebounders per forty minutes pace adjusted last season.
Offensively, Roberson was still coming into his own as a freshman and didn't always look very polished with his skill-level or feel for the game. He got most of his touches off of cuts and offensive rebounds, where he was able to finish strong at the rim. He made the most of his opportunities last season, shooting 59% from the field and seemingly knowing his limitations.
He also showed flashes of a developing post game. He uses his body to get good position on the block, and has pretty solid footwork and a nice touch around the basket. It will be interesting to see if new head coach Billy Kennedy makes it more of a priority to get the ball to him in the post this season.
Roberson didn't show anything as a shooter as a freshman, hardly attempting a jump shot all season. He shot a poor 57% from the free throw line though and doesn't have the most fluid stroke. Developing a reliable mid-range jump shot at some point in his career would certainly benefit him going forward.
Defensively, Roberson has a big strong body and can bang inside, but he still struggled defending the post. He didn't challenge shots as well as he should have, and his lack of length and explosiveness enabled players to score over the top of him. This a concern going forward if he's going to defend the center position, where he'd face even bigger players at the NBA level. If defending the four spot, he doesn't seem to have the lateral quickness to step out and defend some of the quicker, face up fours who can operate on the perimeter.
This season should shed more light on Roberson's professional potential. After spending a year in prep school, he's a bit old for a sophomore, so he'll need to continue to produce with his increased playing time to keep (or get) scouts interested. If he's able to shore up his weaknesses defensively and add some offensive polish to go along with his NBA body and rebounding ability, he'll certainly draw more attention to himself over his career at Texas A&M.