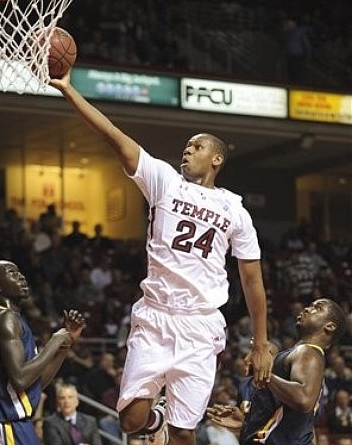 Kyle Nelson
After a junior year where he averaged a double-double and a career defined by steady improvement, many thought
Lavoy Allen
would have a breakout senior year. Instead, this season has been a mixed bag, even though he finished off on a very high note.
His strengths,
which are well documented
include his size, mobility, soft touch around the basket, and rebounding ability. There are few defenders at the Atlantic 10 level capable of stopping him and he managed to produce in non-conference tests against Duke, Villanova, and Maryland.
While there is no doubt that Allen is a talented player, effort and consistency have been significant issues that have plagued him throughout his career and continued to limit his potential as a senior. As written in a previous evaluation, "it's not a rare occurrence for Allen to go 10 minutes on the floor without a field goal attempt." This is still the case and on film, it's easy to see why.
Allen frequently establishes a scoring rhythm early in a game before he starts deferring to his teammates. As has been the case throughout his career, he is unselfish to the point of passivity, aided by tremendous court vision and exceptional passing ability for a big man. When Allen receives the ball in the high post, he immediately looks for players cutting to the basket. In the post, he looks to kick the ball out to open shooters. With
Juan Fernandez
limited by injury and a distinct lack of creators on the perimeter, Allen is often the only other facilitator on the floor, at which point he becomes a role player as opposed to the dominant post scorer that he demonstrates in flashes.
Furthermore, Allen has become more reliant on his spot-up jump shot this season with less than stellar results. According to Synergy Sports Technology, Allen makes just 34.8% of his jump shots and just 30.3% of his catch-and-shoot opportunities. He will have to improve his mechanics and develop this area of his game to reach his full potential as a professional.
Allen is actually quite solid defensively in the post, where he shows good fundamentals, awareness, and timing. His lack of ideal lateral quickness limits him on the perimeter and he will struggle guarding perimeter oriented power forwards at the next level. Allen's focus sometimes wanes, as well, something that scouts will want to see him improve upon. This may be related to his rebounding production this season, which surprisingly fell off by almost 25% on a per-minute basis.
For a stretch of 10 games in December and January, for instance, Allen posted a mere 5.4 rebounds in 29.3 minutes per game, which is nearly 5 rebounds per 40 minutes less than his standout junior campaign. On tape, there is little explanation for Allen's lack of production outside of a simple lack of focus and effort. He seems to coast in stretches, failing to box out, getting caught out of position on the perimeter, and simply not pursuing the ball. Immediately after that 10-game stretch he recorded ten double-doubles over Temple's last 13 games, averaging 11.8 rebounds in 37.2 minutes per game. This huge swing in production is difficult to understand, and is something NBA teams will need to evaluate further to attempt to decipher.
Simply put, when Allen puts his mind to it, he can be an excellent rebounder with the fundamentals and energy to suggest that his abilities will translate to the next level.
This is the case with much of Allen's game. When he plays aggressively, his combination of size, mobility, basketball IQ, and fundamentals allow him to contribute at a very high level. He must show scouts that he can consistently be the player who finished the season averaging a double-double. Along with a favorable match-up in the NCAA Tournament, Allen's skill set is well-suited for the Portsmouth Invitational Tournament, where he will have to prove to scouts that he has what it takes to contribute on an NBA team.