Few, if any, Euroleague players have performed as well in the month of December as Maccabi Tel Aviv's promising young forward
Lior Eliyahu
. After a fast start in both domestic and international play, the former Houston second-round pick hit a slump in November, spending more time on the bench in foul trouble than on the court helping his team battle through the toughest part of their Group A schedule. The turmoil the team suffered on the bench—replacing head coach Effi Birnbaum and his erratic rotations with legendary Pini Gershon—also played a large part in his struggles. Fortunately for Maccabi, Eliyahu has managed to regain the confidence of the new coaching staff, and the result has been three straight Euroleague wins, highlighted by three straight double-doubles from Eliyahu, to go along with back-to-back twenty point outings in the Israeli Premier League.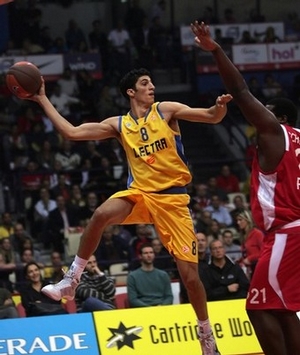 After taking a step back last season in terms of playing time and production, the 23 year old forward has made the most of his opportunities this year. Despite not having the physical strength to be a major contributor on the block, or having the jump shot to be an efficient perimeter scorer, Eliyahu has used the tremendous length and athleticism advantage he enjoys over many of his match ups to effectively compensate for his lack of a true position. He's scoring 15 points per game (6th best) in the Euroleague in just 26 minutes, grabbing over 7 rebounds (ranking 9th) and dishing out an impressive 2.4 assists (2nd amongst power forwards). Perhaps most startling is the fact that he's shooting a ridiculous 68% from the field, good for third best in the Euroleague.
There's a lot to like about the way Eliyahu has been playing on the offensive end, as he has done a tremendous job not only getting open for easy baskets around the rim, but also creating his own looks from in close off the dribble. He's always been very good at moving without the ball, a characteristic that lets him take advantage of his high-effort level to be productive. In his last five games, he's done a great job running the pick and roll, timing his cuts from the high-post to the basket, and getting up the floor in transition.
When Eliyahu isn't getting easy looks at the rim, he has shown the athleticism and ball-handling ability to get to the rim against most defenders. Eliyahu has notoriously settled for a lot of floaters in the lane, and while he doesn't always take his drives all the way to the rim, he has been much more aggressive once he has his man on his hip. He shows a nice step-back spin-move over his right shoulder and uses a sweeping half-hook over his left that allows him to get his shot off with little trouble. While he takes very few jump shots, his ability to create space for mid-to-short-range shots often allows him to compensate for that weakness. His touch in the post is nothing short of amazing, as he not only has huge hands that help him steer the ball exactly toward his target, but is also extremely fluid and coordinated (and highly unorthodox) with his moves. His feel for putting the ball in the net is clearly in an elite category amongst European big men.
Despite adding a few moves to his repertoire, Eliyahu's ball-handling still leaves something to be desired, particularly with his left hand. His new found aggressiveness had made him a bit more turnover prone than he has been in the past, and he could stand to be more controlled with the ball when he attacks the rim.
The most impressive aspect of Eliyahu's recent performances has been his ability to finish the looks he creates for himself. His length and leaping ability make him a solid finisher at the rim, but he still struggles with contact to some extent. He often looks to avoid contact by taking inside shots moving away from the rim, but manages to make such shots with surprising success. In recent games against Air Avellino and Bnei Hasharon, more than half of Eliyahu's shot attempts came on swooping drives that he finished moving away the basket once he was met with a defender at the rim. For a player that gets as many looks around the basket as Eliyahu does, added physical strength and improved free throw shooting could make him that much more efficient; something that isn't easy for a player shooting almost 70% from the field. Continuing to work on his jump-shot and free throw stroke could pay huge dividends from him down the road considering how good of a scorer he already is.
The biggest improvement to Eliyahu's defensive game has also paid dividends for him on the offensive end. He has been rebounding at a significantly higher rate in December then he was in the early-going, and
his meteoric rise in PER
can be largely attributed to his improved effort on the glass. He's shown a willingness to rebound outside of his area, and has been using his length and athleticism to much greater extent than he used to. While he is still boxing out well, the aggressiveness he has shown when pursuing a missed shot off the rim has improved dramatically (to the tune of three straight games of 10 of more rebounds in Euroleague play and a 17 rebound effort against Cibona). He has gotten quite a few tip ins recently, and is doing a good job filling the lane behind his teammates when they take shots around the basket.
Eliyahu's length and lateral quickness should theoretically give him the ability to effectively defend the perimeter very effectively, but unfortunately this has been an area he's struggled in throughout his career. His awareness, focus and intensity are often very lacking on this end, and his lack of physical toughness has often been criticized. Eliyahu doesn't offer much as a shot blocker, usually not getting into position quickly enough to contest shots at the rim. He's also prone to fouling in the post, so his move to playing more on the perimeter defensively has certainly been a major contributor to his increased playing time.
Despite not showing any incredible new wrinkles in the areas that he has historically struggled in, Eliyahu's recent play has been nothing short of remarkable. Last season seemed to temper some of Houston's enthusiasm toward adding him to their roster, but if he continues to play at such a high level, he could very well be in the mix for a spot on the opening-day roster in 2009. Eliyahu doesn't have the tools to be a consistent contributor on the NBA yet, but he's still young, and has become very good at using the tools that he does have, which are, albeit unconventional, actually very unique. His ability to run the floor, move off the ball, pass unselfishly, rebound the ball, and make shots around the rim while defended could, at the least, make him an asset in trade negotiations.