A detailed look at the rosters for the NBA Basketball Without Borders Global Camp, which will be held in Toronto during NBA All-Star Weekend.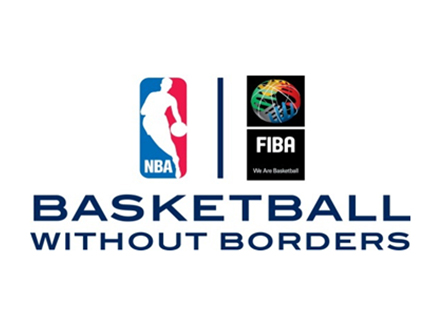 Basketball without Borders camps, run by the NBA and basketball governing body FIBA, began in 2001 and have been held in 21 countries on five continents.
A welcomed addition to the scouting calendar when the camp was held for the first time last year at NBA All-Star Weekend in New York City, this year figures to build on the great tradition of the Basketball without Borders program while simultaneously granting NBA team personnel unparalleled access to the future of global hoops on North American soil once again.
DraftExpress will be in attendance covering all three days of the camp and evaluating the prospects in attendance.
Directors and Staff
Current and former NBA players in attendance will include
Yao Ming
(China),
Bruno Caboclo
(Brazil),
Danilo Gallinari
(Italy), and Grievis Vasquez (Venezuela). They'll be joined by
Bismack Biyombo
(Toronto Raptors; Democratic Republic of the Congo),
Jeremy Lamb
(Charlotte Hornets; U.S.), WNBA player Natalie Achonwa (Indiana Fever; Canadian senior women's national team), former NBA players
Zarko Cabarkapa
(Serbia),
Pat Garrity
(U.S.),
Randy Livingston
(U.S.),
Vladimir Radmanovic
(Serbia) and
Jerry Stackhouse
(U.S.), as well as select players from the BBVA Compass Rising Stars Challenge.
The instructors in attendance will include current NBA assistant coaches Chris Finch (Houston Rockets), Bryan Gates (Minnesota Timberwolves; Canadian senior men's national team assistant coach), Jama Mahlalela (Toronto Raptors), and Nick Nurse (Toronto Raptors). Gersson Rosas (Houston Rockets), Marin Sedlacek (Philadelphia 76ers), Masai Ujiri (Toronto Raptors), and Patrick Hunt will serve as camp directors. Ale Oliveira (Brooklyn Nets) will serve as the camp's athletic trainer.
Camp Roster
Like last year, this year's camp roster features plenty of familiar names, some unknowns, and plenty of future NBA prospects, although few players will be draft eligible this summer. The 43 attendees hail from 25 different countries.
| PLAYER | HT | POS | BDAY | AGE | COUNTRY |
| --- | --- | --- | --- | --- | --- |
| Valdir Manuel | 6'8" | C | 5/5/1999 | 16.7 | Angola |
| Facundo Corvalan | 6'1" | PG | 9/10/1998 | 17.3 | Argentina |
| Santiago Vaulet | 6'4" | SG | 5/11/1998 | 17.7 | Argentina |
| Harrison Froling | 6'9" | PF/C | 4/20/1998 | 17.7 | Australia |
| Thon Maker | 7'0" | PF | 2/25/1997 | 18.9 | Australia |
| Matur Maker | 6'10" | C | 1/1/1998 | 18.0 | Australia |
| William McDowell-White | 6'5" | SG | 4/13/1998 | 17.7 | Australia |
| DeAndre Ayton | 6'10" | PF/C | 7/23/1998 | 17.5 | Bahamas |
| Amar Gegic | 6'5" | PG/SG | 2/14/1998 | 17.9 | Bosnia & Herzegovina |
| Felipe Dos Anjos | 7'2" | C | 4/30/1998 | 17.7 | Brazil |
| Gabriel Galvanini | 6'8" | PF | 9/11/1998 | 17.3 | Brazil |
| Shai Alexander | 6'3" | G | 7/11/1998 | 17.5 | Canada |
| Abu Kigab | 6'7" | SF | 11/3/1998 | 17.2 | Canada |
| Anthony Longpre | 6'9" | C | 2/9/1998 | 17.9 | Canada |
| Lindell Wiggington | 6'1" | PG | 3/28/1998 | 17.8 | Canada |
| Bai HaoTian | 6'3" | G | 1/4/1999 | 17.0 | China |
| Ziming Fan | 6'11" | C | 4/29/1998 | 17.7 | China |
| Yibo Wang | 6'1" | G | 1/6/1999 | 17.0 | China |
| Kao Kuo-Hao | 5'10" | G | 9/22/1998 | 17.3 | Chinese Taipei |
| Yoanki Mensia Hernandez | | | | | Cuba |
| Florent Thamba | 6'9" | C | | | DR Congo |
| Omar El Sheikh | 6'5" | SG | 5/14/1998 | 17.7 | Egypt |
| Omar Adel Yahia | | | 1/22/1998 | 18.0 | Egypt |
| Edon Maxhuni | 6'0" | PG | 3/21/1998 | 17.8 | Finland |
| Olivier Cortale | 6'8" | PF | 3/16/1997 | 18.8 | France |
| Frank Ntilikina | 6'5" | PG | 7/28/1998 | 17.5 | France |
| Richard Freudenberg | 6'8" | SG/SF | 8/31/1998 | 17.4 | Germany |
| Isaiah Hartenstein | 6'11" | PF | 5/5/1998 | 17.7 | Germany |
| Amir Reza Shah-Ravesh | | | | | Iran |
| Rui Hachimura | 6'8" | PF | 2/8/1998 | 17.9 | Japan |
| Arnoldas Kulboka | 6'8" | SF | 1/4/1998 | 18.0 | Lithuania |
| Tadas Sedekerskis | 6'8" | SF | 1/17/1998 | 18.0 | Lithuania |
| Awulu Edoka | | | | | Nigeria |
| Mactar Gueye | 6'8" | SF | 1/7/1997 | 19.0 | Senegal |
| Sidi Abdel Seydi | | | | | Senegal |
| Aleksandar Aranitovic | 6'4" | SG | 1/24/1998 | 18.0 | Serbia |
| Milos Glisic | 6'7" | PF | 4/21/1998 | 17.7 | Serbia |
| Borisa Simanic | 6'10" | PF | 3/20/1998 | 17.8 | Serbia |
| Eric Vila | 6'8" | PF | 5/15/1998 | 17.7 | Spain |
| Mohamed Abdel Kader Jannedi | | | | | Tunisia |
| Adam Rassil | 6'6" | SF | 2/3/1998 | 17.9 | Tunisia |
| Omer Yurtseven | 7'0" | PF | 6/19/1998 | 17.6 | Turkey |
| Agustin Da Costa | 6'4" | SG | 8/24/1998 | 17.4 | Uruguay |
Roster Analysis
-
DeAndre Ayton
is the clear headliner of this group. The Bahaman 7-footer who is playing this season with Hillcrest Hoops out of Arizona, figures to be one of the top players in the high school class of 2017 and subsequently the 2018 NBA Draft. An incredibly gifted 7-footer with ideal physical tools, an increasingly versatile offensive game, and tremendous overall upside, Ayton has an opportunity to solidify his standing as arguably the best long term prospect in high school basketball in front of countless NBA decision-makers. Ayton's reputation has been muddled by the bizarre circumstances surrounding him, as
profiled by Seth Davis this past summer
, and the
controversy
around the charter program he elected to join in the fall didn't do much to alleviate those concerns. Nevertheless, Ayton absolutely blew us away with his talent-level as a shot-blocking, 3-point shooting ultra athletic rebounding machine in the multiple occasions we've been able to observe him the past few months, and it's very likely he will do much of the same in Toronto.
-
Thon Maker
leads a contingent of Canadian talents making the trip to Toronto for this event. Joined by his brother
Matur Maker
,
Abu Kigab
,
Shai Alexander
,
Anthony Longpre
, and
Lindell Wiggington
, Thon will have the opportunity to show the growth of his unique skill set against a number of athletic, polished young big men. This should be a terrific test for him, and an opportunity to regain some of the esteem he lost among NBA personnel with his week-long struggles in Portland at the Nike Hoop Summit during practices and the game.
-
6'7 small forward
Abu Kigab
is someone that appears to be flying well below the radars of high school recruiting services, as he is not ranked by anyone as a notable 2017 prospect. Nevertheless, he impressed us quite a bit playing with the Canadian national team last summer and with his high school team Prolific Prep, as a long-armed, athletic and highly versatile defender with an improving skill-level and feel for the game. Kansas is reportedly hot on his track, and it seems likely his name will start to emerge more vividly as more people get to lay eyes on him.
-17-year old Turkish power forward
Omer Yurtseven
is perhaps the headliner of this year's camp among the European players slated to be in Toronto. A near 7-footer with a promising frame, a polished skill-set and impressive fluidity, the young big man averaged 6 points and pulled down 6 rebounds over 13 minutes per game in NBA preseason games against the Brooklyn Nets and Oklahoma City Thunder, looking like a potential future lottery pick in the process. Putting up huge numbers in the 2015 Adidas Next Generation Tournament and averaging 9.8 rebounds per game and 8.7 rebounds per game playing a year up at the U18 European Championship, Yurtseven is considered one of the more intriguing young big men in all of Europe. He lacks great length and has shown inconsistent intensity and toughness at times, but he's widely considered one of the top-1998 born prospects in the world.
-Germany power forward
Isaiah Hartenstein
is another player scouts will be eager to see up close in the wake of a huge performance at the Adidas Next Generation Tournament. Averaging 23.5 points and 11.3 rebounds per game for Zalgiris, Hartenstein posted one of the very highest PERs in the ANGT/NIJT history over four games in Kaunas. The son of former Oregon center Florian Hartenstein, the 6'11 athletic and versatile big man will have a chance to continue his momentum in front of a larger audience of scouts in Toronto. He too has been identified as a potential future lottery pick.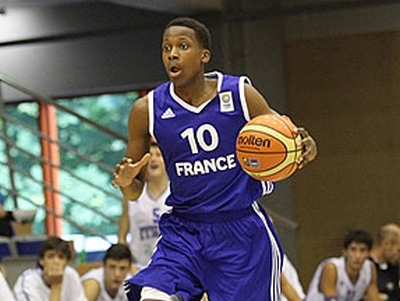 -French point guard
Frank Ntilikina
proved to be one of the top prospects in attendance at last summer's U18 European Championship (playing up a year) and has done nothing to diminish that while earning some real minutes at the Euroleague and French league level despite being only 17 years old. The tall, long and fluid playmaker is highly unselfish and has terrific upside defensively. NBA scouts watching him for the first time are bound to be impressed with his maturity.
-Brazilian center
Felipe Dos Anjos
will be the tallest player in attendance. The 7'2 center from Real Madrid has impressed in junior play, winning MVP honors at the Adidas Next Generation Tounament in L'Hospitalet earlier this month, and is very well regarded in Spanish circles. His excellent size, length, mobility, budding skill-level and outstanding (although underdeveloped) frame will make him a prospect scouts will be monitoring closely in Toronto.
-Serbian power forward
Borisa Simanic
played up by two years at the U19 World Championship last summer, and then played up a year at the U18 European Championship as well. He was one of the most productive players at both competitions regardless of age, and possesses a very intriguing skill-set as a stretch 4-man with impressive athleticism. He's seen some minutes already in both the Euroleague and Adriatic league for Red Star. It will be interesting to see how aggressive he is in Toronto, as he sometimes leaves you wanting a bit more, particularly on the defensive end. Regardless, he is one of the best prospects in his age group without a doubt, and is someone to monitor closely.
-Lithuanian wing
Tadas Sedekerskis
has long been considered one of the top European prospects in his generation, and he'll have a chance to build on that with a strong showing in Toronto. He has excellent physical tools, ball-handling ability and creativity, giving him plenty of upside to grow into as he matures and hopefully improves his perimeter shooting ability. Averaging 6.8 points and 2.4 rebounds per game playing for Huesca in the Spanish 2nd division, the young swingman has been solid playing against players significantly older than he is, but is shooting just 29% from beyond the arc.
-Australian point guard
William McDowell-White
brings impressive creativity and athleticism to the guard position. Still working on the consistency of jumper and decision makings, McDowell-White played up at last summer's U19 World Championship, and showed off great versatility and upside. He is being recruited by a host of colleges and would likely be considered one of the top foreign recruits available for the NCAA ranks.
-Gonzaga commit
Rui Hachimura
was one of the most prolific scorers at the FIBA U17 World Championship in 2014 averaging 22.6 points per game. It will be interesting to see how Hachimura's skill set has progressed over the last year. Playing in the 2015 JBC International Game, Hachimura impressed with his hustle and solid physical attributes, but had plenty of room to grow as a jump shooter and ball handler.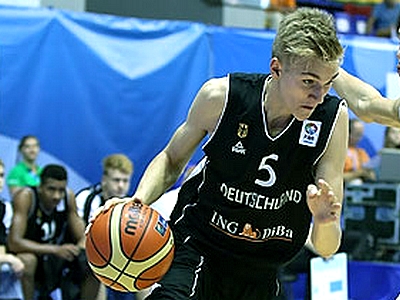 -German small forward
Richard Freudenberg
is also on the college track, and he's already seen a handful of minutes in the first division with powerhouse Bayern Munich. Possessing great size for the wing, a strong feel for the game and excellent shooting mechanics, Freudenberg is a streaky shooter with all the tools to emerge as a high-level prospect down the road as he continues to add strength and improves his defense and all-around versatility. St. John's is rumored to be hot on his track.
-Lithuanian wing
Arnoldas Kulboka
only played 9 minutes per game at the U18 European Championships this past summer, but did enough in his limited time to earn a spot in our writeup thanks to the significant potential he showed as a tall and athletic shooter. Kulboka moved shortly after the U18s from Lithuania to Germany, where he's now playing in Bamberg.
-
Santiago Vaulet
, the brother of 2015 draft pick
Juan Vaulet
, is among the most intriguing talents hailing from South America. The 6'4 guard averaged 15.3 points, 12.8 rebounds, and 3.8 assists per game at the U17 South America Championships. Already making his Argentinian League debut this season at age 17, Vaulet's versatility is very interesting, but his jump shooting ability is a question mark.
-Valdir Manuel is the youngest player in attendance. Turning 17 in May, the Angolan center averaged 8.1 points and 7.4 rebounds at the 2014 U17 World Championship, where he played up a year. It will be interesting to track how his body has progressed, as he showed a huge wingspan, solid athleticism and the ability to make an occasional perimeter jump-shot at that tournament, but possessed a very narrow frame then and looked somewhat wild at times.
-Australian power forward
Harrison Froling
just committed to
Larry Brown
and SMU last week, and will be looking to continue to build his reputation after surprisingly not being brought to the U19 World Championship last summer. Froling showed a versatile skill-set at Adidas Nations this summer, with the ability to stretch the floor, attack closeouts, and use his strong frame to his advantage, even if his conditioning and defensive intensity left something to be desired at times.
-Bosnian combo guard
Amar Gegic
has been considered a highly regarded prospect for quite some time, as he has good size, length, athleticism and versatility for a player his age. He's struggled to put it all together as a shooter, decision maker or overall scorer, but is someone NBA teams will want to monitor due to his intriguing upside.
-French power forward
Olivier Cortale
has emerged from obscurity to win a spot on Strasbroug's senior team under Vincent Collet this season, and has increased his reputation as a tall and athletic stretch power forward lately.