Fresh off a national championship, Brewer has been in Los Angeles for about a week now, and is clearly still working himself back into shape after the extended post-championship holiday him and his teammates took following their triumph in Atlanta. From the workout we saw, it's pretty clear that AIB is trying to get Brewer as comfortable as possible creating shots for himself on the perimeter by adding more versatility to his ball-handling and mid-range game. While at Florida he was most effective as a catch and shoot player or taking advantage of defensive rotations to explode off the dribble going left and finish with a finger roll, Brewer has a lot of work to do on polishing up his half-court game and being a consistent shot-creating threat in the NBA.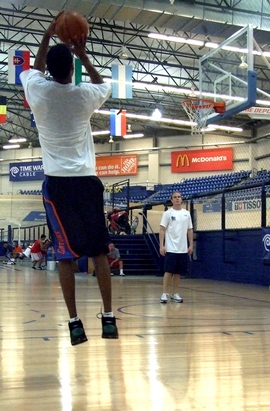 Has obviously has some outstanding tools to work with, including great quickness, a superb first step, and the kind of smooth fluidity that you just can't find anywhere else. As we've mentioned many times this year already, it's pretty amazing how effective a player Brewer is considering how much room he still has left to improve on his skill-set. His handle is pretty loose, his jumper is streaky, and only weighing out around 180 pounds, he'll probably be one of the skinniest 6-9 players to play in the NBA in quite some time.
With that said, Brewer's shooting has a ton of potential as we saw in the Final Four this year, where he was named Most Outstanding Player for those who forgot. His shooting mechanics are clean and very fluid, with a crisp, quick release, good balance, and the ability to get his shot off almost whenever he wants thanks to his height and length. He shot around 70% from 16-17 feet out from what we charted, and about 60% from the NBA 3. Those are decent, but definitely improvable numbers, although it's not hard to envision him becoming a very solid NBA shooter considering his mechanics and work ethic. His shot can flatten out at times in terms of the arc he gets on it, something that he's already working on from what we were told. He put up a ton of jump-shots in the time we saw him, and was pretty streaky overall.
Obviously not being a pure "drills" player in terms of his skill-set, it was in the five on five pick-up game where Brewer really shined. He looked a bit bored at times doing some of the drills, but his competitive juices really got flowing once the ball went in the air. He made some fantastic passes all game long whenever the ball was in his hands, including a beautiful alleyoop pass to
Martell Webster
to start off the game.
Always there was his uncanny sense for sniffing out steals in the passing lanes, and he looked incredibly smooth slithering through the defense with his terrific first step to get his shot off. Despite his skinny frame, he took the bulkier
Marcel Jones
down into the post on a number of occasions to finish with a turnaround jumper or up and under, and on one occasion exploded over the top of a couple of opponents for an awesome put-back dunk. Even though Brewer later told us that he was instructed not to play too hard and to avoid risking an injury at all costs, it was pretty hard for us to see that on the court. At one point Brewer went careening off the court and crashed into the weight room fencing just to save a loose ball. If that's indicative of Brewer's innate competitiveness in a setting like this, one can imagine how he'll compete when every possession counts. The one negative we could analyze from this setting was probably his pull-up jumper, which was not really falling for him at a high rate.
All in all, Brewer looked and played the part of a top 10 pick, and considering team needs factors and the strength of this draft on the wing, he should not end up sitting too long in the Green Room on draft night.