Matt Williams
One of the largest players in college basketball, Isaac Haas has played a small, but very significant role for the Purdue Boilermakers each of the last two seasons, at 14 ½ minutes per game. Averaging 27.9 points and 10.5 rebounds per-40 minutes pace adjusted, he took a significant step forward last season, solidifying himself as one of the best centers in the Big Ten splitting starting duties with A.J. Hammons and continuing to build his NBA resume.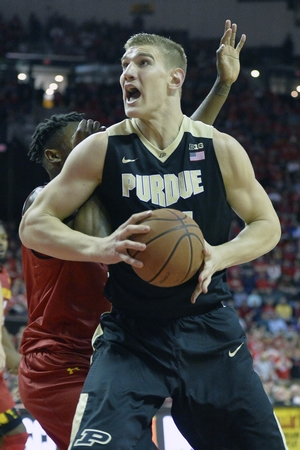 Standing 7'2 with a 7'4 wingspan, and near 300-pound frame, it isn't difficult to see what makes Haas an intriguing pro prospect on first glance. He is a massive human being with a frame far better proportioned than the vast majority of oversized centers to come out of the college game in recent memory. Much like most players his size, however, mobility is not his strong suit. He's tremendously strong, quite coordinated, and even runs well end-to-end, but he lacks a degree of quickness stepping out to defend the pick and roll and rotating over to contest shots inside.
Playing 14.3 minutes per game as a sophomore, down from 14.6 as a freshman, Haas's size, coupled with bouts of foul trouble, makes it a bit difficult for him to play extended minutes. With both Haas and Hammons up front, Head Coach Matt Painter had the luxury of using both interchangeably, but even on his best nights, Haas played right around 20 minutes. It will be interesting to see just how many minutes he's able to play as a junior as he figures to play a far more prominent role offensively than he did when he was splitting with Hammons, who was selected in the mid-second round of the 2016 NBA Draft.
Regardless of how much he plays, there's little doubt that Haas will see a healthy diet of touches inside. The 2016 Boilermakers were one of the most post-up heavy teams in recent major college basketball history, and the Alabama native was fed more frequently on the block in his minutes on the floor than Hammons was, as Painter had his team working the ball inside early and often all year. Shooting an impressive 54% going one-on-one inside, while drawing fouls at a terrific rate and shooting a very solid 71% from the line, Haas proved up to the task a year ago and presents significant matchup problems for many teams every time he steps on the floor at the college level.
With almost 80% of his possessions coming in the post, Haas showed marked improvement creating for himself inside in his second year in the program. There isn't anything particularly glamorous to his post repertoire—he does the most damage using his body to get great position and then making one decisive move to score—but at 7'2, there often does not have to be. Showing nice touch on his right handed hook shot, Haas can be a bit deliberate and expose the ball at times, but his combination of strength, soft hands, assertiveness, and coordination make him a very effective interior scorer at this level.
Sometimes seemingly just throwing the ball at the rim instead of looking to use counter-moves against better defenders, Haas could stand to add a bit more variety to his post arsenal looking ahead to the next level, and it will be worth watching just how much of a force he can be with his back to the basket this season.
A capable finisher, Haas does most of his damage below the rim, meaning most of his non-post up shots come off of dump passes inside rather than lobs or put backs. His size helps him get shots off in close, and he is capable of dunking the ball when given some space, but his lack of explosive leaping ability makes it a bit difficult for him to elevate and score quickly over length. As good of a free throw shooter as he's become, he's yet to show much in the way of midrange scoring ability, which should come as no surprise given the value he brings pounding the ball inside.
Aside from his ability to score, Haas is a slightly improved passer who can be a major factor on the offensive glass as he often simply tosses defenders out of the way when he heads to the glass. If Haas is able to play significant minutes as a junior, it will be interesting to see how he fares as teams begin to double him early and often. He's generated just 25 assists in nearly 1000 minutes of action at the college level thus far, or one every 40 minutes he's on the floor, compared with 93 total turnovers.
Defensively, Haas is a bit of a mixed bag, as he was a decent, but not particularly dominant defensive rebounder and shot blocker a year ago. His sheer size makes him a factor pursuing caroms and contesting shots, but his lack of reactive quickness hurt his ability to use that to his advantage consistently. Not appearing particularly comfortable defending away from the rim, Haas lacks a degree of lateral quickness, but is a passionate player who brings nice energy on the defensive end. Teams regularly looked to draw both him and Hammons away from the rim whenever possible a year ago, so it will be fascinating to see how Haas handles himself now that he is the Boilermakers defensive anchor each and every night.
As the old adage goes, Isaac Haas has a surplus of the things you can't teach. His size alone will pique the interest of NBA teams. Even if the league is moving towards more small-ball lineups, there remains a place for space-eating centers. Haas hasn't proven to be quite the shot blocker or rebounder at this stage that say, a player like Boban Marjanovic is, lacking comparable length and fluidity, but with two more years left in West Lafayette, it wouldn't be surprising to see the young center continue to improve given the typical trajectory of players of his ilk. If Haas can make good on the massive opportunity he'll have this season with Hammons in the NBA, he could go a long way towards convincing scouts he can find a niche in the League.