Ryan Thomson
Ishmail Wainright was widely considered a four star recruit who initially made a verbal commitment to Missouri in May 2011. Fast forward a month and Wainright re-opened his recruitment, citing a need to see what else was available, and in October 2012 he committed to the Baylor Bears. He immediately found his way into the starting lineup in each of his first seven appearances in a Baylor uniform before being relegated to the bench for the remainder of his freshman season, playing sparingly overall.
After two seasons of limited opportunity and minutes, Wainright saw his minutes increase from 9.6 minutes per game as a sophomore to 24.7 minutes per game as a junior, while starting in all 34 games. With Taurean Prince off to the NBA, Wainright should see an increase in usage and playmaking responsibilities while also being asked to shoulder more of the scoring load.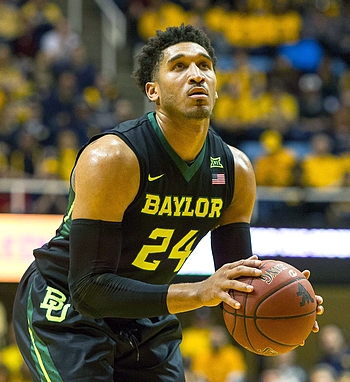 Wainright looks almost out of place on the basketball court because of his unique, yet impressive physical stature, standing 6'5, with an excellent 7'1 1/2 wingspan, and a chiseled 240-pound frame. He looks more the part of NFL linebacker than he does a senior starting small forward in the Big 12. His physical profile and athleticism are intriguing and will have NBA teams tuning in as the season gets underway if he can match them with consistent production.
Offensively, Wainright is a versatile player who has significantly improved his perimeter shooting ability over the course of his career in Waco. After attempting only 20 total three point shots over his first two seasons, Wainright made 28 of 69 attempts in his junior season shooting a very good 40.6%. Wainright refined his mechanics slightly, increasing the lift on his jump shot and finding a more consistent release point. That said, on his misses he has a tendency to stop his follow through early while also letting the ball drift over to the left side of his head.
Beyond his burgeoning perimeter shooting, Wainright has showcased an ability to make shots off the dribble, albeit a very small sample size. As his reputation and ability to make perimeter shots grew throughout the season Wainright began to use his shot fake one dribble pull up with some success.
With Prince out of the picture at Baylor, it will be interesting to see if Wainright can continue shooting at a high percentage with an increase in responsibilities on the offensive side of the ball. His mere two 3-point attempts per game as a junior doesn't shed enough light on whether this can become a bigger staple of his game, especially considering he barely took any 3s at all in his two seasons prior. He also benefited being guarded by bigger, slower defenders at times, which often allowed Wainright more time and space for his shot preparation. After shooting only 46% on free-throws in his freshman season, Wainright increased his percentage in each of the past two seasons, raising it to 73% as a junior.
Wainright has shown potential as a secondary or tertiary playmaker. As a junior, Wainright ranked second on the Baylor Bears in total assists (90) while managing to keep his turnovers down (45). His assist numbers don't tell the entire story though, as Wainright was given little opportunity to handle the ball in pick and roll situations, most of his assists coming in either transition, through finding cutters, or extra passes in the half-court which highlight his unselfishness and tremendous court vision.
He isn't the type of player to generate offense for himself, featuring mostly as a catch and shoot or catch and drive player. He prefers to attack with his right hand, put his head down and use his wide frame to create separation and attempt to finish around the rim, an area he struggled in as a junior, scoring 0.902 points per possession and shooting only 45.1% around the basket in the half-court according to Synergy Sports Technology. He hasn't yet shown an ability to change direction, draw fouls or a willingness to finish with his off-hand once he gets into the paint.
Despite struggling to finish around the rim, Wainright displays a knack for attacking the offensive glass, having averaged 2.4 offensive rebounds per-40. His frame and length allow him to carve out space among bigger players while his athleticism allows him to out-jump less physically gifted opponents.
Wainright plays with great intensity and effort, but his shot selection and basketball IQ can be cause for concern. He can get caught trying to force the issue with the pass, particularly when he is forced to make decisions off the bounce. His shot selection can be concerning, sometimes passing up open perimeter shots and forcing the issue attacking the basket. As a senior, scouts will want to see if Wainright can show improvement in his decision making while also tightening his ball handling abilities. His overall scoring rate of under 10 points per-40 minutes (on just 54% TS%) is one of the lowest among legitimate draft prospects in college basketball, so he will need to show some improvement with his ability to keep defenses honest if he's to hold NBA teams' interest.
Defensively, Wainright has the physical tools that will make him an intriguing prospect to NBA teams. He has a solid frame, elite length, strength and the ability to move his feet. Typically, Baylor has played a significant percentage of their defensive possessions in a 1-3-1 match-up zone that at times can hide players deficiencies, but also hinder their ability to showcase individual defensive talents. Wainright's physical tools shined through nevertheless, namely his ability to guard the ball and play the passing lanes, evidenced by his average of 1.6 steals per-40 as a junior. When Baylor did match-up man-to-man, his versatility became apparent based on his game-to-game defensive responsibilities, guarding Buddy Hield of Oklahoma one day and Georges Niang of Iowa State the next. His ability to move his feet defending the ball handler, chasing guards off a variety of pin down screens and defending and recovering guarding the big in a pick and roll action highlight his potential value. His ability to guard multiple positions could be his calling card in the future.
Overall, Wainright has unique physical tools with defensive versatility and a potentially burgeoning perimeter jump shot that could make him an intriguing prospect for NBA teams if he can take the next step in his development as a senior and show he can put the ball in the basket with some regularity. With a likely increase in workload, it will be interesting to see how Wainright's shooting percentages and decision making skills hold up over the course of his senior season.