Matt Williams
After being ruled ineligible in his first year at Xavier and then carving out a small rotation role as a redshirt freshman, Jalen Reynolds took a step forward as a third year sophomore.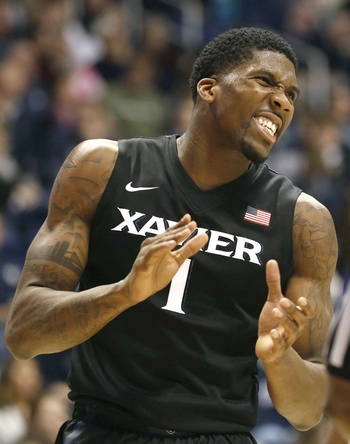 Standing 6'10 with a long wingspan and a chiseled 232-pound frame, Reynolds looks the part of a NBA big man. He doesn't have great size for a center, which is the position his skill set seems best suited for at the moment, but his combination of mobility, length, strength, and explosiveness leave some room for optimism that he could the five at the next level.
At this stage, Reynolds's game revolves around his ability to make the most of his terrific physical tools. They're a major reason he improved his points per 40 minutes from 11.8 as a freshman to 19.7 as a sophomore. Shooting an impressive 63% around the basket and 54% in the post, Reynolds is a bouncy finisher who can convert plays explosively above the rim, absorb contact inside, and bully his way to the rim in the post. He'll get his shot blocked on occasion because he's so aggressive, but his desire to dunk anything he can inside is a plus.
Away from the basket, Reynolds can hit an occasional jump shot, but perimeter attempts made up only 7% of his total field goal attempts, while he shot just 66% from the line a year ago. Something similar can be said about his abilities on the block, where he shows some flashes of finesse scoring ability and advanced moves, but sticks to a fairly basic repertoire. Not possessing a particularly strong feel for the game, it will be interesting to see if Reynolds's offensive skill set continues to develop, as he won't be able to play quite as much bully-ball as he does in college when creating his own shot at the next level.
Apart from his scoring, Reynolds is also a solid rebounder and possesses nice potential as a defender. Averaging 12 rebounds per-40 minutes pace adjusted, the Michigan native is active and physical on the glass on both ends of the floor. His physical tools allow him to have some pretty spectacular possessions using his length to bother shooters or his strength to defend inside, but he is very foul prone, averaging 6 fouls per-40 minutes pace adjusted, and lacks great fundamentals. Getting beat off the dribble at times defending away from the rim despite his fairly impressive lateral quickness for a big man, and not always knowing where to be when in Xavier's zone, Reynolds has room to grow on this end.
The challenge for Reynolds at this stage is his lack of great polish. One of the oldest players in our junior rankings, Reynolds will turn 23 just before New Year's Day. His significant improvement from his freshman to sophomore year leaves some room for optimism, but he'll have a lot to prove over the next two years given the track record of older players in the NBA draft.